A Conservative MP tucked away in a safe Lincolnshire seat has been accused of "not showing any interest" in the up and coming demo organised by the 'Fighting 4 Louth Hospital' campaign group.
The group of activists have organised the first demo of its kind in the rural Louth and Horncastle constituency. Campaign groups from across Lincolnshire and the East Midlands will descend upon Louth this Saturday to protest against the impact that Conservative policies are having on vital local NHS services that are often a lifeline to residents in the countryside.
The day of protest has been coined as the "NHS Uprising" by local activists – who believe that the Lincolnshire STP (Sustainability and Transformation Plan) released late last year puts Louth County Hospital at risk of downgrading or worse, closure. The march is being supported by the Public and Commercial Services Union (PCS), and hundreds of supporters are expected to gather – which is an unprecedented protest in an incredibly safe Conservative seat.
The impact that the closure of Louth County Hospital would have on the residents of Lincolnshire could be devastating and even life-threatening. The inaccessibility of many small villages in the Lincolnshire Wolds means that this hospital is a vital lifeline to those who are unable to reach a hospital further away. A closure or downgrade would force residents, many of whom are elderly, to travel for up to an hour to receive treatment. One resident commented on the Fighting 4 Louth Hospital website that "Louth needs to retain a hospital" as the area is "too geographically isolated".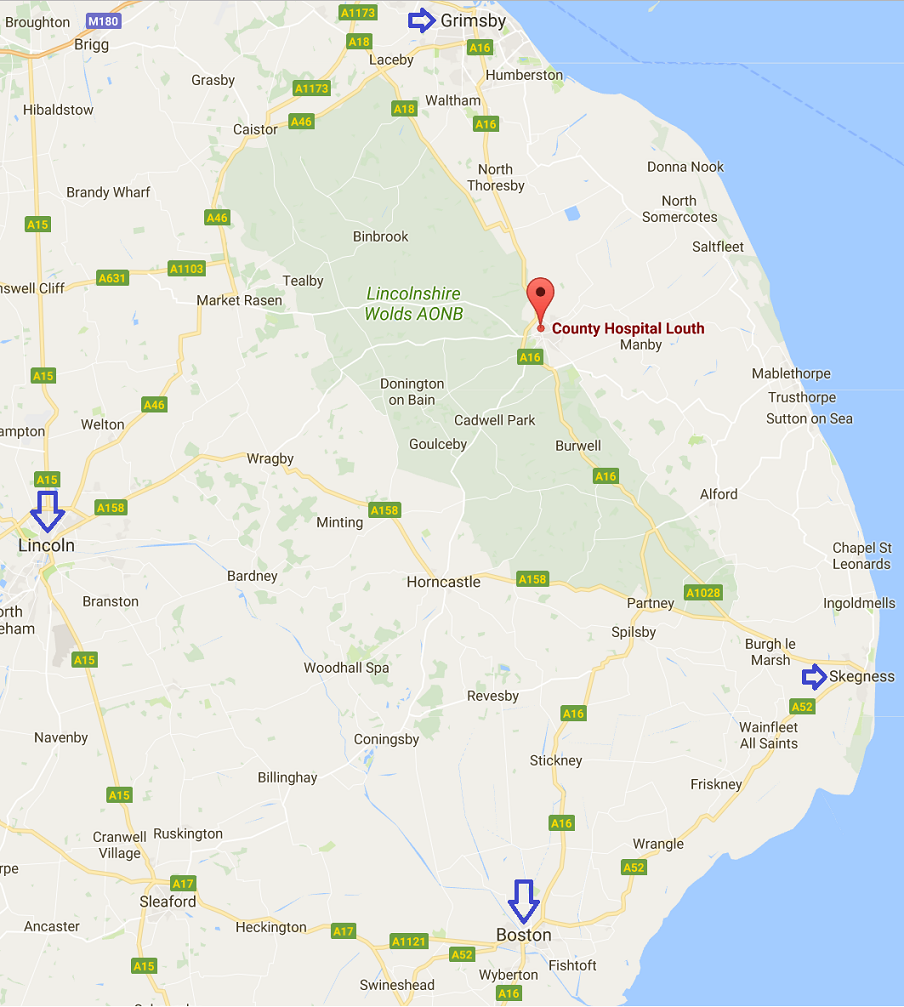 In a statement, Fighting 4 Louth Hospital said:
The future of Louth County Hospital is in jeopardy following the publication of the Lincolnshire Sustainability and Transformation Plan (STP) in December 2016 and due for review at the end of this September.

The gathering will take place at Westgate Fields and the march will pass through the town finishing at Louth Hospital Social Club.

An event in support of the hospital will follow and include guest speakers and an afternoon and evening of music featuring popular local bands.

For more information about the event please visit the campaign website at: fighting4louthhospital.org.uk
A town councillor in Louth and supporter of the campaign, Julie Speed, previously told the Lincolnshire Reporter:
"Our much loved and much needed hospital has been downgraded alarmingly over recent years, losing its A&E department and the excellent Lindsey Suite, which was a high dependency unit for coronary care.

"Now the whole site is under threat as the STP proposals point to either Louth or Skegness losing their hospital with the carrot of a new hospital being built in one of them or somewhere in between."

"With the planned dramatic increase in our local population, we are presented with an ever poorer infrastructure, slower ambulance response times and GPs even harder to access than now."
Meanwhile, the guestbook on the Fighting 4 Louth Hospital website is not looking good for Conservative MP Victoria Atkins. This damning comment indicates just how little care the Tories have for the vital NHS services they have destroyed over their calamitous seven years in office:
"Our local MP is not showing any interest, and so, we need to fight this as a community."
Atkins strenuously denies this assertion. The Louth Leader reported that Atkins met Health Secretary Jeremy Hunt to raise concerns over the importance of the hospital prior to the 2017 general election, as well as meeting with the Fighting 4 Louth Hospital campaign group themselves. It is unknown whether she agrees with the 'NHS Uprising' day of action or would be inclined to support it.
The fight to keep Louth County Hospital open in the face of incredible pressure is a story that will resonate with many communities up and down the United Kingdom. With the NHS being consistently under-funded and burdened with reckless budget cuts, there are undoubtedly hundreds of communities just like this one facing a mammoth task to protect their local services. The Fighting 4 Louth Hospital campaign group hopes that this sense of solidarity will inspire many activists to travel to Lincolnshire for this day of action.
Meanwhile, Lincolnshire Health and Care have said that no decision has been made – and that all proposals would be subject to a public consultation before a final decision was reached.
Become An Evolve Politics Subscriber



Your subscriptions go directly into paying our writers a standard fee for every article they produce. So if you want to help us stay truly independent, please think about subscribing. We literally couldn't function without the support of our fantastic readers.
Subscribe
Or a One-Off Donation to Evolve Politics



If you don't want to subscribe, but still want to contribute to our project, you can make a one-off donation via the donate button below. All your donations go directly to our writers for their work in exposing injustice, inequality and unfairness.
Donate