Conservative MP Guto Bebb has allegedly accused a local constituent of "talking out of his arsehole" in a reply to a letter challenging him on his voting record.
A constituent in Bebb's constituency, Aberconwy, wrote to the Tory MP to question Theresa May's decision to offer the DUP a £1bn bung, as well as Bebb's position on scrapping the public sector pay cap.
Eurwyn Thomas posted the reply from Bebb on Facebook, and appears to receive a reply in Welsh accusing him of "talking out of his arsehole".
North Wales MP Guto Bebb accused a constituent of 'talking out of his ****hole' when he challenged him on his voting record. Thomas described the response as "toe-curling", and told the Daily Post:
"I contacted Mr. Bebb, who is my MP, as a concerned public sector employee in respect of the recent failed vote in parliament.

Whilst the outcome wasn't in doubt I, and millions others were rightly incensed at the valedictorian scenes of jeering and laughing from the Conservative benches – especially in the back of their proclamations of support and unity with the emergency services after the atrocities and tragedies of late.

I was taken aback by Mr. Bebb's response, given his elected status and the vastly reduced majority of late. It is certainly not what a constituent would view as a professional and reasoned response to a legitimate query to their MP.

Moreover, to tell a constituent that they are talking through their 'arsehole', is not just churlish and childish – it also goes against the spirit of parliamentary standards."
When asked for a comment by the Daily Post, Guto Bebb refused to comment on the accusation. However, a post has appeared on this website this morning that states:
Yesterday morning my office was contacted by a Daily Post reporter, Shane Brennan, regarding a complaint that had been made by a Mr. Thomas about an exchange of correspondence between myself and Mr Thomas.

I shared Mr. Thomas' original emails, written in Welsh, with the Daily Post – a copy of my response to Mr. Thomas (in Welsh) and some context.  Rather than a comment, I supplied them with my Weekly News article for this week as the subject of abuse towards MPs of all parties has been an issue being covered by many reputable news outlets.

Since the General Election the level of abuse, threats of violence, especially on social media, has escalated to an unacceptable level. That is why my colleague, Simon Hart MP is holding a debate in Parliament on this issue this week.

In their article, published last evening on-line, the Daily Post, as usual, gave a partial and disingenuous account of the exchange between Mr Thomas and myself.

Mr Thomas wrote two abusive and rude emails to me in Welsh where he stated;

"as long as I have an arsehole I will work to get rid of you".

The exchange was in Welsh and it's a commonly used phrase in Welsh that somebody is 'talking through their arse'.  I therefore told Mr Thomas that he clearly still had his since he was talking through it. 

I would write the same letter again.

As a paid public employee I do wonder why I should be subject to constant on-line abuse and vindictive, spiteful and rude emails.  Would a Doctor or a Teacher expect such a barrage of abuse?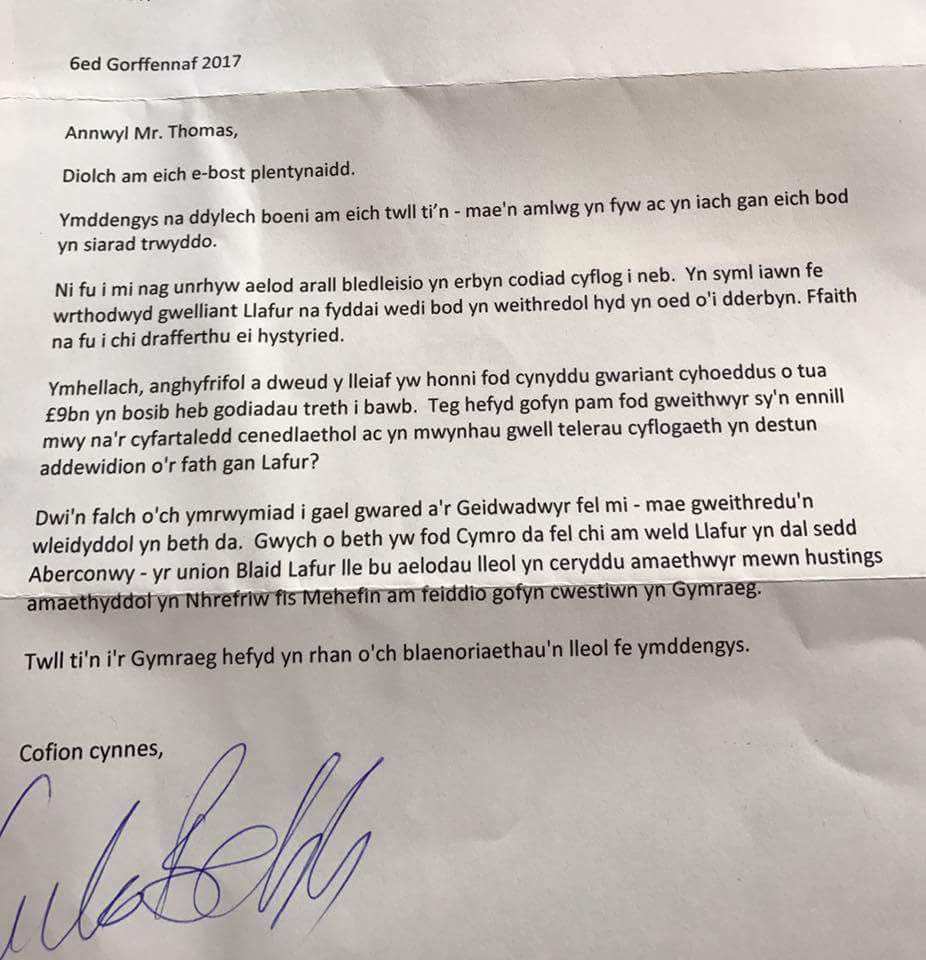 It's not surprising that Guto Bebb is in a bit of a bad mood. After the 2015 general election, he had a healthy majority of 13.3% in his once safe constituency seat. But Corbyn and Labour's latest election campaign appears to have put him on the target list for the next time around, after slashing his majority to a mere 2% – only 635 votes. Perhaps when the next election comes around, the constituents of Aberconwy ought to let Bebb know what they think of Conservative MPs who feel it's okay to brazenly insult their constituents for questioning their horrendous track record on public sector pay and austerity.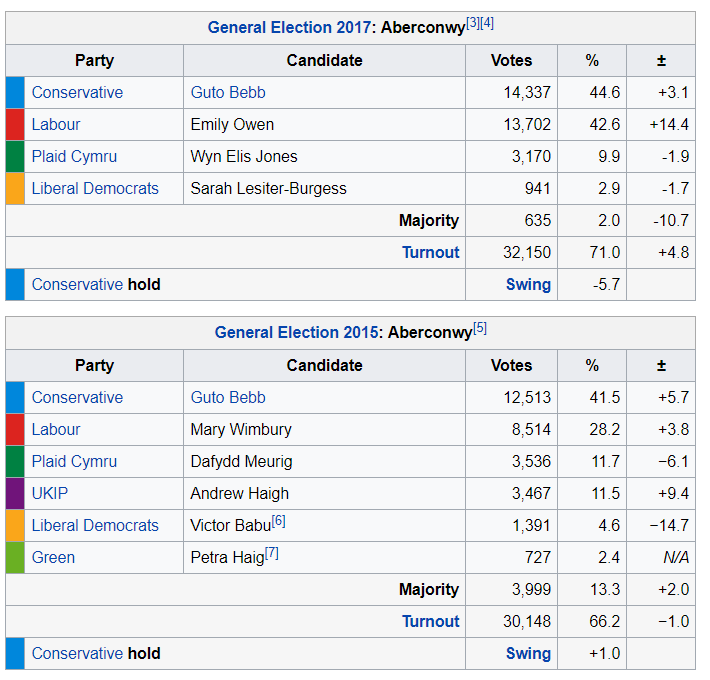 Become An Evolve Politics Subscriber
Your subscriptions go directly into paying our writers a standard fee for every article they produce. So if you want to help us stay truly independent, please think about subscribing. We literally couldn't function without the support of our fantastic readers.
Subscribe
Or a One-Off Donation to Evolve Politics



If you don't want to subscribe, but still want to contribute to our project, you can make a one-off donation via the donate button below. All your donations go directly to our writers for their work in exposing injustice, inequality and unfairness.
Donate