Polling company YouGov has come under fire on social media after it was revealed that one of their online surveys questioned whether benefit claimants should be allowed to vote.
The company, founded by Tory MP Nadhim Zahawi and former Conservative PPC Stephen Shakespeare, asked users to "please say whether you think each of the following groups should or should not be allowed to vote in General Elections in the UK."
The list included non-British citizens living in the UK, British citizens currently serving jail terms, 16 and 17 year olds, and lastly, "those who receive more money from welfare benefits than they pay in taxes."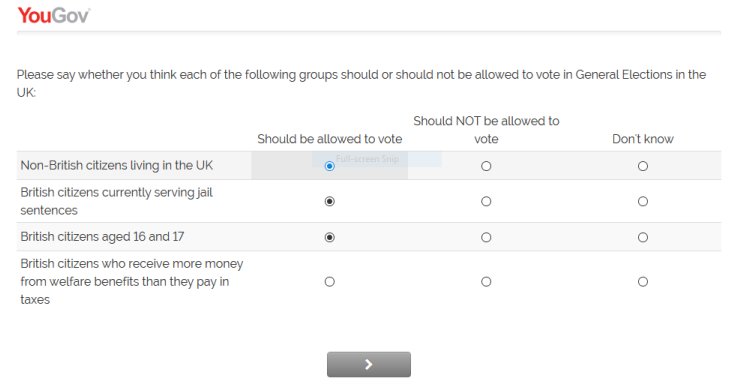 The shocking survey question has been doing the rounds on social media, and it's fair to say that people are unimpressed with the notion that the poor and benefit claimants could be dehumanised and disenfranchised in this way.
The concept that this is even an acceptable question to ask raises further concerns about how benefit claimants are treated as second class citizens by the government, the media, and the wider political class.
Critics of polling companies often claim that their main purpose is to shape public opinion, instead of gauge it.
If the Tories think polling data from surveys like this can be used to justify an attack on basic democratic rights – they have another thing coming, if social media is anything to go by.
Jesus…

— Jessica Robinson (@Jess__Robinson) March 26, 2018
What a disgusting question. Just when you think this country couldn't sink any lower it leaves the swamp and enters the cesspit.

— CoraBlimey #TheyLieConstantly (@las2950) March 26, 2018
I 100% saw this on one of their surveys but didn't get a chance to screengrab it

— keir (@kxcii) March 26, 2018
Wow! Poverty ranked with crime…

New #voterID #photoID requirement, though, will have same effect for the poor, young and elderly.

— EzzieWilf #YeahButDilyn #MakeSchoolsSafe (@ezziewilf) March 26, 2018
https://twitter.com/labourish/status/978285144938344448
Given YouGov's links to the Tory party, is this testing the water for future policy I wonder?

— Jim Caris (@jimcaris) March 26, 2018
"do you think that only people with more money than you should be able to vote?"

— Mark Gardner (@MarkGardner_Art) March 26, 2018
You need to ask the owner. His name is @nadhimzahawi and his co-owner is a @StephanShaxper but not from the family of the bard. You could ask them. They are both Tories and wish to rewrite the voters base I'm sure. As they are in Yankee land.

— Antosha Z. Corbinski (@davies42g) March 26, 2018
UPDATE: YouGov have released an official response on their website in the form of an article called 'Why pollsters ask uncomfortable questions'. You can read it here.
Subscribe
Or a One-Off Donation to Evolve Politics



If you don't want to subscribe, but still want to contribute to our project, you can make a one-off donation via the donate button below. All your donations go directly to our writers for their work in exposing injustice, inequality and unfairness.
Donate