Stay in touch!
Sign up to be updated with Evolve's latest stories, and for opportunities to get involved.
A new in-depth study by leading academics exposes Britain's hidden slave labour economy, highlighting numerous well-known high street giants who callously and deliberately exploit unpaid labour on an industrial scale in the UK.
The groundbreaking Unpaid Britain project, released on Thursday, shows that at least 2 million Brits are essentially working for free, underpaid by at least £3billion a year in wages and holiday pay.
Read the new report from Middlesex University on unpaid workers, part funded by Trust for London #unpaidbritain https://t.co/AUJDzT4m0F pic.twitter.com/DMFYvNxm1D

— Trust for London (@trustforlondon) November 30, 2017
The report has so far been ignored by the majority of the mainstream media (MSM), with not even a column inch on the BBC's website at the time of publishing. So far only one MSM outlet, The Guardian has covered it, and only with one article.
Why the media silence?



Before we go any further, let's use a standard definition of 'slave' as defined by the Oxford English Dictionary, just so we are clear about this:
Slave [NOUN]

     1.1 A person who works very hard without proper remuneration or appreciation.
The research team headed by Nick Clark of Middlesex University, for the Trust for London, reveals the multiple ways in which employees are cheated out of wages, and essentially forced to work for free using myriad of cons by employers and corporations seeking to maximise profit on the backs of the workforce.
The systematic tactics they use to cheat wages from us include:
• Failing to pay accrued holiday pay on workers' departure.

• Workers regularly "losing" an hour or two per week in pay.

• Employers disappearing while owing wages (known as "knocking" in the construction industry).

• Employers dissolving a company which owes wages in order to start up afresh with a new company ("phoenixing").

• Dispute over the interpretation of contracts, for example the payment of travelling time for care workers.

• Building up arrears in pay keeping workers in place when they might otherwise move on to other jobs, so the practice is effectively labour hoarding.

• Charging workers for uniforms or other necessary items in order to be able to perform their duties.
The report also makes it clear that this is not a new phenomenon. In fact, like much of the neoliberal economy, such disgusting and exploitative corporate behavior can be traced back to the brutality of Victorian-era capitalism.
As the report states:
A historical study of withholding of wages in Britain examined the history of payment through "truck" (that is, payment with goods or credit in the employer's shop rather than cash) up to the nineteenth century (Hilton 1960). This practice often resulted in workers receiving less than was specified in law or agreements, and Hilton suggests several underlying reasons for this including "simple criminality" and circumvention of statutory pay rates.
The report highlights the widespread prevalence of zero-hour contracts, bogus & low-paid self-employment, unpaid overtime, and 'temporary' agency work.
As well as this, many workers who have found themselves cheated out of wages are unable to pursue their former employer at employment tribunals for multiple reasons – most notably the fact that the Tories implemented huge fees for employees on employment tribunals in 2013 (only recently has this disgraceful law been overturned after the Tories were defeated in a landmark court case lead by UNISON.)
Since the Tories introduced the fees the number of individuals pursuing their employers unsurprisingly fell by a whopping 67%.
The authors also calculated which sectors screw workers the most frequently, using what they described as an 'index of employer delinquency'. They found the sectors least likely to pay workers in London are:


The researchers focused on London in particular, noting that London has an in-work poverty rate of 58%, described previously as an 'an all-time high'.

The report states that:
Unpaid wages in the London labour market coincided with the increase of in-work poverty in the Capital….For workers in these circumstances, even small reductions in what is paid to them can have catastrophic consequences.
They estimate that at least 1 in 20 workers are being denied the statutory holiday owed to them, which under the current law equates to 28 days for the average full-time worker.
Unpaid holiday amounted to at least £1.8Bn a year stolen from British workers, and there is currently no legal penalty enforced on employers refusing to pay it.
Another key tactic used by bosses was to deprive employees of a wage slip entirely, making it harder for employees to keep track of their pay and working hours.
Commenting on the reports shocking findings, lead author Nick Clark, said:
The Unpaid Britain project has taken over two years to complete and has revealed an ugly side to employee/employer relations in this country – a nation where the idea of a fair day's wage for a fair day's work is only an aspiration for so many workers.
And:
Well-known brands and employers routinely use underhand and unfair methods to withhold payment. One fashion retailer used to make staff repay the company for clothes they were obliged to wear at work. The fact that such practices are widespread can only mean that withholding wages in some form is a deliberate business model for many employers. Interestingly employers who don't pay national minimum wages often blame affordability and yet 90% of London employers on the list of national minimum wage offenders, far from resorting to insolvency, remain active.
Adding:
This final Unpaid Britain report provides evidence of wage default on an industrial scale. Current means of redress fail our key test in that workers often do not receive what they are owed, while employers can offend repeatedly. Both effective enforcement and stronger unions are needed to give confidence to workers that they do not have to accept this.
Some of the well-known brands mentioned in the report include high street giant Debenhams who are said to have extracted a whole day of free labour from workers from 2013 onwards, as well as clothing chain store Monsoon who forced employees to repay the company for clothes they were obliged to wear at work.

Most of the time employers used these various mechanisms to cheat workers out of wages for very relatively small amounts on a regular basis. However, replicated many times over for each worker, this amounted to substantial gains for the companies.

To calculate amounts of underpayment in specific sectors the team analyzed data from The Department for Business, Energy and Industrial Strategy (BEIS), who have set up a 'name and shame' list of employers who've regularly fail to meet basic National Minimum Wage (NMW) standards since 2013.
This table illustrates where consistent and ongoing violation is most prevalent, and also shows the shocking amounts of free-labour demanded by employers. Since 2013 the total number of deliberately underpaid UK workers was well over 15,000, with carers being some of the worst hit by unscrupulous employers and corporations.


The report states:
If we assume that an employer might want to boost their profits by depressing wages, and that for at least some workers this may involve breaches of employment regulation. For these breaches to be sustainable and substantial, they will ideally represent small sums at the individual worker level, but be widespread and continuous. They should also have a low chance of detection and (in the event of discovery) be plausibly deniable as a deliberate strategy, or incur only negligible penalties.
However, they point out that one company broke this pattern, swiping almost £700 off workers in a single go.
The company implicated was Total Security Systems, (TSS) whose security guards can frequently be seen in a range well-known high street shopping giants such as Tesco. TSS claimed to have made 'an inadvertent mistake' with a salary sacrifice scheme which negatively affected a 'large number of workers' by £698.80 each.
The report also highlights multiple government 'failures' to take action, summarising their key recommendations here:
Making HMRC responsible for paying workers identified NMW arrears, and then collecting them from the employer.

Developing systems for informing student workers of their rights, and assisting them in their enforcement.

Requiring employers to deposit a financial bond or take out insurance to guarantee workers' wages.

Introducing deterrent penalties for employers' failure to provide paid holidays or payslips.

Stronger sanctions against directors  considered to have deliberately failed to pay

Empower unions to take up cases on behalf of groups of workers (for example challenging sham self-employed contracts).
Shockingly, the report is also likely to have vastly underestimated the true scale of slave labour in the UK.
In an economy where teachers, for example, are paid for only 32 hours of work a week, and routinely work for 60 plus hours, the true scale of modern slavery is barely touched upon in the report.
To fully study the topic would be a colossal task, and was likely far beyond the very limited resources available to the team.
At a time when corporate profits are at a record high, and wages are at a record low, with so many being forced to work for free in this slave labour economy, it should be no surprise that more and more people are rejecting capitalism itself.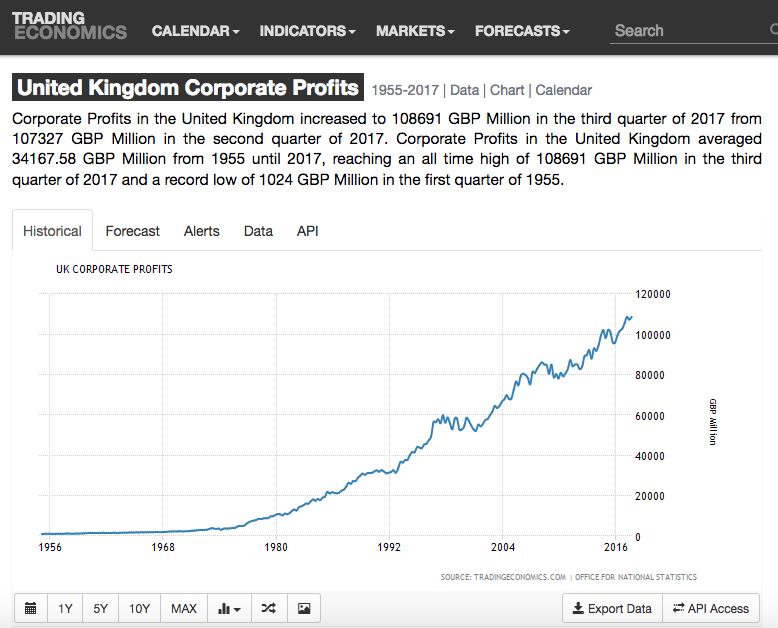 As an entire generation grows up experiencing only the worst aspects of capitalism – such as student debt, year-long unpaid internships, and extortionate rents – young people's views of capitalism are now far more negative to our parents' – a key factor behind the current Corbyn surge.
And if the Tories fail to act on such glaring inter-generational injustices now, they will almost certainly find themselves facing near-extinction within a few short decades.
Become An Evolve Politics Subscriber
Your subscriptions go directly into paying our writers a standard fee for every article they produce. So if you want to help us stay truly independent, please think about subscribing. We literally couldn't function without the support of our fantastic readers.
Subscribe
Or a One-Off Donation to Evolve Politics
If you don't want to subscribe, but still want to contribute to our project, you can make a one-off donation via the donate button below. All your donations go directly to our writers for their work in exposing injustice, inequality and unfairness.
Donate