Evolve Politics can reveal that a Conservative student society has entered a 'sponsorship agreement' with a masonic lodge.
The University of Nottingham Conservative Association (NUCA), who according to sources have previously held dinners in the company of Conservative MPs at the lodge in Nottingham, told members last week that their sponsorship with the Daybrook Lodge was part of a wider scheme by the United Grand Lodge of England (UGLE) – which is aimed at recruiting students on campuses across the country. This move comes in the wake of the revelation that two secret masonic lodges are active in Westminster for politicians and journalists.
NUCA, one of the largest student Conservative Associations in the United Kingdom, previously hit the headlines for holding a debate on campus on whether women who 'dress provocatively' were more likely to be sexually assaulted.
In a Facebook post to a private member group, NUCA said:
"Ladies & Gentlemen,

As some of you may have seen we have recently acquired a sponsorship agreement with Daybrook Lodge.

This is to help spread the word about the Universities Scheme run by UGLE. This is a scheme to introduce anyone, male or female, who attends the University of Nottingham or Nottingham Trent University to Freemasonry.

Please take a second to look at the link below, if it is something that you may be interested in or would like to hear more about please get in contact with us."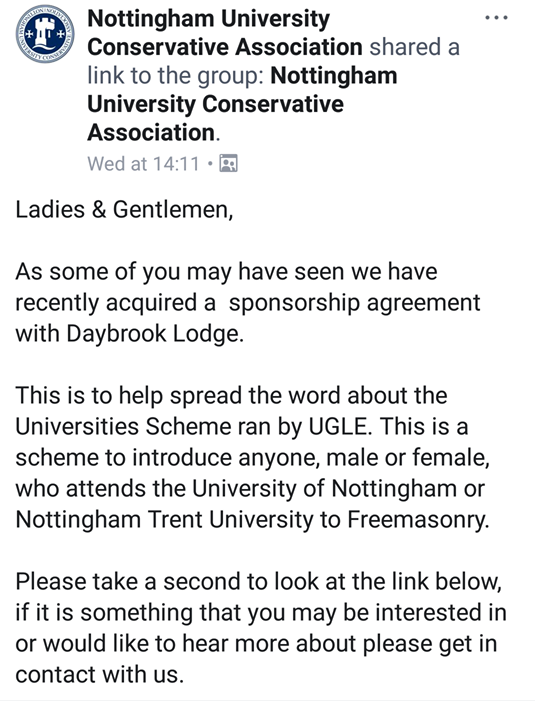 What this displays is a clear link between Freemasonry and Tories on university campuses. Moreover, their invitation to 'anyone' neglects the fact that the Daybrook Lodge in Nottingham, like most lodges, is a male-only organisation.
A Conservative source who spoke to Evolve Politics slammed the partnership as "deeply worrying" as it insinuates that the Association is becoming the "total opposite of an inclusive society".
A spokesperson for University of Nottingham Labour Students told Evolve Politics that:
"This highlights just how out of touch the Conservative Party is. It is deeply concerning that NUCA are being financed by a fraternity that excludes women, and demonstrates how far the Tories have to go on empowering women in their party. Labour is proudly for the many. At Nottingham Labour Students we are proud to encourage the voices of women, and as a party, we are proud to be the party of equality – advancing women's rights each time we are in government."
Meanwhile, Nottingham Trent University's Conservative Society has contacted Evolve Politics and given the following statement:
"The invitation was posted by NUCA in a group for members of NUCA. NUCA has had no involvement with the Nottingham Trent Conservatives nor have we had any involvement with NUCA this academic year. We do not encourage our members to take any interest in the Freemasons. We are not in any way related to NUCA or the Freemasons."
Evolve Politics have approached the University of Nottingham Students' Union and NUCA for comment.
Become An Evolve Politics Subscriber



Your subscriptions go directly into paying our writers a standard fee for every article they produce. So if you want to help us stay truly independent, please think about subscribing. We literally couldn't function without the support of our fantastic readers.
Subscribe
Or a One-Off Donation to Evolve Politics



If you don't want to subscribe, but still want to contribute to our project, you can make a one-off donation via the donate button below. All your donations go directly to our writers for their work in exposing injustice, inequality and unfairness.
Donate