Under pressure Conservative MP for Telford, Lucy Allan, has once again taken to social media in an attempt to defend herself over mounting accusations of incompetence and bullying.
In one reply on Twitter, she compared her experience of media scrutiny with the plight of domestic violence victims. The post, which was retweeted by two people, has not yet been deleted.
@telfordlive @kevtan1066 @BBCShropshire blimey missed that. Makes professionals think its fine to beat up MP. Bit like DV victims.

— Lucy Allan MP (@lucyallan) January 22, 2016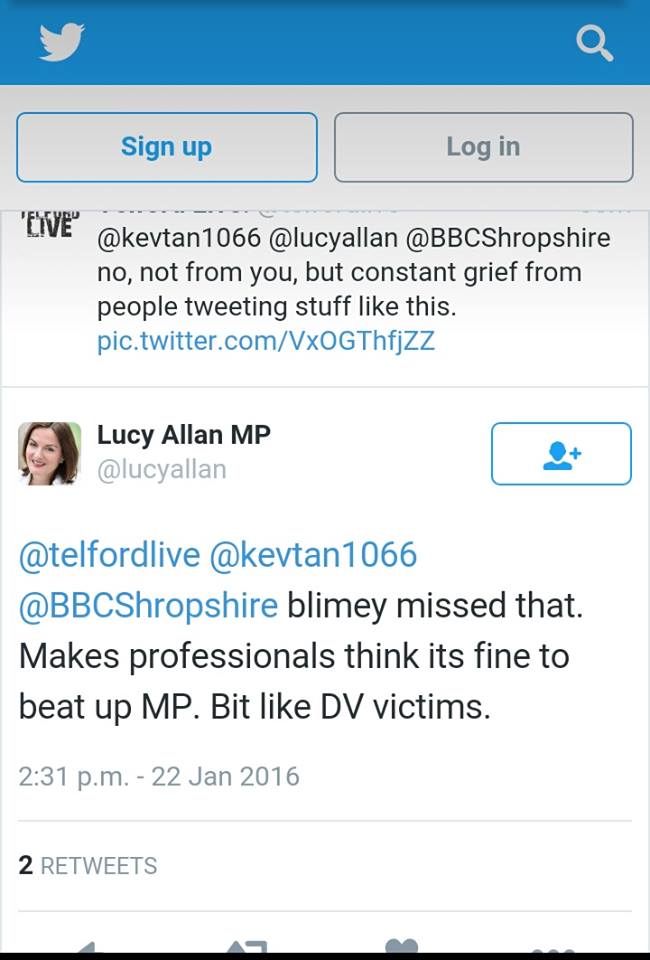 Ms Allan previously sparked outrage in April after dismissing a Conservative activist's domestic violence conviction as merely 'shoving'.
Ms Allan was responding on Twitter to BBC Shropshire journalist, Joanne Gallacher, amongst widespread reports that the Tory MP pulled out of a BBC interview because she was not allowed to veto questions.
The comparison Ms Allan makes between media scrutiny with the plight of domestic violence victims has provoked outrage, with social media users describing her comments as 'despicable' and as 'doing a huge disservice to real victims'. Many have called for the Conservative MP to resign and are using the hashtag #SackLucyAllan
This latest offensive tweet comes after she was accused of faking a death threat from one of her constituents, as well as engaging in a tirade against supposed 'bully boys' and 'henchmen' who, she said, 'invented the disgusting slur'. During this same post, she also accused a her constituent of being a 'stalker'.
The accused Labour Councillors are reportedly mounting legal action over Ms Allan's accusations.
Further to allegedly faking a death threat, and accusing a constituent of being a stalker, she has also faced huge criticism in her conduct towards two former aides who were subjected to foul-mouth abuse in the workplace. Former employee Arianne Plumbly released a recording of Ms Allan berating her for being off sick, describing Plumbly as 'pathetic', a 'silly girl', and saying 'we all know you're not sick'.
Another aide was reportedly refused compassionate leave to visit her dying grandfather, with Ms Allan alleged to have said 'I don't give a sh*t about your dying grandfather'.
Ms Allan was not available for comment on her latest offensive tweet.