Stay in touch!
Sign up to be updated with Evolve's latest stories, and for opportunities to get involved.
The mainstream media has been awash with the news today that a survey commissioned by the People's Vote Campaign had found that 72% of Labour members think Jeremy Corbyn should change tack and openly support a second Brexit referendum. However, the extremely hard-to-find data shows that the entire mainstream media have conveniently omitted crucial information.

The majority of today's media reporting has led on a number of the poll's findings – that 72% of the 1034 Labour members surveyed thought Jeremy Corbyn should support a new referendum, and that nearly 90% would vote Remain in any hypothetical 'People's Vote'.
And predictably, high profile People's Vote supporters took to social media to claim that the results showed that Jeremy Corbyn was now supposedly coming under increasing pressure to join their campaign for a second referendum – a narrative which the mainstream media gladly endorsed.

However, when studying the data (which is not yet published on the YouGov website or any of the media outlets reporting it, making it extremely hard to find) one stark result, which has been omitted from every single mainstream media outlet, proves that the People's Vote campaign's claims are completely and utterly wrong.
Along with their usual questions on whether or not Jeremy Corbyn should back a second referendum, the People's Vote survey also asked the 1034 Labour members:
"Do you support or oppose the stance that the Labour Party has taken on Brexit?"
If you were to take today's media reporting at face value, you would almost certainly be led to believe that a huge majority of Labour members were vehemently opposed to Jeremy Corbyn's position.
However, just 29% of Labour members oppose the party's stance on Brexit. Yes, that's correct.
This is also compared to 47% who actively support the Labour leadership's Brexit position.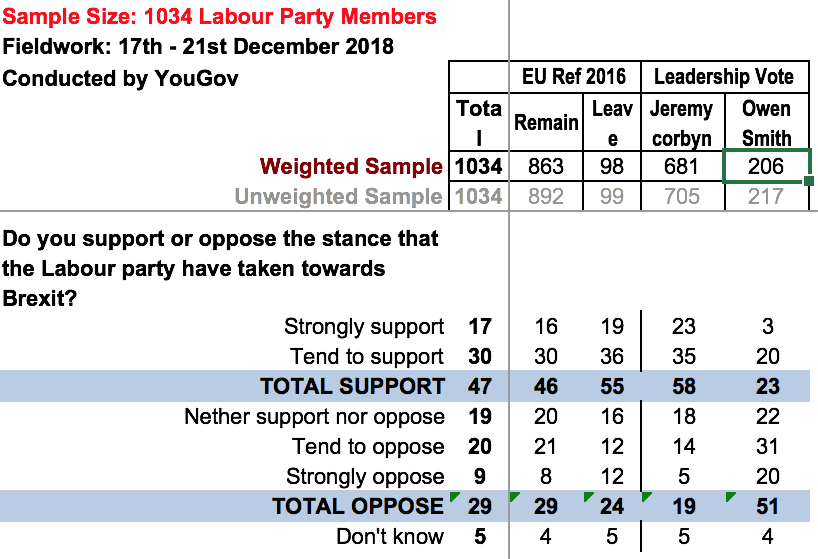 Furthermore, contrary to the media's narrative that the Labour leadership were supposedly coming under increasing pressure to support a new referendum, a massive 65% of Labour members surveyed believed that Jeremy Corbyn was doing well as Labour leader, with just 33% believing he should be doing better.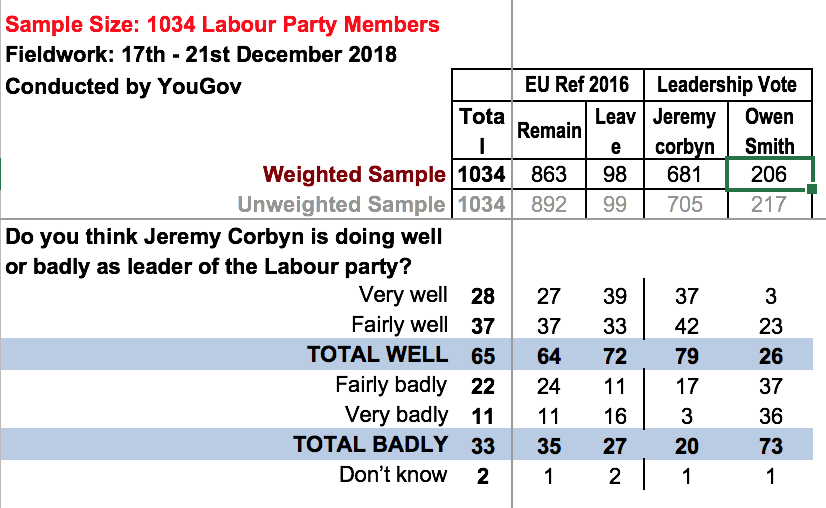 And, in one final blow to both the People's Vote campaign and the mainstream media's relentless anti-Corbyn narrative, today's poll actually shows that support amongst Labour members for another referendum has actually fallen.
In September, an almost identical poll – also commissioned by the People's Vote campaign, and which surveyed an almost identical number of Labour members – showed that 86% wanted a second referendum.
However, according to the latest poll, this figure has actually dropped significantly, to 72%. Yet, somehow, the mainstream media has interpreted these results as showing that Jeremy Corbyn is coming under increasing pressure to support a new referendum.
The misreporting of statistical data by the British media is an absolute disaster. It is a significant reason why the country is beset by such a profound sense of democratic crisis. https://t.co/6d8GPlKOZt

— Aaron Bastani (@AaronBastani) January 2, 2019
"Do you support or oppose the stance taken by the Labour party on Brexit" asks today's apparently blockbuster poll on a second referendum and a #peoplesvote

A clear majority support the leadership's position.

You will not find that on a single media outlet.

Please share. pic.twitter.com/6FeTv3JXUM

— Aaron Bastani (@AaronBastani) January 2, 2019
Was this bit conveniently omitted from the "hurr durr Labour members want a second referendum" diatribe? pic.twitter.com/4Lx2f14GC0

— Matt Turner (@MattTurner4L) January 2, 2019
You can view the full data from the most recent survey here.