The BBC have been criticised for failing to challenge a Tory MP who repeatedly lied live on air about shocking statistics which show that rough sleeping has almost tripled since the Conservative Party came to power in 2010.
Speaking on Westminster Hour on Sunday evening, the Junior Tory Housing Minister Chris Philip initially, and correctly, stated that the amount of people sleeping on the streets of Britain is currently around 4,500, but then went on to falsely claim that this figure was lower than when Labour left office in 2010:
"There's about 4,500 people who are sleeping rough in a country of 60m. So that is a small enough number so you can reach them individually.
That number, by the way, is lower than the number sleeping rough when the last Labour government left office."
Perhaps emboldened from being allowed to get away with his brazen lie unchallenged, Philps then, astonishingly, went on to repeat it, stating:
"Over the last two or three years it's been rising, but it's still lower than it was when Labour left office."
However, not only was Philp's claim that rough sleeping was higher in 2010 compared to now completely false, the number of people sleeping on Britain's streets has literally risen every year since the Tories came to office.
Furthermore, it would be absolutely ridiculous to believe that Philp was not aware that he was lying considering that his own department collates the rough sleeping figures.
As the statistics from his department show, in 2010 when Labour left office the number of rough sleepers was 1,768.
However, the latest statistics from 2017 show that this figure has now almost tripled to 4,134.
And when you look at a visual representation of the figures from 2010 to 2017, it become clear just how brazen Philps' lies were: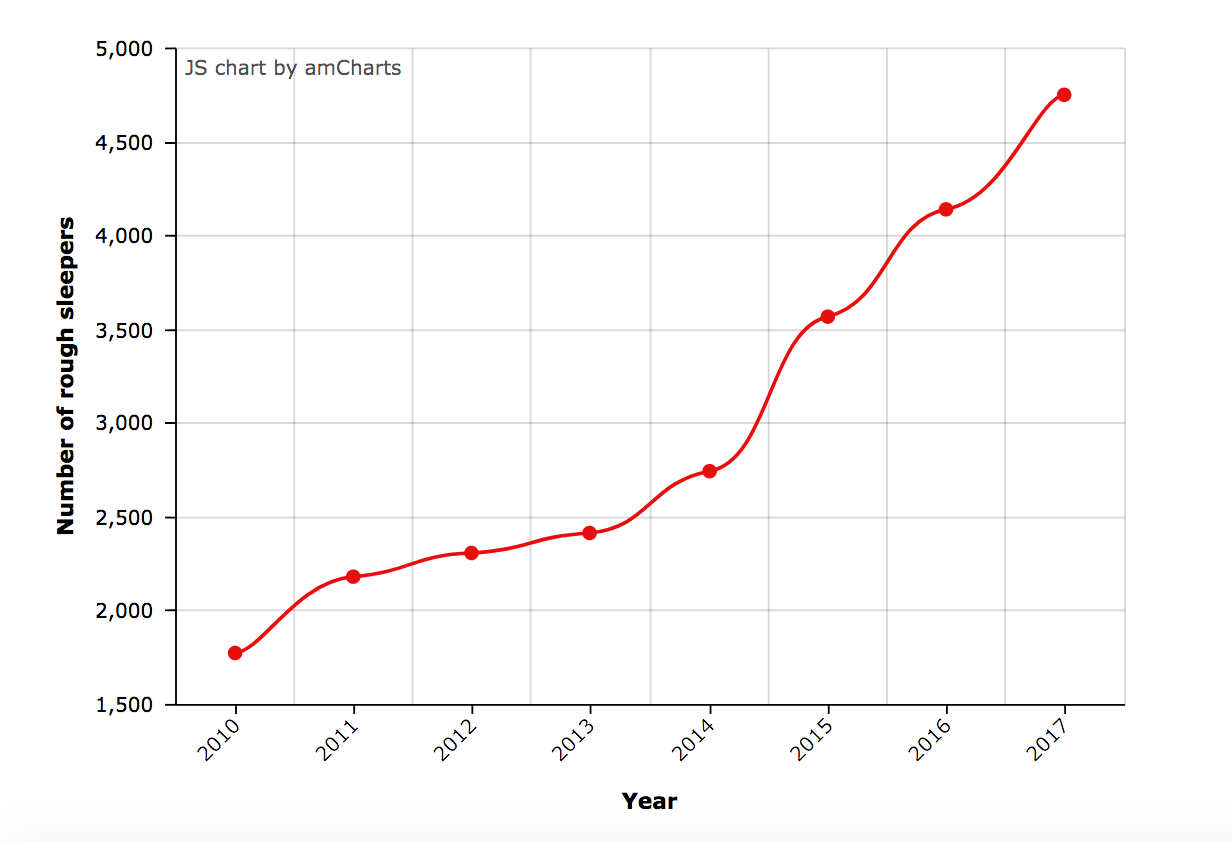 Political activist and Lawyer Peter Stefanovic was one of the first to expose Philps' ridiculously brazen lies, posting a typically scathing video:

LAST NIGHT A TORY MP FALSELY CLAIMED the number of rough sleepers is now lower than it was when the Tories came to power. The truth is that the NUMBER OF ROUGH SLEEPERS HAS ACTUALLY SOARED BY A STAGGERING 169%! Don't let them get away with it! Please RT the TRUTH! pic.twitter.com/uLU1nbrXuZ

— Peter Stefanovic (@PeterStefanovi2) August 13, 2018
And, unsurprisingly, the BBC also came in for criticism for failing to challenge Philp's lies:
Just checked it was the Westminster Hour and Chris Philp MP Croydon South. https://t.co/iZxJabCe1n
Lies lies and lies. New money, lies lies and lies. Homelessness higher under last Labour Government 2010. Unchallenged #BBCswitchoff #VoteLabour https://t.co/jJv8Nug0nL

— mistafix (@whynothomer) August 13, 2018
Incredibly, despite being allowed to repeatedly lie about his own department's statistics, the BBC are still promoting the video on their website without any kind of correction or clarification:
Furthermore, during the same programme, Philp was also allowed to mislead the audience by claiming that the Tories were pledging £100m of 'new money' into tackling homelessness.
Just over 12 hours after the claim, Philp's boss – the Tory Housing Secretary James Brokenshire – clarified that the money was not in fact 'new' at all, admitting that it would instead be found from cuts or under-spends to other areas.
The BBC's perceived political bias was the subject of a highly successful hashtag #BBCSwitchOff on Twitter last week, and their latest failure to properly fact check or challenge a Tory MP's repeated lies will surely do nothing to assuage any of the tens of thousands of people who have already switched off in disgust at the British public broadcaster's controversial reporting.