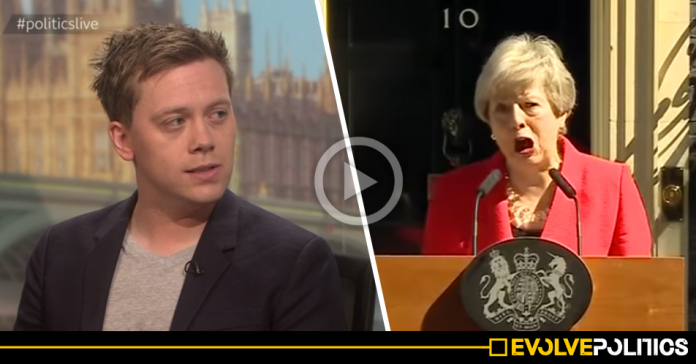 As you will almost certainly have already heard, Theresa May has finally announced her resignation as Prime Minister on June 7th – issuing an uncharacteristically human-sounding departure speech, which ended with her voice cracking and genuine tears in her eyes as she expressed gratitude for being given the "opportunity to serve the country [she] loves".
Despite literally forcing her out themselves, many of her Cabinet colleagues have already attempted to express sympathy for the Prime Minister and the situation which led to her humiliating demise.
Unsurprisingly, much of the largely pro-Tory UK media has also followed suit, attempting to portray Mrs May as some kind of unfortunate and stoic victim.
However, not everyone was taken in by the soon to be departed PM's uncharacteristic show of emotion, with the Guardian journalist Owen Jones issuing a scathing assessment of both Mrs May's legacy, eloquently explaining precisely why those who feel sympathy for her should think again.
Speaking on the BBC's Politics Live, Jones stated:
"I feel less than no sympathy [for Theresa May].
"If any sympathy is to be expended today it should be for the Windrush Britons, who, because of her, were kicked out of their homes, denied medical care, deported from their own country."
Sign up to be notified of new Evolve Politics articles
"It should be for the children who have been driven into poverty at the fastest rate since 1988."
"It should be the disabled people who are having their benefits stripped away."
"It should be the victims of Universal Credit whose lives are being destroyed."
"It should be the people driven to foodbanks because of her policies."
"And I wish we would spend far more time, in the media, discussing, talking [about these people with] sympathy, rather than expending it on the powerful – who will live affluent and comfortable lives until the day they die – rather than people driven into hardship and insecurity and misery because of their policies. And that is the root of the turmoil in this country."
"She is… the only leeway I will give her is that she is just one of many architects. This is a team effort by a Conservative Party which has plunged Britain into the worst turmoil in peacetime. And for that, I think, they will, and she, and her colleagues, will be damned by history."
You can watch Jones' absolutely damning assessment below:
We Need Your Help!
Evolve Politics can only continue publishing our truly independent journalism because of the financial support of our readers. If you value our work, please consider subscribing or donating any amount you can afford. Every penny you contribute goes directly to our writers for their work.