Despite being embroiled in an investigation by his own party after being accused of sexual harassment and having barely legal 'extreme porn' on his office computer, Conservative First Secretary Damian Green was inexplicably thrust into the spotlight to stand in for the Prime Minister Theresa May at PMQs today.
And if you're of a Tory persuasion, it really did not go well at all.
Facing Green at the dispatch box was Labour's notoriously fierce Emily Thornberry, and it's safe to say she had definitely done her homework on Green.
Shadow Foreign Secretary Thornberry's first question supposedly probed Green's pending investigation, asking the Tory First Secretary:
Can I ask the First Secretary a simple point of principle: is he happy to be held to the same standards in government that he required of others when he was in opposition.
The question saw Green become a little hot under the collar, and after the Tory First Secretary had stumbled over a particularly shifty response, Thornberry – referencing Green's pending investigation – quipped that:
The First Secretary looked rather perturbed by my line of questioning, but he doesn't need to worry – I'm really not going *there*!
Then, questioning Green on the Tories' shocking record of staff retention in the NHS, Thorberry asked Green:

What percentage of new nurses recruited in the past 12 months are now working full time?

Unsurprisingly, Green was not forthcoming with the figure.
Thornberry was forced to answer the question for him, shaming the Tories by quoting their own figures against them:
According to the government's latest figures, nearly 40% of newly recruited nurses are leaving full time employment within the first year.
Finishing her second question by asking the Tory First Secretary:
Why does the First Secretary think that so many nurses are leaving?
Again, Damian Green failed to answer the question, leaving Thornberry to do it for him, stating:

According to the RCN (Royal College of Nursing), the top four reasons are: excess workload, staff shortages, low pay and worries about patient care. And, according to the government's own figures, the number of nurses quitting because of worries about their finances or their health has doubled since the Tories first froze their pay.
Thornberry then turned the line of questioning towards Green's local area, first asking Green what nurses in his own constituency were telling him, and then cleverly quipping that:
I notice that he didn't want to talk about patient care at his local hospital.

Could the reason be that his local A&E, according to the board's most recent minutes, have 'severe staff shortages in medical and nursing care, means patient safety is being put at risk, and the only option to tackle those shortages is to cancel outpatient clinics.
Thornberry then landed the knockout blow on Green, asking him why there was a public meeting in his own constituency tomorrow regarding the imminent closure of the hospital's A&E department:
And it gets worse: there is going to be a public meeting tomorrow to consider closing his local A&E for good. In other words, all the things that the First Secretary has been denying – what are you doing to our NHS? It is happening on your own doorstep! Isn't it about time the First Secretary got a grip?
Rising to respond to her question, a smarmy Green laughed whilst wearing a broad smirk, responding disingenuously that:
The Right Honourable lady's grasp of the facts is pretty shaky: the meeting tomorrow in my constiuency is about the strategic transformation plan.
However, speaking about this exact public meeting last week, and in a direct contradiction to his response at PMQs, Damian Green himself told Kent Online that:
I am strongly against any proposals to move the A&E away from the William Harvey.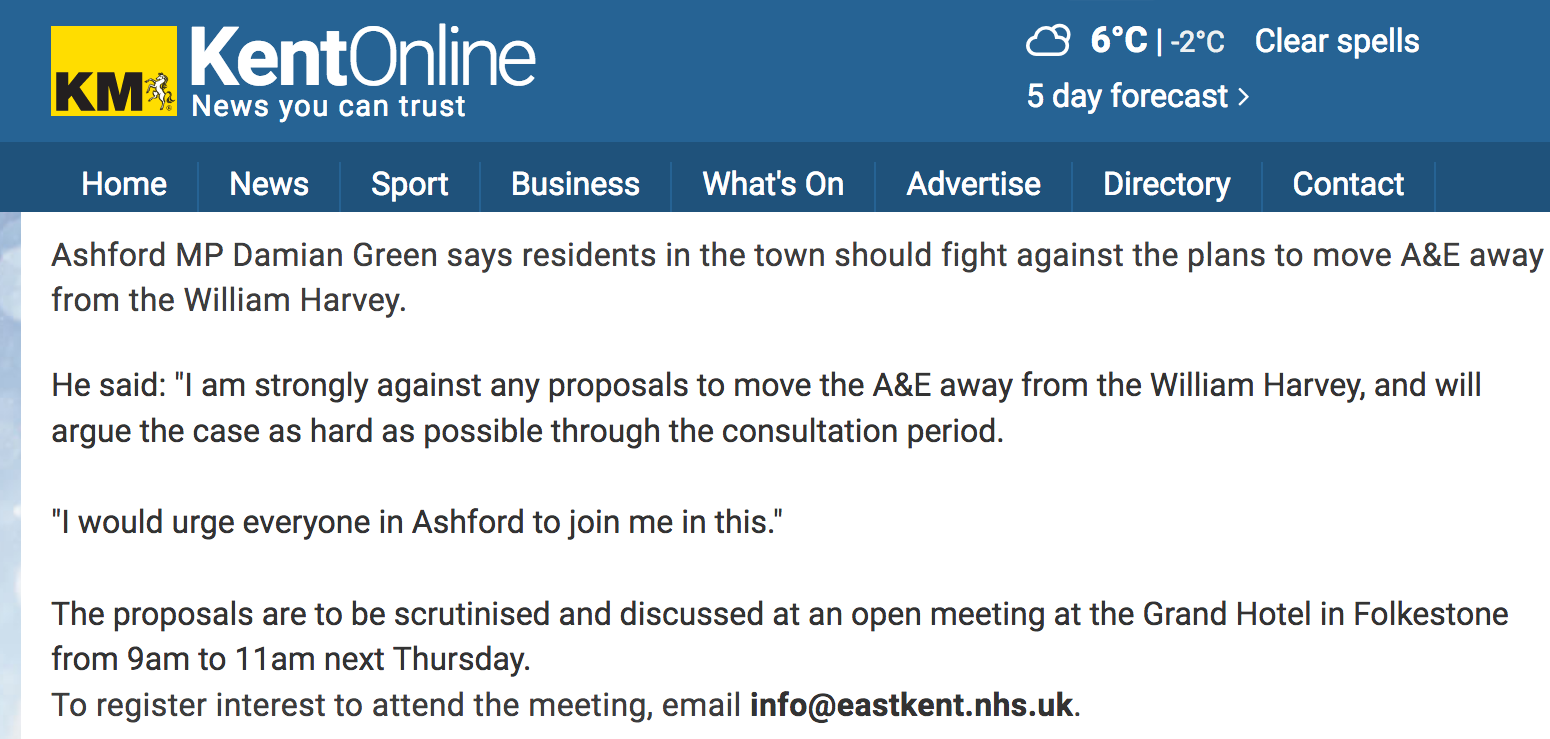 Yes, contrary to Green's ridiculous denials that the meeting is supposedly about something completely different, the public meeting in his own constituency is indeed about whether or not they should close down the A&E department.
You can watch the incredible exchange below:
Become An Evolve Politics Subscriber



Your subscriptions go directly into paying our writers a standard fee for every article they produce. So if you want to help us stay truly independent, please think about subscribing. We literally couldn't function without the support of our fantastic readers.
Subscribe
Or a One-Off Donation to Evolve Politics



If you don't want to subscribe, but still want to contribute to our project, you can make a one-off donation via the donate button below. All your donations go directly to our writers for their work in exposing injustice, inequality and unfairness.
Donate