In scenes reminiscent of Franco's brutal reign, a Spanish riot police officer has been filmed stamping on a man's head, whilst others were seen to throw civilians down stairs amid escalating violence during the outlawed Catalonian referendum today.
In other shocking footage shown to Evolve Politics, riot police can be seen battering crowds of people in completely unprovoked attacks during today's banned vote.
Reports of brutal violence have been widespread, with Labour leader Jeremy Corbyn already calling out the Spanish authorities for their actions in a tweet today, saying:
Police violence against citizens in #Catalonia is shocking. The Spanish government must act to end it now.

— Jeremy Corbyn (@jeremycorbyn) October 1, 2017
Initial reports say that 337 people have already been injured – some seriously – and judging by the scale of violence in the videos we have been shown, that figure is almost certainly likely to rise dramatically. 
Speaking to the Guardian, Jesús López Rodríguez who witnessed a violent police raid on a polling station today described the violence, saying:
We were in the street from 5am. Hundreds of us were waiting to vote peacefully. The ballot boxes came at about 7.30am. Around eight o'clock, we saw seven national police vans. Half an hour later, the police came in riot gear with shields and helmets. They told us that the Catalan high court had ordered them to take the ballot boxes and they told us that we needed to disperse. We said, 'No! No! No!'. Then about 20 police officers charged us. It was short – about two minutes – and we stayed together. I heard the chief officer telling them to retreat. But they just stopped and stayed there for about 15 minutes.

Then eight or nine national vans came and they cordoned off the surrounding streets. We were pushing back and forth until they started to arrest people. They dragged people out violently. We stood our ground but they dragged people away, kicking them and throwing them to the ground … Lots more police came – maybe 100 or more. When they saw they couldn't get into the main building, they jumped over the fence and went in. They came out with ballot boxes 10 minutes later and they broke down the doors [of the school] with axes. They left with the ballot boxes.

There were a lot of police but we stayed there trying to vote. We looked around for other places to vote and then we came back. Half an hour later, we saw lots of police vans on Gran Vía. Then, at about 10.25am, they started to shoot rubber bullets – at least 30 or 40. People were running away, scared and totally defenceless. I ran towards the shots but my wife pulled me back. I was down there for a lot of hours this morning and I didn't hear one insult [towards the police] … I feel really angry about it but I also hope that people in Europe and around the world see what's happening in Catalonia.
And videos posted on social media have shown the true extent of the unprovoked violence committed by the Spanish authorities:
VIEWER DISCRETION ADVISED: You can watch the shocking incident showing a riot officer stamping on a voter's head below:
Another video shown to Evolve Politics shows Spanish riot police brutally beating voters in shocking unprovoked attacks:
Other videos show police attacking peaceful protestors with batons and then firing rubber bullets at extremely close range:
VIDEO: Peaceful voters sing–and are then attacked by Spanish police in today's independence referendum #Catalonia pic.twitter.com/R5b3sPlx5x

— WikiLeaks (@wikileaks) October 1, 2017
https://twitter.com/IRAQPICS1/status/914487181569331200
In yet more disgusting scenes of state-approved violence, Spanish police have also been filmed attacking Catalonian firefighters:
https://twitter.com/invisibleman_17/status/914486335083302912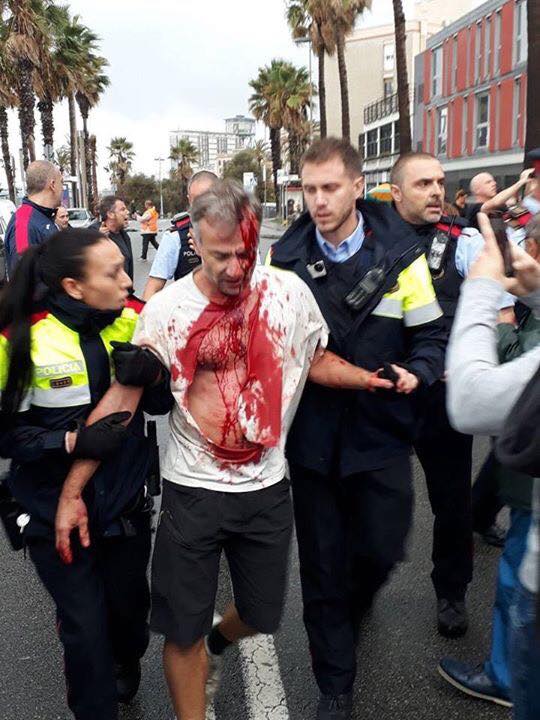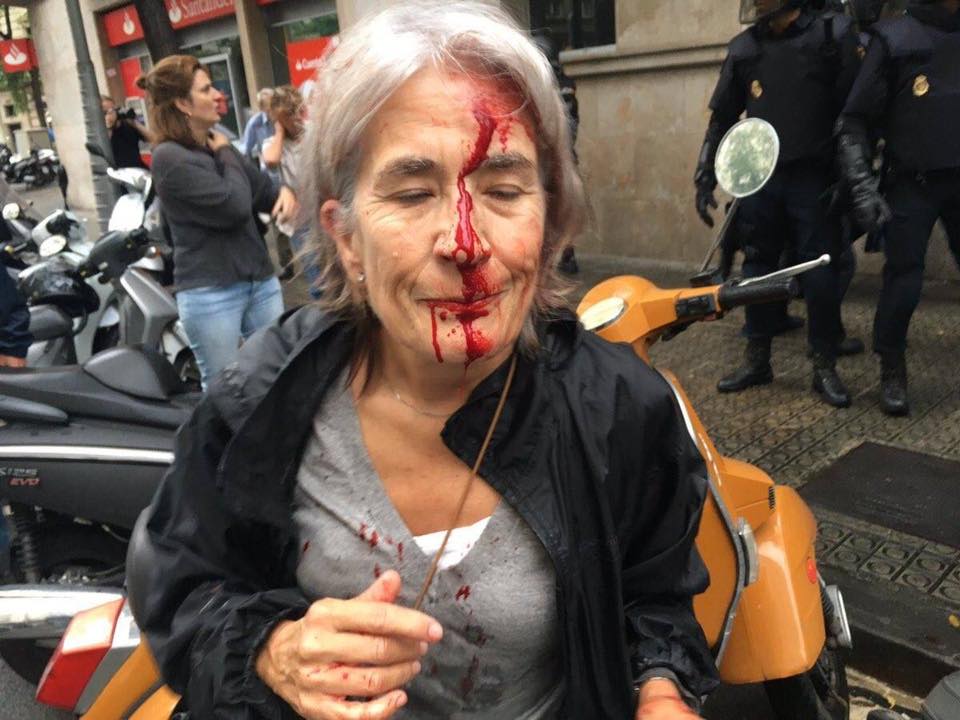 A Spanish officer can be seen striking a woman across the face with a baton in the next video:
Barceloneta right now, this is heartbreaking #CatalanReferendum #catalonia pic.twitter.com/E2EPWsftAz

— Roger Planes (@wodlander) October 1, 2017
Become An Evolve Politics Subscriber



Your subscriptions go directly into paying our writers a standard fee for every article they produce. So if you want to help us stay truly independent, please think about subscribing. We literally couldn't function without the support of our fantastic readers.
Subscribe
Or a One-Off Donation to Evolve Politics



If you don't want to subscribe, but still want to contribute to our project, you can make a one-off donation via the donate button below. All your donations go directly to our writers for their work in exposing injustice, inequality and unfairness.
Donate