Stay in touch!
Sign up to be updated with Evolve's latest stories, and for opportunities to get involved.
Following Tory MP Anne Marie Morris' racist slur about a no deal Brexit being the "real ni**er in the woodpile", calls for the disgraced Tory to resign have been echoing throughout the political landscape.

Andrew Gwynne MP, Labour's Co-National Campaign Coordinator, said:
Anne Marie Morris' comments are outrageous and totally unacceptable. While the Conservative Party has tabled a debate on Wednesday to apparently discuss and condemn abuse of candidates in the General Election, these comments prove their hypocrisy.
And called for the whip to be withdrawn, adding:
Theresa May once spoke about changing the Tories' 'Nasty Party' tag. If she's serious about that, she will admit it's not enough for the Tories to 'investigate' and will apologise and act immediately. If that means withdrawing the whip, that's what they should do.
Owen Jones echoed similar sentiments and launched a barrage of tweets calling on Morris to resign immediately:
https://twitter.com/OwenJones84/status/884413776015101952
In response to these calls for Morris to be sacked, Telegraph columnist and barrister Rupert Myers quickly sprang to defence of the Tory MP, saying:
However, shortly after making this comment defending Morris, Myers then went on a bumbling Twitter rampage, no doubt, after the realisation that his tweet had sparked a major backlash.

Some 7 hours after his initial defence of Morris, this painfully cringing tweet was automatically posted to Myers Twitter account: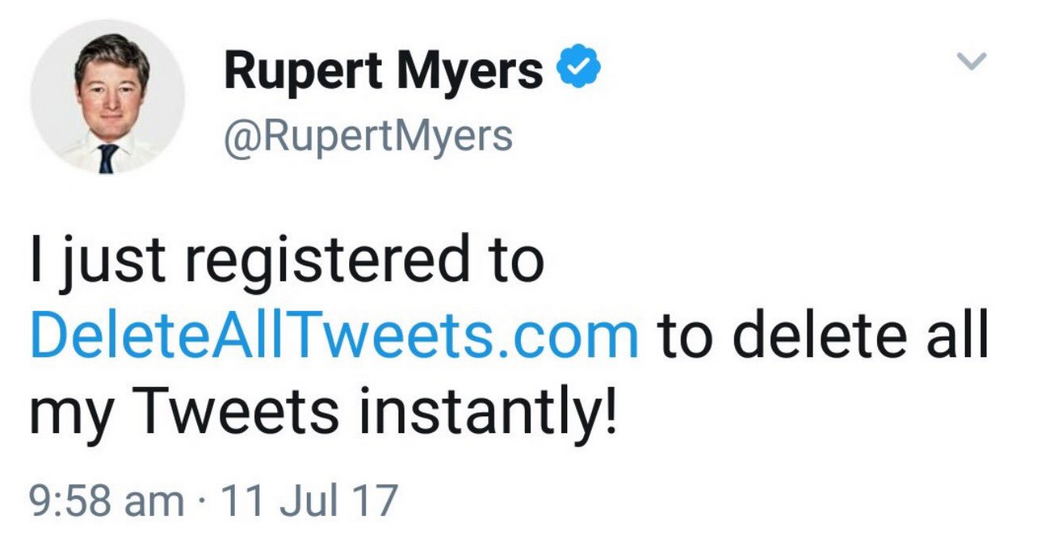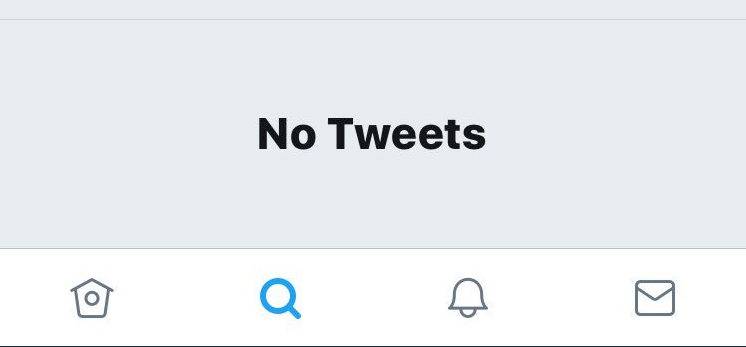 Yes, Rupert Myers decided to completely delete every single tweet he's ever made. The whole sorry debacle was summed up in this hilarious post from Frank Sobotka:
Oh my god pic.twitter.com/uBQHCDONe9

— Frank Sobotka (@cymrurouge) July 11, 2017
And some of the reactions to this cringing charade were pretty funny too. In what was presumably a reference to Mr Myers' ridiculously named side-project, The Spoon, our Assistant Editor Matt Turner replied with:
https://twitter.com/MattTurner4L/status/884707355660865536
This is not the first time this racist phrase has been used by a Tory in modern times. In 2008 the Tory Peer Lord Dixon-Smith said in the House of Lords that concerns about government housing legislation were "the ni**er in the woodpile"
Former Tory PM David Cameron was urged to sack the Lord at the time over the comment — something, of course, Cameron failed to do.
Dixon-smith later said that the phrase had:
slipped out without my thinking
Justifying it by saying:
It was common parlance when I was younger
The Lord did apologise afterward, but apart from that, no action was taken.
May hilariously declared that she is tackling modern day slavery after her visit to the G20 — perhaps she should start by tackling Tory MPs who still use offensive language related to chattel slavery?

Then maybe we could take her claims, at least, somewhat seriously…
Become An Evolve Politics Subscriber
Your subscriptions go directly into paying our writers a standard fee for every article they produce. So if you want to help us stay truly independent, please think about subscribing. We literally couldn't function without the support of our fantastic readers.
Subscribe
Or a One-Off Donation to Evolve Politics
If you don't want to subscribe, but still want to contribute to our project, you can make a one-off donation via the donate button below. All your donations go directly to our writers for their work in exposing injustice, inequality and unfairness.
Donate