Since the emergence of the hugely influential Jeremy Corbyn-supporting campaign group Momentum, right-wing pro-Tory activists have desperately tried to fight back to gain much-needed support from younger generations – instigating several hilarious attempts at emulating the left-wing organisation's hugely viral social media success story.
First there was Activate – a technologically inept pro-Tory group who announced their entirely-unexpected arrival with a tragically ancient Star Wars meme, then encountered an embarrassingly public takeover by a similarly useless Jacob Rees-Mogg supporting faction, before burning out in a blaze of ignominy [see numerous Evolve articles for more priceless details].
Then there are the pro-Tory Facebook groups, such as "Middle Class Memes for Rees-Moggian Teens", who literally describe themselves as "the young straight white men you love to hate" – seemingly oblivious to the fact that 50% of voters are women, and apparently priding themselves in the intentional exclusion of another 6-8% of the voting public who identify as LGBTQ+.
However, in recent months there has been another contender to enter the right-wing social media arena – a UK offshoot of the billionaire-backed, hard-right, privatisation-loving American youth organisation, Turning Point.
Needless to say, the launch of Turning Point UK did not go smoothly for them, with key figures involved in the project leaving almost immediately after they received an absolute rinsing from the vast majority of social media.
However, despite their various setbacks, Turning Point UK have persisted – churning out poorly made memes and extraordinarily hollow, pro-privatisation, anti-socialist, right-wing vapidities on an almost daily basis.
Despite their seemingly best efforts to seize the memes of production, Turning Point UK have so far only managed to accrue 23k followers on Twitter – almost five times fewer than Momentum.
But on Facebook – the holy grail for everyday political social media engagement – their numbers are even worse. Whilst Momentum have just shy of a quarter of a million followers, the Turning Point UK Facebook page had (as of midday yesterday) approximately 4,000 'likes' – just 1.6% of Momentum's total.
So, with their right-wing memes and their pro-privatisation, anti-socialist quips *somehow* failing to drum up an audience, the Turning Point UK admin team came up with an apparently foolproof plan.
Yes, under the full knowledge that left-wing political views are hugely dominant over their own pro-greed brand of right-wing politics on UK Facebook, the Turning Point UK crew had the bright idea of asking their followers which was better: Capitalism or Socialism.
Unsurprisingly, the poll didn't go the way that Turning Point UK had seemingly planned, with left-wing activists sharing the poll all over the numerous pro-Corbyn Facebook groups – ultimately resulting in 24,000 people choosing Socialism, compared to just 4,300 choosing Capitalism.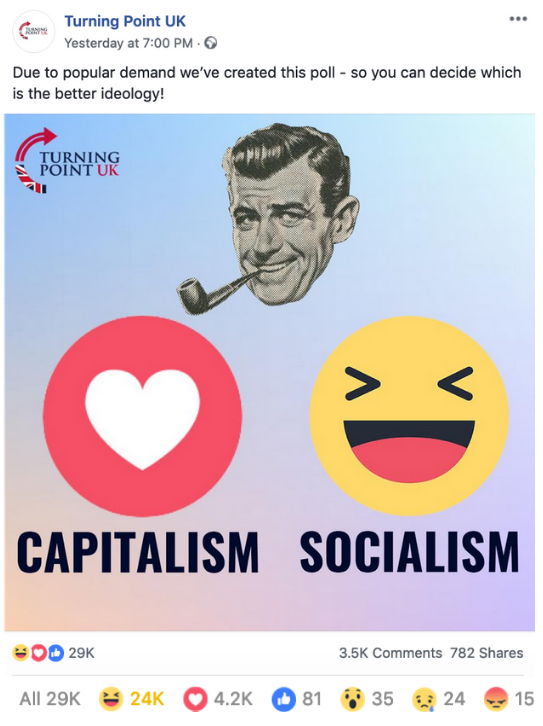 And just to compound their resounding humiliation, the top comment was also an absolute belter, with William Boffa quipping:
"For a group that hates socialism you sure do love being publicly owned"
However, despite their latest embarrassment, all was not lost for Turning Point, because their apparent act of self-sabotage managed to boost their page likes by more than 50% – increasing substantially from 4,000 to 6,389 (as of today).
Could it be that, devoid of any evidence-based political positions or engaging ideas of their own, Turning Point UK decided to intentionally humiliate themselves for the sake of a few thousand likes?
It's either that or they're literally so detached from reality that they don't understand how incredibly unpopular their pro-privatisation, anti-immigrant, pro-greed ideology really is.