Evolve Politics secretly infiltrated the Tories' imitation-Momentum group Activate, gaining the full trust and backing of Activate's National Chairman Gary Markwell, before having a Senior Editor offered a job on Activate's Media Team.
With essentially no prior vetting whatsoever, an Evolve Senior Editor was given control of Activate's official social media accounts, had open access to highly compromising information on individuals within Activate and the Conservative Party, and witnessed first hand the woeful self-destruction of Activate's leadership team as their organisation was mocked mercilessly in the national media.

Evolve were able to easily gain full and unfettered access to Activate passwords, secret groups, and highly sensitive, compromising information, as well as witnessing details of extremely questionable activities within the organisation itself.
During the investigation, Activate suffered numerous leaks of information – all of which were completely unrelated to our undercover activity. Evolve Politics knows the identity of those individuals leaking information, as well as the individuals responsible for taking over Activate's official Twitter account.

Public Interest
As per the IPSO editor's code related to clandestine devices and subterfuge, Evolve Politics chose to investigate the activities of Activate for reasons of public interest. Evolve had no option but to initiate an undercover operation due to Activate's leadership failing to answer, or even acknowledge our legitimate questions related to their operation.
Before initiating the investigation, Evolve Politics had previously attempted to ask Activate's National Chairman Gary Markwell questions related to:
Activate's Business Set Up – Its Business/Charity Number

Proof of Activate's supposed 'independence' from the Conservative Party

How Activate were paying their staff
Unfortunately, Activate's National Chairman Gary Markwell decided to completely ignore our questions. As a result of this radio silence, Evolve decided to devise a plan of action.
Before initiating this investigation, Evolve were extremely skeptical as to whether it would even be possible for us to have our Editor join as a paid member of Activate.
But, as you will see in the following series of articles, Activate had almost no security, no professional planning or coherent strategy, and literally no clue whatsoever what they were even trying to achieve with the project.
Read on as we give you the full picture into what really went on inside the woefully depressing online Tory world of Activate.
The Set Up



Firstly, Evolve needed to create a relatively believable Conservative persona. Our initial intentions were to try and infiltrate the organisation to find answers to our questions, whilst simultaneously exposing how little Activate truly understood about social media and the wider online world.
Our original aim was to join as a paid member to see whether or not we could gain access to Activate's secret members-only Facebook group in order to ascertain answers to our questions. But, with absolutely no vetting or scrutiny from the leadership, Evolve's Editor was swiftly thrust into a position of power and trust on the media team.
Here's how we did it:
'Tory Thomas'
Posing as a rich, boat-loving Tory, whom we dubbed "Tory Thomas", Evolve utilised an old duplicate Facebook profile belonging to the partner of one of our Senior Editors.
To create the profile pictures, Evolve's Senior Editor persuaded her partner to dress up in a suit and aviators, hold a wine glass full of water, and pull several smug Tory-like poses whilst she took photos.
Then we (intentionally badly) Photoshopped two of the most-smug pictures on to ridiculous backgrounds made from two pictures of the same Princess 72 boat we found for sale online for around £500,000.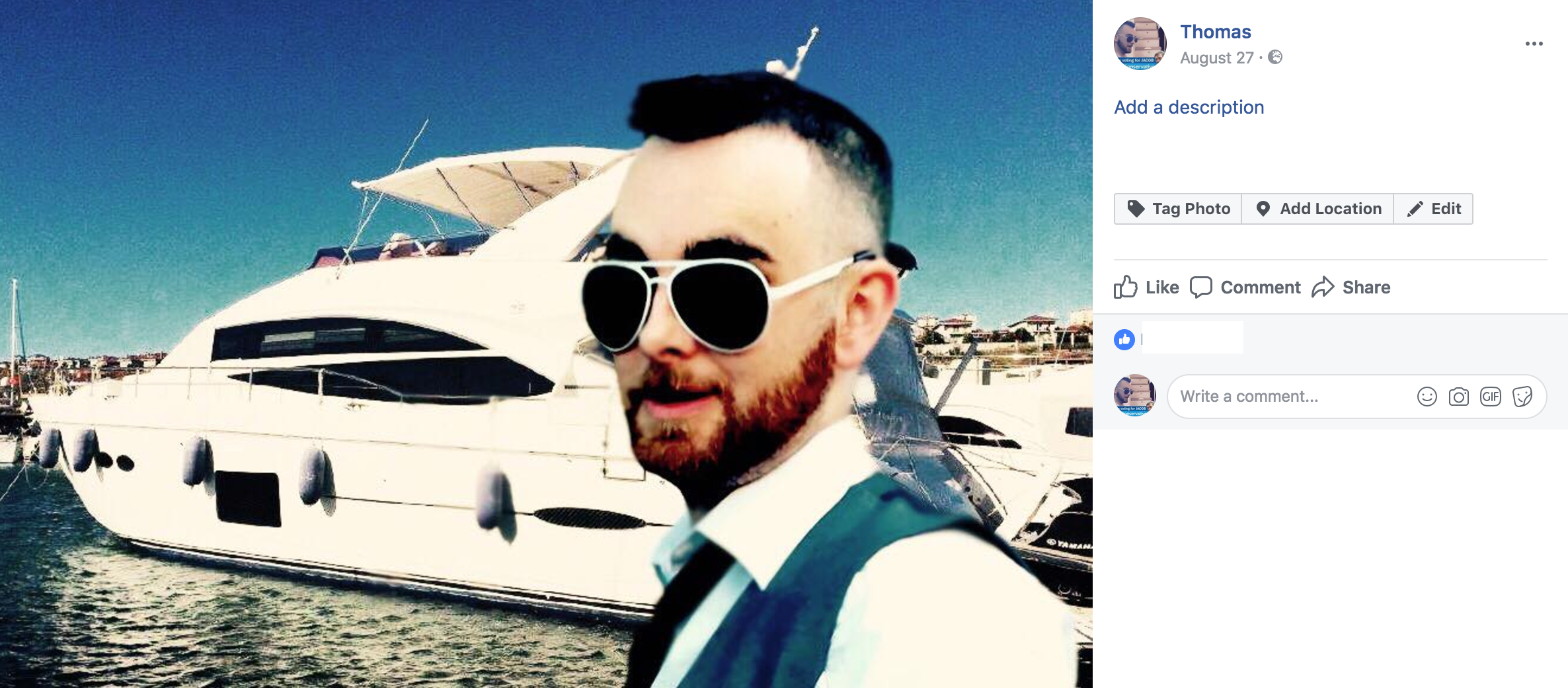 Obviously we had to add a pro-JRM Tory banner to our profile. Standard.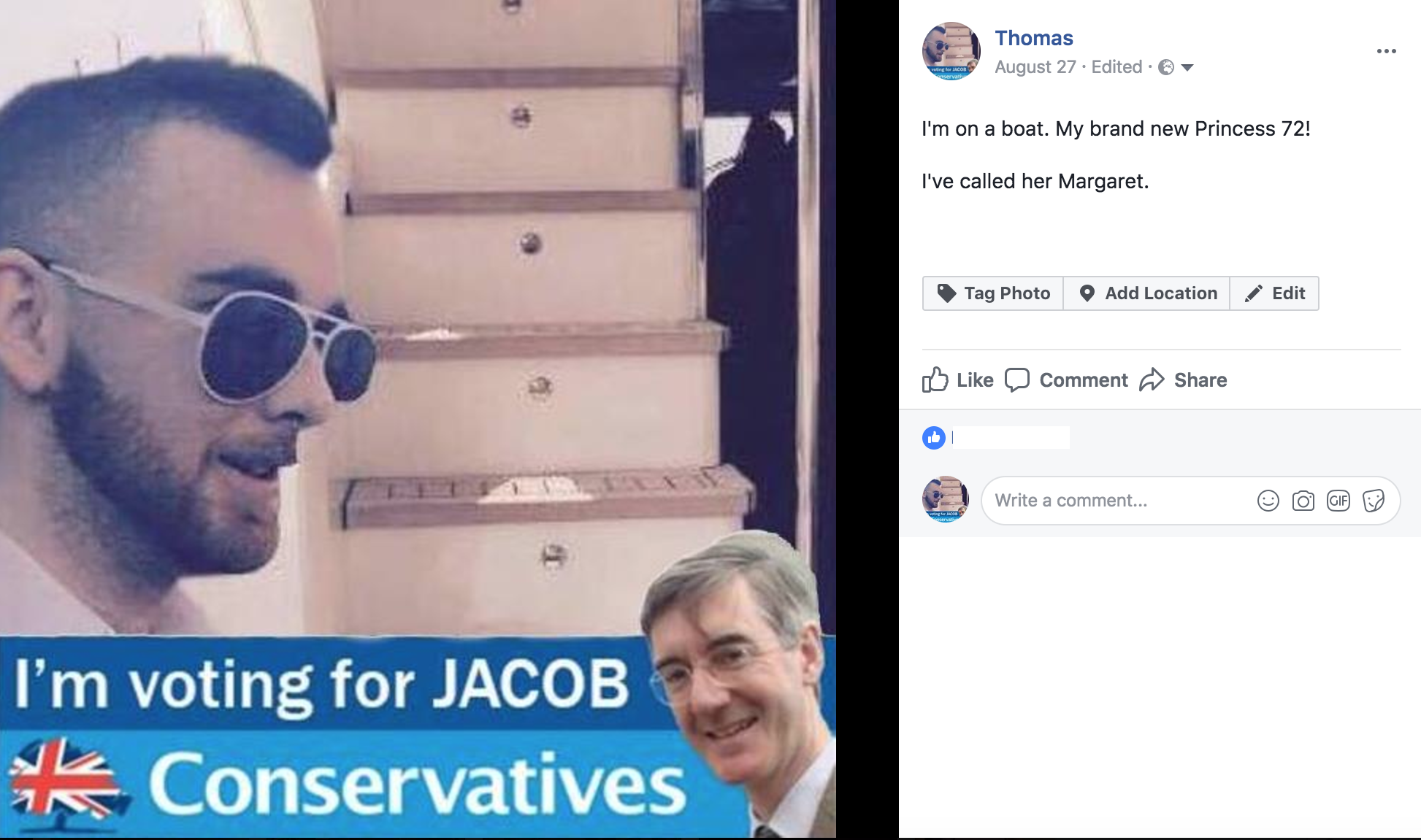 This is how our profile header looked. The Activate Tories genuinely fell for this. Honestly.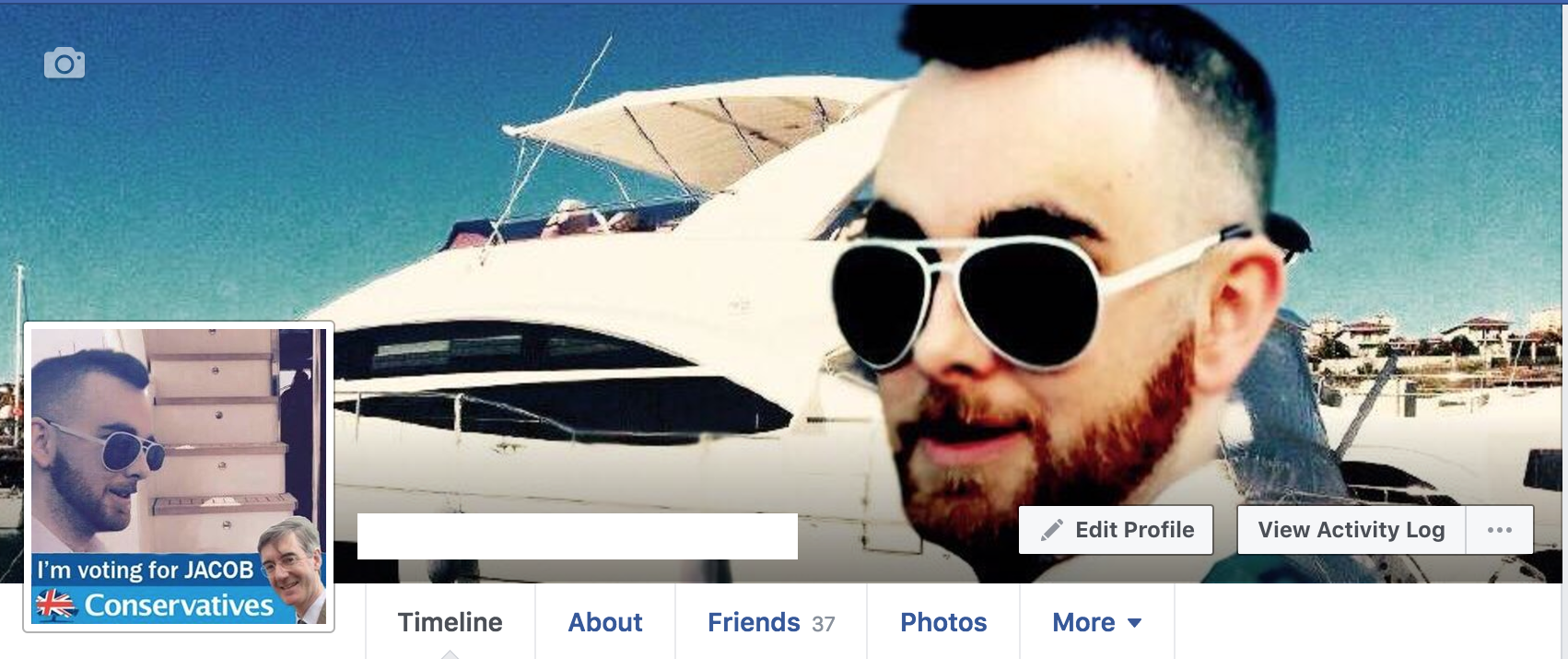 After creating the pictures, we then had to devise a convincing back story.
We decided that our 'Tory Thomas' character should have a traditional, believable Tory upbringing. So, we decided there was no better place for him to be educated than Harrow and Oxford Uni.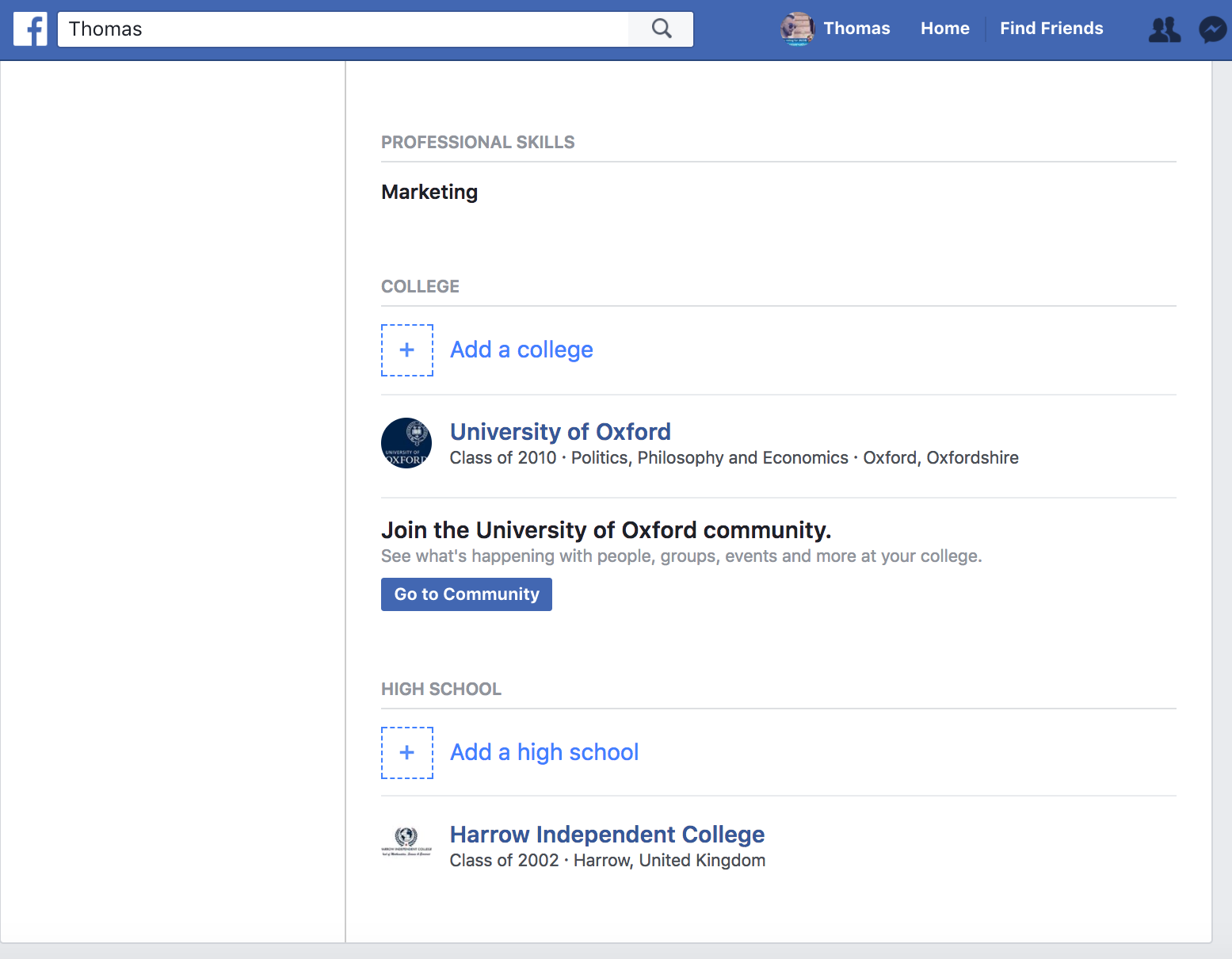 After graduating from Oxford, 'Tory Thomas' found himself immediately thrust into a job with the Conservative Party with absolutely no experience whatsoever. But, after realising that he couldn't make enough money in politics to satisfy his insatiable greed, 'Tory Thomas' decided to accept another job at those delightful people at Phillip Morris – a job handed to him on a plate due to connections his father had.
If you don't know who Phillip Morris are, they're those lovely people that actively promote smoking to kids in third world countries.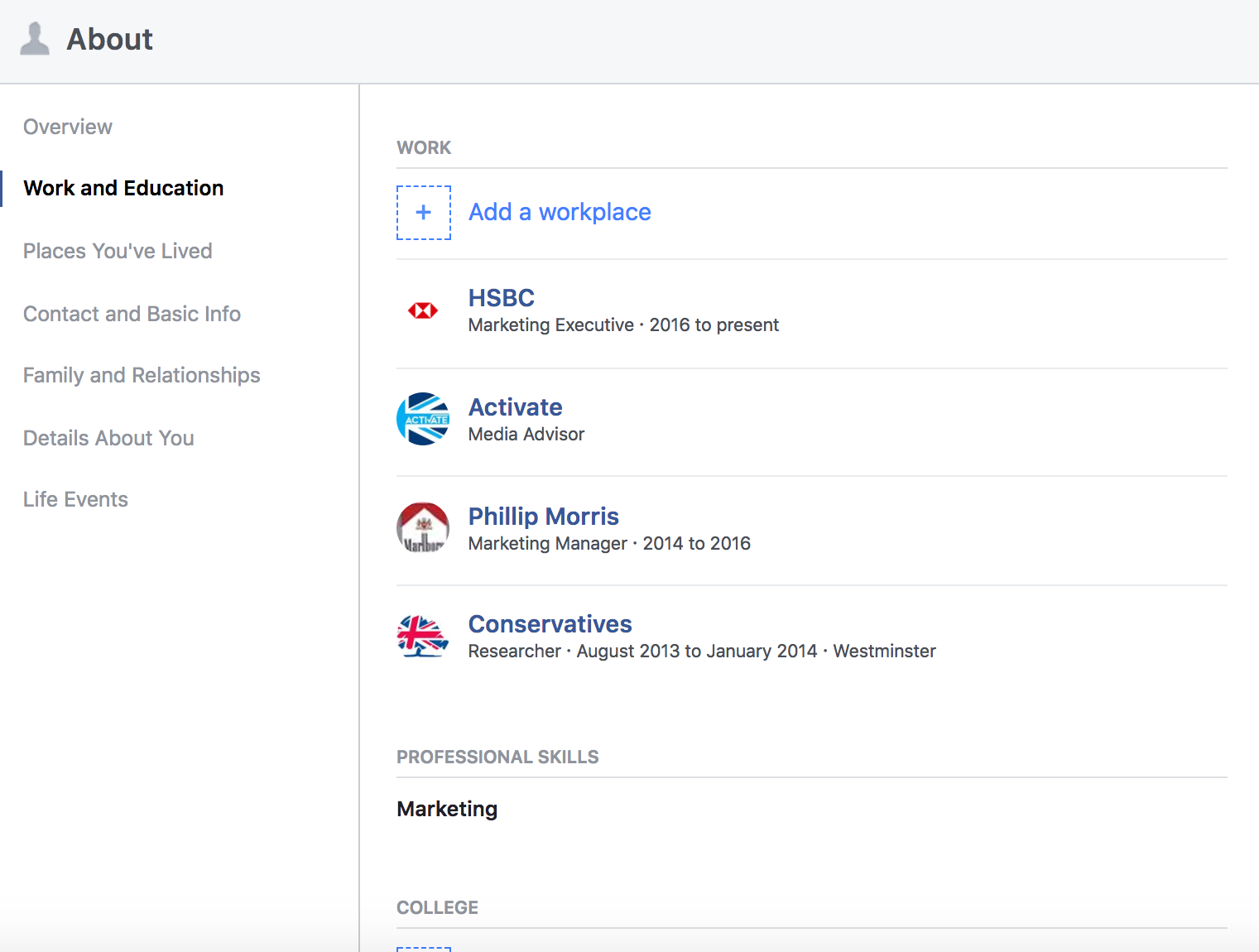 After Tory Thomas' stint as a Marketing Manager for the biggest tobacco firm in the world, he was then headhunted by those straight up fellas at HSBC, where his profile states he still works to this day as a Marketing Executive.
In his spare time, Tory Thomas obviously led a very active life indeed, describing himself as:
"HSBC Marketing Exec. Barca Fan. Living Every Day to the Max."
If the Activate hierarchy had bothered to vet his profile a little harder, they would have seen that Tory Thomas' interests also included reading the classics…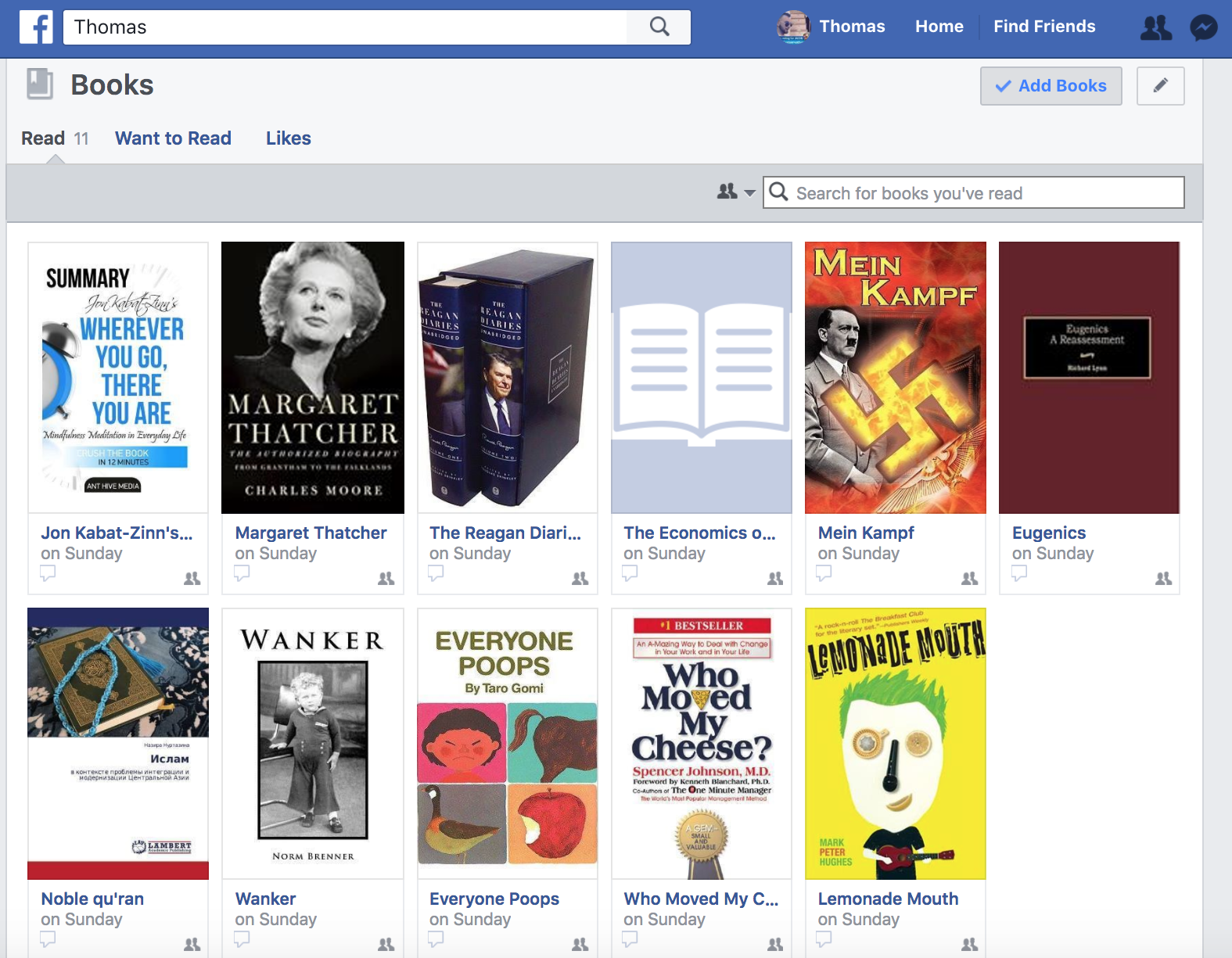 …such as 'Mein Kampf', 'Who Moved My Cheese?', 'Eugenics', and that instant classic; 'Everbody Poops'.
Tory Thomas also lists some of his favourite bands as: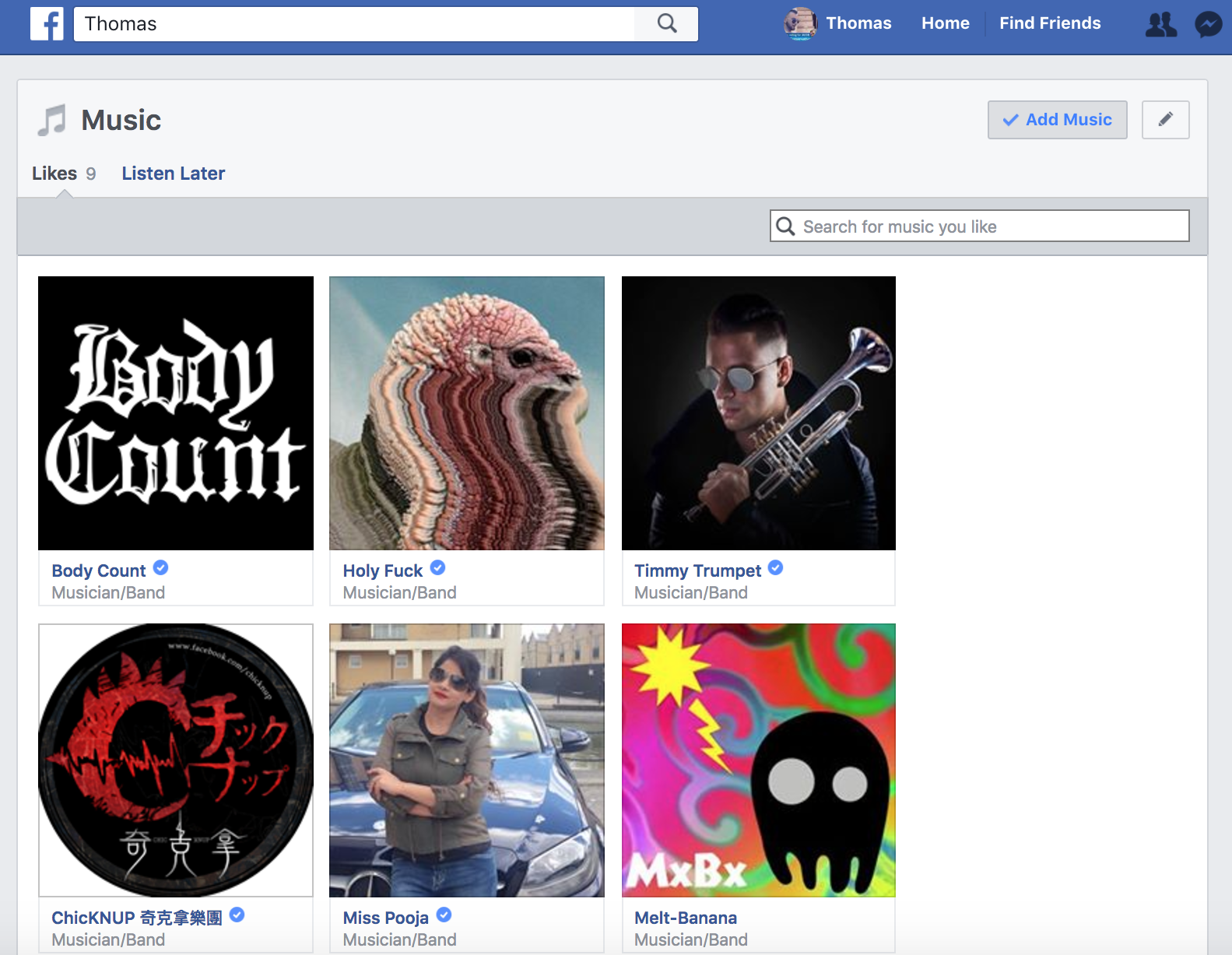 Timmy Trumpet, Body Count, and the delightfully named verified band; Holy Fuck.
Yes, Tory Thomas certainly was an interesting fella. And, through lack of any real procedure, the Activate hierarchy are probably only now realising just how interesting he really was!
Do stay tuned for Part Two where we detail exactly how Activate's National Chairman Gary Markwell decided to give us access to everything without us even asking, and how Activate's young Conservative activists descended into bitter resignations, incredible in-fighting, and highly damaging leaks within a mere two days. It really was even more shambolic that you can possibly imagine.