A far-right anti-Islam Facebook page has been hilariously pranked by an infiltrator in what must go down as one of the most legendary cases of left-wing trolling we've ever seen.
What's even funnier is that the admins of the page STILL haven't noticed what's happened. Believe us, you'll want to see it! 
If you've never heard of them (which you probably haven't), Exposing Islam Northern Ireland is a delightful Facebook page with only one goal: to spread a message of hate against Muslims.  

Recent posts include sharing the *horrific sight* of girls in Northern Ireland wearing burkas (OMG), and this absolute gem – claiming that although there may be 'moderate Muslims' – there is no 'moderate Islam'.
I don't know if it's just me, but that makes no sense.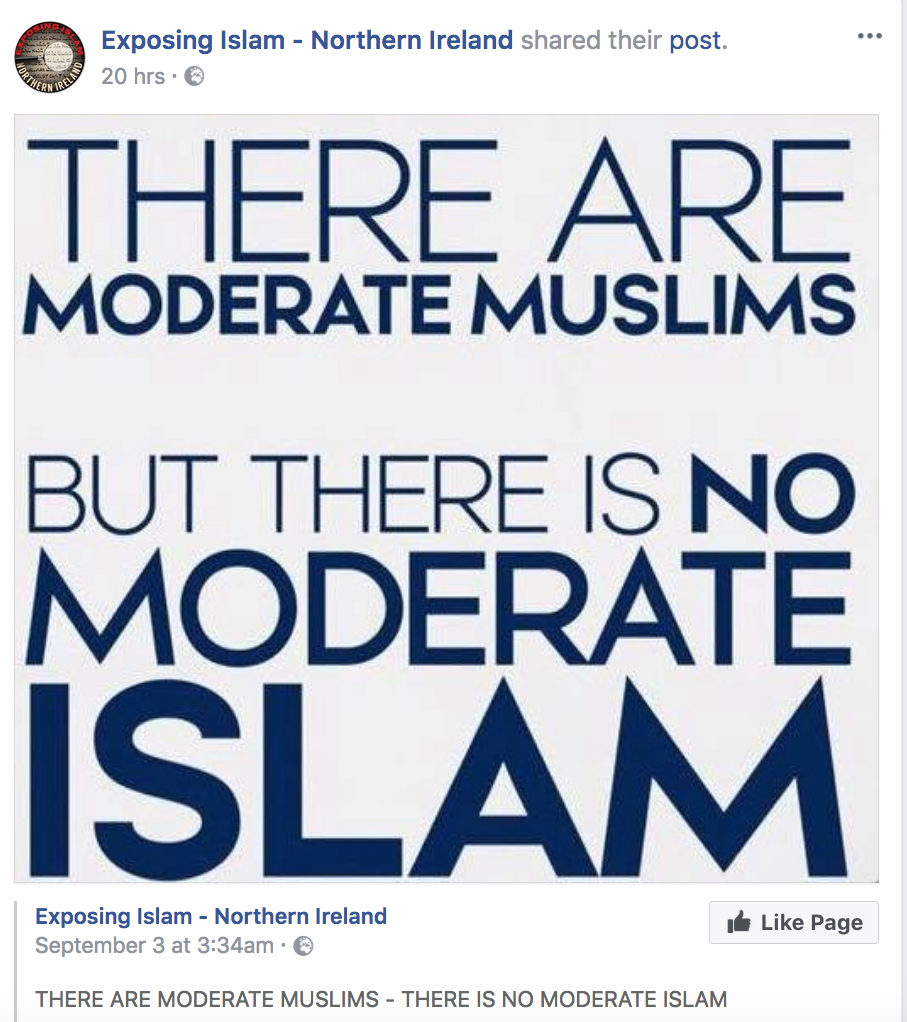 Yep, they surely are a lovely bunch of people.
In another post, Exposing Islam detail how they were invited to Belfast's Islamic Centre to 'share their concerns about Islam' with Belfast City Councillor, Jolene Bunting (the same Councillor who called Catholics 'b*stards' a few years back).
However, in a lengthy Facebook post, the page expressed their 'disappointment' at the discussion.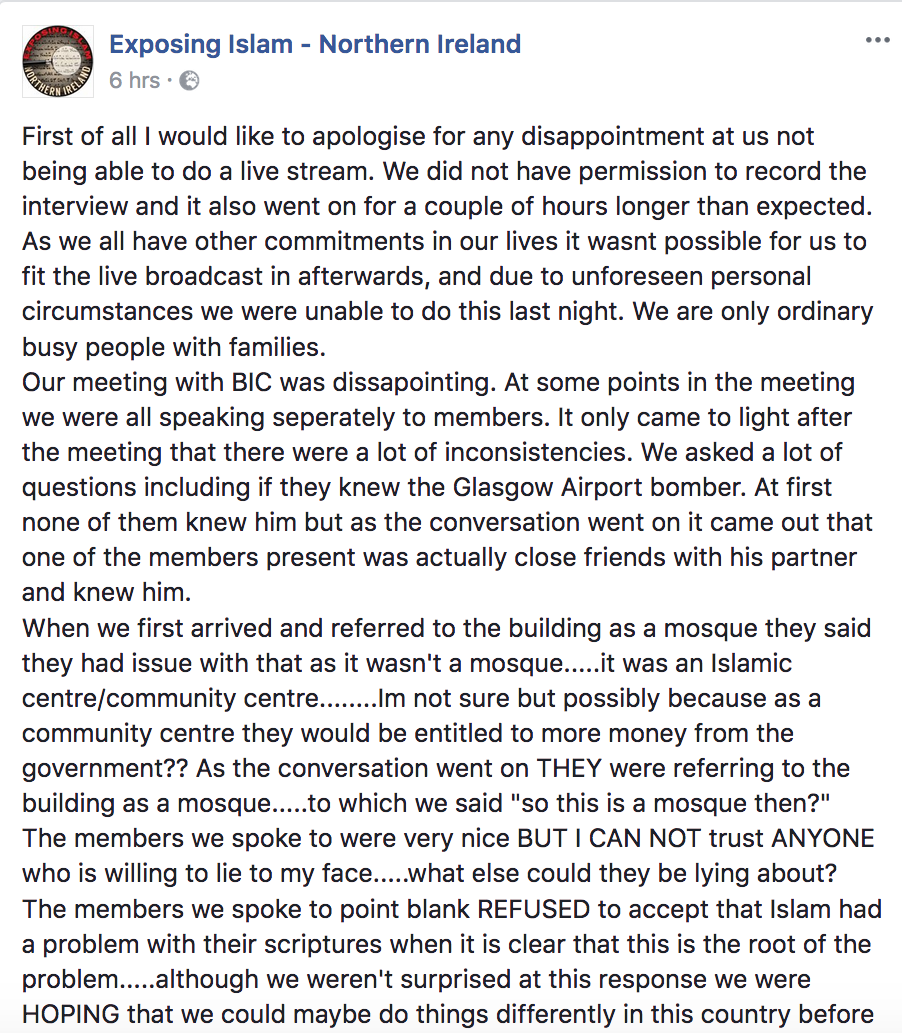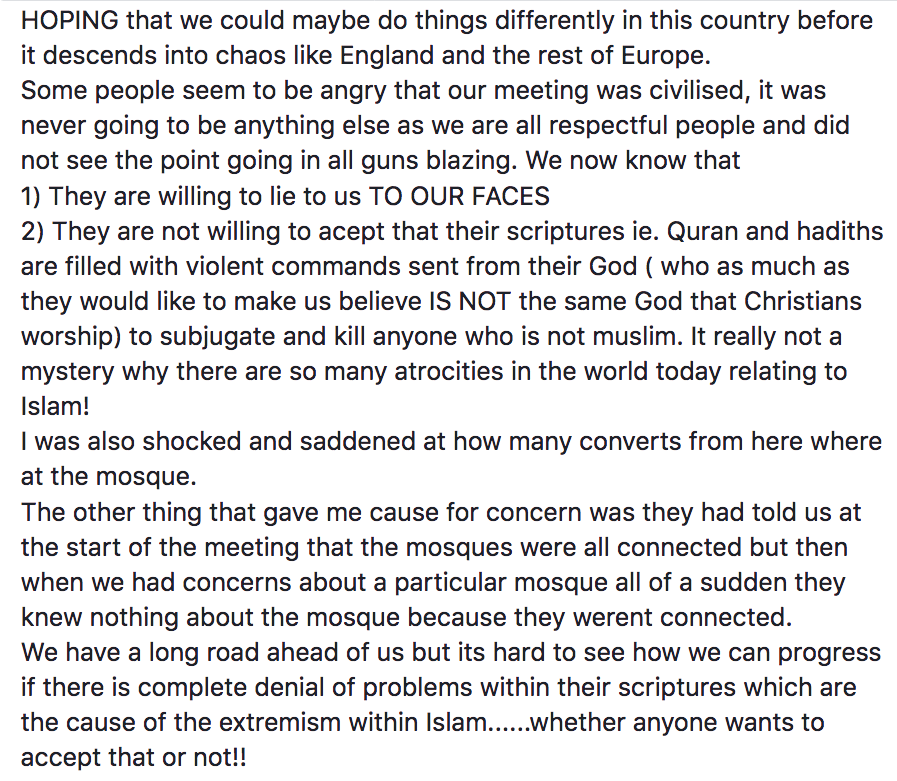 Firstly, they speculate that the Belfast Islamic Centre of referring to themselves as a centre rather than a mosque so that they would be entitled to more government money.
Then they complain that the members in attendance 'point blank refused to accept that Islam had a problem with its scriptures when it is clear that this is the root of the problem', and that the scriptures 'are filled with violent commands…to subjugate and kill anyone who is not muslim.'
Monumental Trolling
So, (un)luckily for the admins of Exposing Islam, a 'supporter of the page' recently made them a snazzy new logo.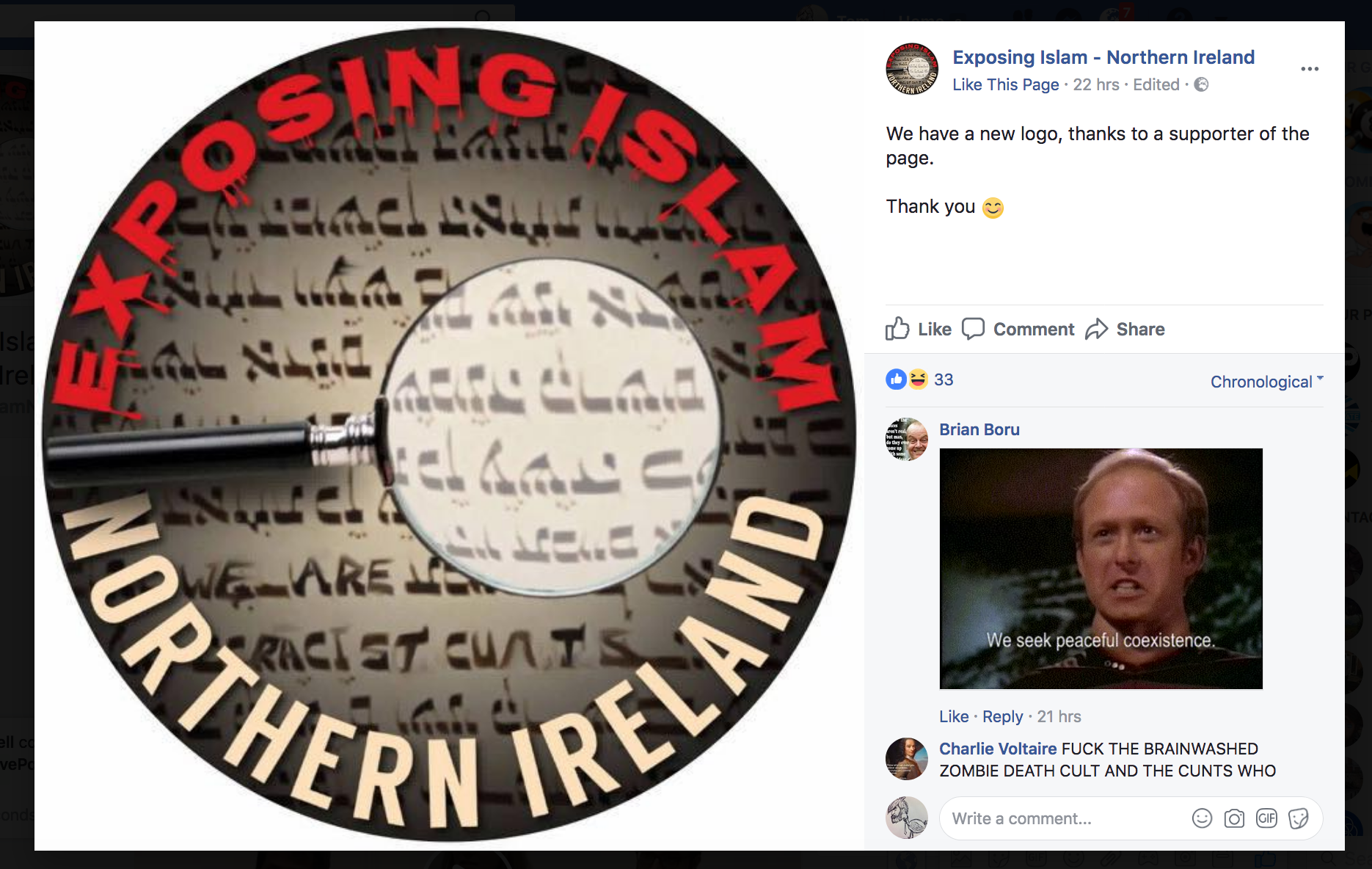 Except… it looks a little odd.
Can you spot it from this one?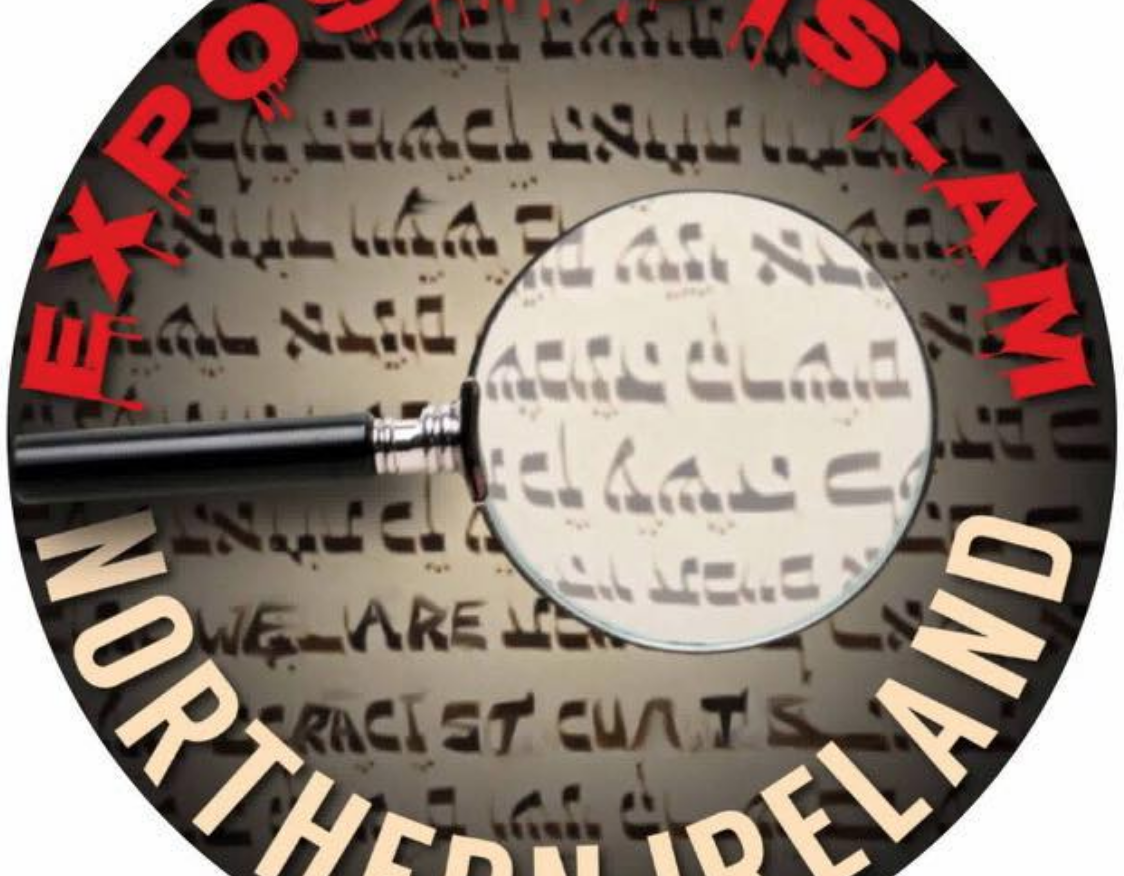 If you still haven't spotted it, here's a close up: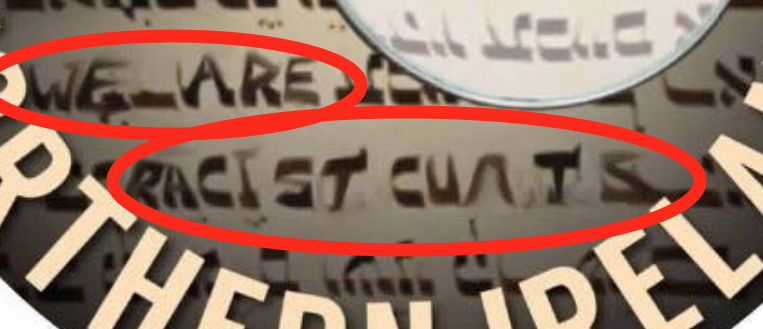 Yes, it says 'we are racist c*nts'.

Yep, Exposing Islam Northern Ireland's new logo says exactly what we are all thinking.
I always knew internet trolls were good for something!
Why not head on over to the post below and leave a comment! Don't give it away though!


Sweeping generalisations
Extremists are found in any religion, not just in Islam. The problem is when people warp the text to fit their views, or when they follow religious texts to a tee. But if Exposing Islam is particularly concerned about Muslims killing in the name of Islam, perhaps they should pay closer attention to the Bible: namely, Deuteronomy 17:2-5.
If a man or woman living among you in one of the towns the Lord gives you is found doing evil in the eyes of the Lord your God in violation of his covenant…take the man or woman who has done this evil deed to your city gate and stone that person to death.
Exposing Islam likes to expose the extremist Muslims to show to the world that all Muslims are evil – not the misguided few. The problem is that there are some people out there who do agree, and would rather 'send them back where they come from'.
But, where there are bigots spouting hate, there are those wonderful people who will fight back.
It remains to be seen just how long these blithering bigots will take to finally realise they've been the victims of one of the most outlandish trollings we've ever seen.
Become An Evolve Politics Subscriber



Your subscriptions go directly into paying our writers a
standard fee for every article they produce. So if you want to help us stay truly independent, please think about subscribing. We literally couldn't function without the support of our fantastic readers.
Subscribe
Or a One-Off Donation to Evolve Politics



If you don't want to subscribe, but still want to contribute to our project, you can make a one-off donation via the donate button below. All your donations go directly to our writers for their work in exposing injustice, inequality and unfairness.
Donate