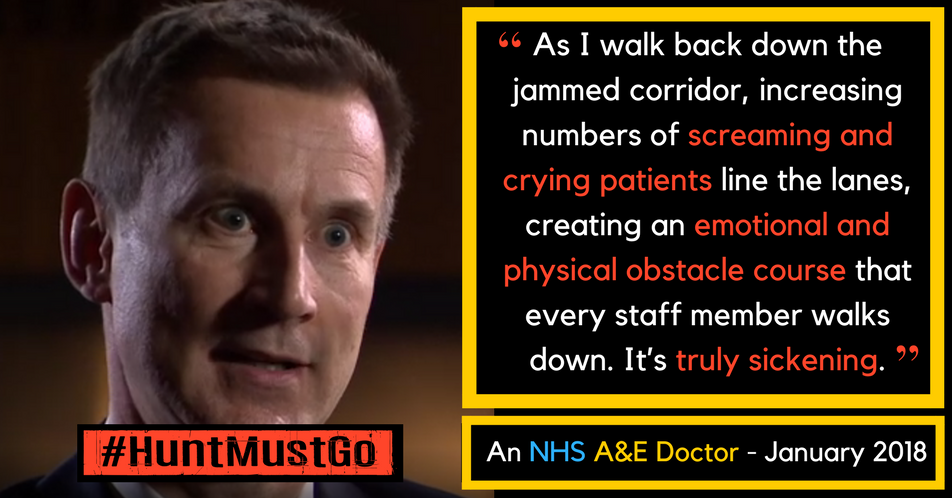 "As I walk back down the jammed corridor, increasing numbers of screaming and crying patients line the lanes, creating an emotional and physical obstacle course that every staff member walks down. It's truly sickening."
This is not an excerpt from the memoirs of a military physician on tour in Afghanistan, nor is it a report from below deck on a wartime frigate or a story from a third world country. This is the observation of the day in the life of an anonymous A&E Doctor in their British hospital on a typical weekday. 
It paints itself, a despicable brushstroke, within the daubing of Ambulances backed-up outside hospitals, operations being cancelled and postponed, nurses, doctors, cleaners, and security personnel overworked to the point of exhaustion. 
And now, the death of an 81-year old pensioner in Essex. She dialed 999 on a Tuesday evening complaining of chest pains. Almost FOUR HOURS later, an Ambulance crew was finally freed up to attend the emergency.
After forcing entry to the house, the distraught crew found only a lifeless body.
Her death is a direct result of this Conservative Government's cuts. It is a direct result of the bullying and pressuring and obstinance of our smirking, thin-lipped, bristle-haired Health Secretary, Jeremy Hunt. 
May and Hunt owe this woman's family a personal apology. They owe a personal apology to every man, woman and child who, in the words of former health minister Normal Lamb, will inevitably die or be left with long-term disabilities as a result of the state the system is in.
The pressures of winter have been allowed nigh-on to crack the foundations of a National Health Service and an ambulance service underfunded and under-staffed, under-equipped and unsupported by the ministers who owe it their care and responsibility. 
Cases like this woman's, who had to wait almost four hours before the familiar screech of sirens echoed up her street, are no anomaly under this Tory Government. GMB regional officer Dave Powell says that cases like this are far more widespread than people realise.
Of course, they never will, but Theresa May and Jeremy Hunt should contemplate nothing less than genuflection at the foot of this nation. 
Their people are flailing and dying and suffering in hospitals unfit for purpose because they are more concerned with the accounts of national finances and the privatisation of public services than they are with the human beings over whom they have charge. 
This poor woman's death can do one of two things: either anesthetise us to the wilful barbarism of this Tory government, or spur us to action. The Tories hope it will be the former, and if the latter, the Tories are praying the public calls for privatisation. We can not allow that to happen. 
The woeful state of our National Health Service is a political choice, and one with nefarious ends. As the A&E Doctor went on to say:
"The inadequate care we are providing is the inevitable reality of the government's funding decisions. If you strip back funding, force hospitals to make savings they can't afford, devastate primary and social care, and fail to invest in staffing or resources to match demand, we are forced to tell our patients: "I'm so sorry, we can't look after you safely today."" 
Become An Evolve Politics Subscriber



Your subscriptions go directly into paying our writers a standard fee for every article they produce. So if you want to help us stay truly independent, please think about subscribing. We literally couldn't function without the support of our fantastic readers.
Subscribe
Or a One-Off Donation to Evolve Politics



If you don't want to subscribe, but still want to contribute to our project, you can make a one-off donation via the donate button below. All your donations go directly to our writers for their work in exposing injustice, inequality and unfairness.
Donate