Stay in touch!
Sign up to be updated with Evolve's latest stories, and for opportunities to get involved.
It has been a week of utter chaos in the Conservative Party.
Theresa May has seen both Defence Secretary Michael Fallon and now International Development Secretary Priti Patel resign from the Tory Cabinet in disgrace following blatant breaches of the Ministerial Code.
Added to this, the embattled PM has had to deal with an unprecedented sex scandal engulfing the entire British political system during the past week.
Forty of her own MPs – many of whom are senior Cabinet members – were caught up in a dodgy dossier that was then subsequently leaked on to social media for all to see.
The dossier contained various lurid and potentially illegal accusations against various Tory MPs, combined with accusations of legal but highly embarrassing sexual kinks and extra-marital affairs amongst numerous MPs in her party.
All of these problems piled on top of eachother so quickly that they could have been enough to topple most regimes on their own. But the fact that the Prime Minister was was also responsible for losing her party's majority during the General Election after releasing an incredibly poor Manifesto and appearing to completely underestimate Jeremy Corbyn's message of hope, it seemed inevitable that her own party would eventually lose faith in Theresa May.
And a large faction just has.
That's right, we all thought Boris Johnson would be the obvious choice to break cover in any potential bid to oust the PM, but it seems BoJo has been beaten to the punch.
Following the resignation of Priti Patel last night, the campaign group backing Jacob Rees-Mogg has been extremely quick to act.
The campaigners, who called themselves 'Ready For Rees-Mogg', state in an email to members that:

It's been a crazy week in politics.

Things are sitting on a knife edge – it's the weakest this Conservative government has been since the General Election.
And predicting imminent disaster for the current wobbly administration, Ready For Rees Mogg went on to say that:
Any more resignations could spell the end of Theresa May's premiership.

That would mean a leadership election.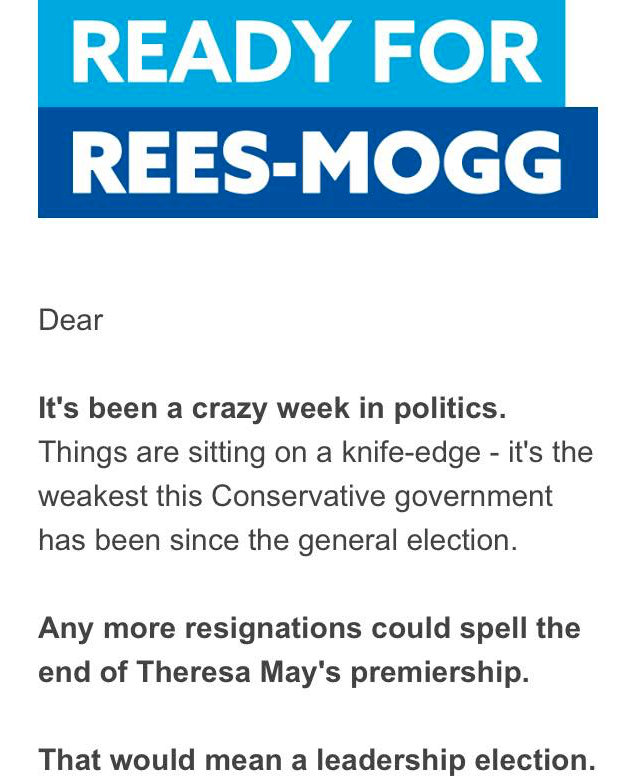 And in a thinly veiled dig at the hapless Prime Minister's leadership credentials, Rees-Mogg's campaign group went on to big-up their beloved leader by stating that:
It is even more clear that we need a principled and honourable leader to take the helm.
Also according to the email the group has been 'working hard behind to scenes to build an infrastructure that will see Jacob Rees-Mogg become leader.'
Unfortunately for the group, however, Mr Rees-Mogg has done everything he can to avoid endorsing them so far – as doing so would be a clear act of mutiny towards the leadership of his party.
However, with Theresa May's position looking about as precarious as it's ever been, now may well be the time for one brave Tory MP to bite the bullet and force May's hand. 

But, with no widely-favoured candidate to take over from May, and a whole host of intensely unlikable Cabinet members jostling for position behind her, the next few weeks really could become an even bigger sh*tshow for the Tory party than the last few weeks of utter chaos have been.
One thing is for sure, however; we will be watching intensely.
Become An Evolve Politics Subscriber



Your subscriptions go directly into paying our writers a standard fee for every article they produce. So if you want to help us stay truly independent, please think about subscribing. We literally couldn't function without the support of our fantastic readers.
Subscribe
Or a One-Off Donation to Evolve Politics



If you don't want to subscribe, but still want to contribute to our project, you can make a one-off donation via the donate button below. All your donations go directly to our writers for their work in exposing injustice, inequality and unfairness.
Donate