Labour leader Jeremy Corbyn has been urged to launch legal action against a Conservative MP who accused him of selling 'British secrets to Communist spies' on Twitter.
Ben Bradley, the MP for Mansfield and the current Tory Vice Chair for Youth, posted a tweet replying to a Twitter activists 'Far Right Watch', that stated:
Corbyn sold British secrets to communist spies… get some perspective mate!! Your priorities are a bit awry! #AreYouSerious

However, the allegations that Mr Bradley is making against Corbyn are just that – allegations. Ones which the Labour leader and his team have completely denied as outrageous and completely unfounded smears.
Bradley's allegation was almost certainly based on the S*n's latest ridiculous Corbyn-smear entitled "Former Soviet spy makes shock claims that 'Jeremy Corbyn was our asset…he had been recruited' and was 'a paid collaborator'".
However, the source of this recent flurry of news stories regarding Corbyn's supposed links to Czech intelligence services emanate from this same one source – a definitely-not-completely-crackpot source if ever we've seen one.

As Evolve have previously reported:
In a bizarre twist to the current dominant media narrative surrounding Labour leader Jeremy Corbyn's supposed links to a former Czech Spy, the man himself, Ján Sarkocy, has now, incredibly, reportedly claimed personal credit for launching Live Aid in an interview with a Slovakian publication yesterday.

Mr Sarkocy, who is said to have met with Corbyn three times during the 1980s under the guise of Czech diplomat, also claimed during the interview that the Labour leader gave him information about exactly what Margaret "Thatcher would have for breakfast, lunch and dinner, and what she would wear next day".

The highly peculiar and deeply implausible quotes have surfaced following an 'Exclusive' interview Mr Sarkocy held with the publication Nový čas yesterday, a tabloid newspaper/magazine sold in Slovakia.

The bizarre quotes will also put the credibility of Mr Sarkocy as a source firmly in the spotlight after numerous British publications used quotes from him regarding Mr Corbyn as the main source to support their latest story surrounding the Labour leader's supposed links to Communist spies during the Cold War.
Political writer and activist Owen Jones quickly responded to Bradley's tweet, urging the Labour leader to bring legal action: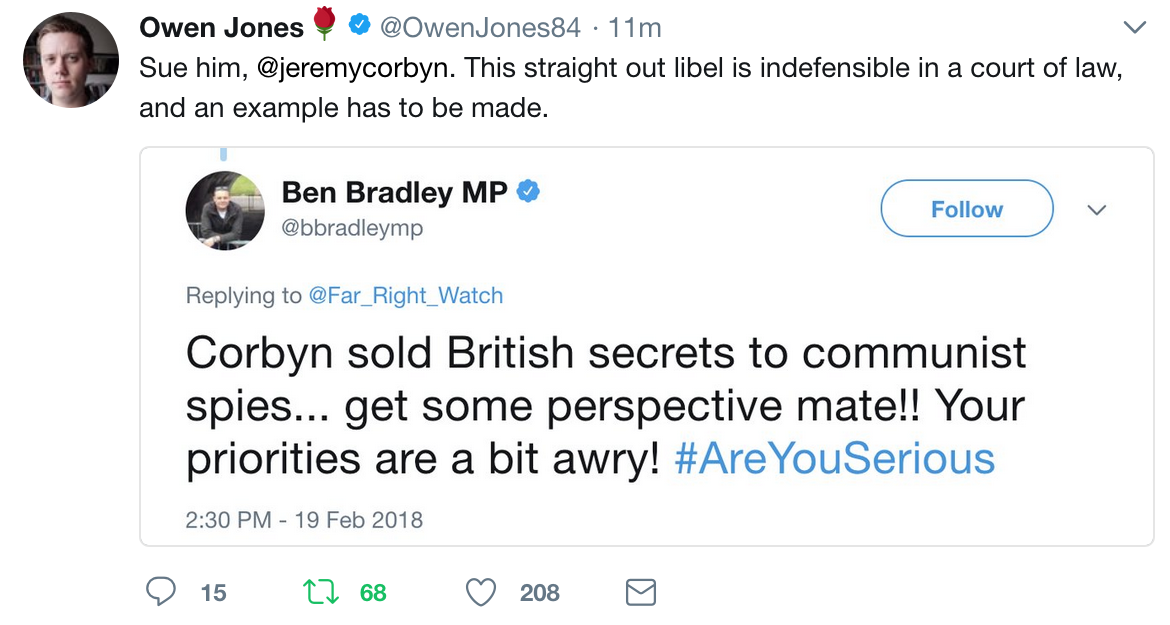 Evolve Senior Editor Matt Turner also got in on the act, warning Bradley that he might soon need to seek counsel for his incredibly brazen, evidence-free accusation:
https://twitter.com/MattTurner4L/status/965600197295398913
And Abi Wilkinson's retort was also particularly delicious:
https://twitter.com/AbiWilks/status/965602040650092544
According to the W4MP website, "In the last three years, there have been at least three libel claims brought against MPs. These have arisen from press releases, news items on an MP's website and letters."
Labour leader Jeremy Corbyn would be well within his rights to begin legal action if he was confident that Bradley's statement was libelous against him.
We will bring you more news on this developing story as it happens. 
Become An Evolve Politics Subscriber



Your subscriptions go directly into paying our writers a standard fee for every article they produce. So if you want to help us stay truly independent, please think about subscribing. We literally couldn't function without the support of our fantastic readers.
Subscribe
Or a One-Off Donation to Evolve Politics



If you don't want to subscribe, but still want to contribute to our project, you can make a one-off donation via the donate button below. All your donations go directly to our writers for their work in exposing injustice, inequality and unfairness.
Donate