Stay in touch!
Sign up to be updated with Evolve's latest stories, and for opportunities to get involved.
Deeply worrying new measurements recorded by the British Geological Survey (BGS) have revealed that since Cudarilla were given the green light to resume fracking operations at their Preston New Road site on October 15th, Lancashire has since suffered 17 separate earthquakes in just 9 days.
Since the resumption of fracking operations on October 15th, seismic events have been steadily increasing.
In the vicinity of Cuadrilla's Lancashire operation, the BGS recorded 3 earthquakes on the 18th October, 1 on the 19th October, 1 on the 20th October, 1 on the 24rd of October, 5 on the 24th October, 3 on the 25th October, and 3 already today.
Following the largest seismic event at 11:36 this morning, Cuadrilla have again been forced to halt operations entirely.
The BGS analyses seismic data to detect earthquakes across the British Isles, and out of the 20 events recorded since the 15th October, 17 have had an epicentre within a short distance of Cuadrilla's operationsin Lancashire: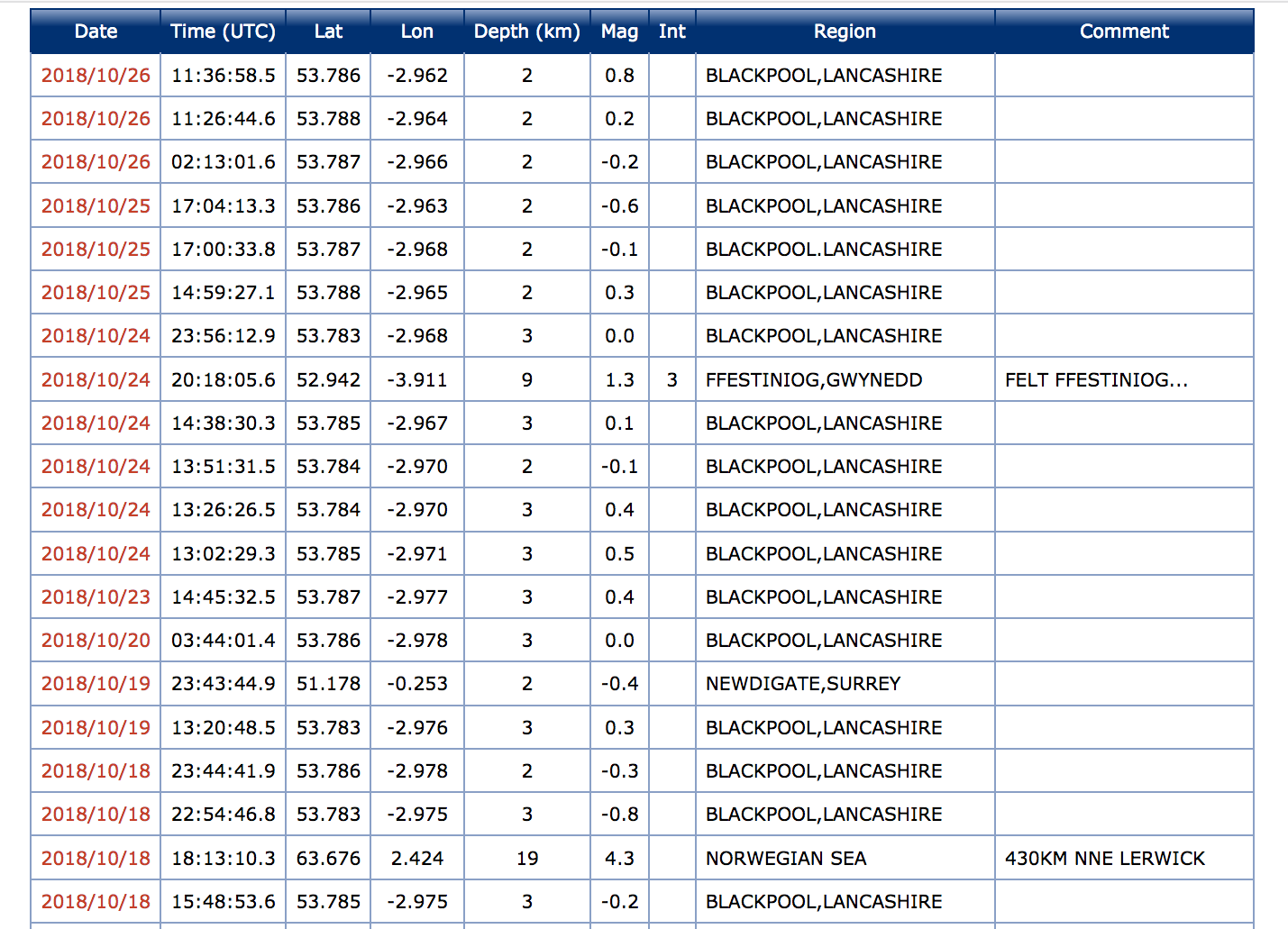 Research conducted by Robin Grayson, and published on the independent anti-fracking website, Drill or Drop, has also located the precise epicentres of many of the recent seismic events in the area, showing just how near to Cuadrilla's fracking operations they are:
Many activists have raised concerns in recent days about the fact that the number of seismic events in the area had been steadily increasing, and also that the mainstream media had failed to report them:
There have been 10 earthquakes reported in Lancashire since @CuadrillaUK started their fracking campaign. I've seen no reporting of this anywhere other than on twitter. When will people wake up to the threat corporate interests – married to the Tory party – pose to our planet?

— Liam Young (@liamyoung) October 24, 2018
❗️Twelve #fracking earthquakes now in about as many days.

❗️And counting…

❗️Because the dirty frackers aren't stopping.

This is all down to the Tories and their greed.

✅ We need to get them out.

✅ This is our land.

✅ This is our water.https://t.co/0GSFwW3lAW

— Corbyn for PM (@CorbynASAP) October 25, 2018
However, since these warnings just a few days ago, the number of seismic events in the area has now soared to 17, with one event being so large that operations have now been suspended entirely.
Earlier this month it was also exposed that the Conservative government wanted to change the law to allow companies such as Cuadrilla to continue fracking even if full-scale earthquakes were detected in the area.
Furthermore, it has been revealed today that the government have been "working hand in glove with the fracking industry to weaken regulations and planning protections", with Tory Energy Minister Claire Perry being exposed holding a secret meeting with bigwigs from four major fracking firms, Cuadrilla, Ineos, iGas and Third Energy, as well as oil and gas giants such as BP, on May 21st.
Despite recording a separate meeting with Wind Power executives in the official transparency register on the same day, Perry failed to declare her meeting with the fracking firms.
The minutes from Perry's secret meeting were finally released under a Freedom of Information request.
Labour's Shadow Business Secretary, Rebecca Long-Bailey, was scathing of the Tories' actions, stating:
"You can see why the government has attempted to withhold information about this meeting, as the notes reveal they are working hand in glove with the fracking industry to weaken regulations and planning protections to prop up an industry which the companies themselves acknowledge is commercially difficult.
"Not content with undermining the UK's own climate change targets, the government seem intent on wrecking the efforts of other countries by exporting the 'UK model' of fracking around the world."
And now, in addition to the Tories' secret meeting being revealed, there is now clear proof that fracking has caused 17 earthquakes in just 8 days – news that should worry anybody with even the slightest amount of concern for the environment.
However, given their astonishing actions over fracking, combined with their ridiculous refusal to push forward with renewable alternatives, it's safe to say the Tories clearly care more about profits than they do about overseeing a potential environmental catastrophe.