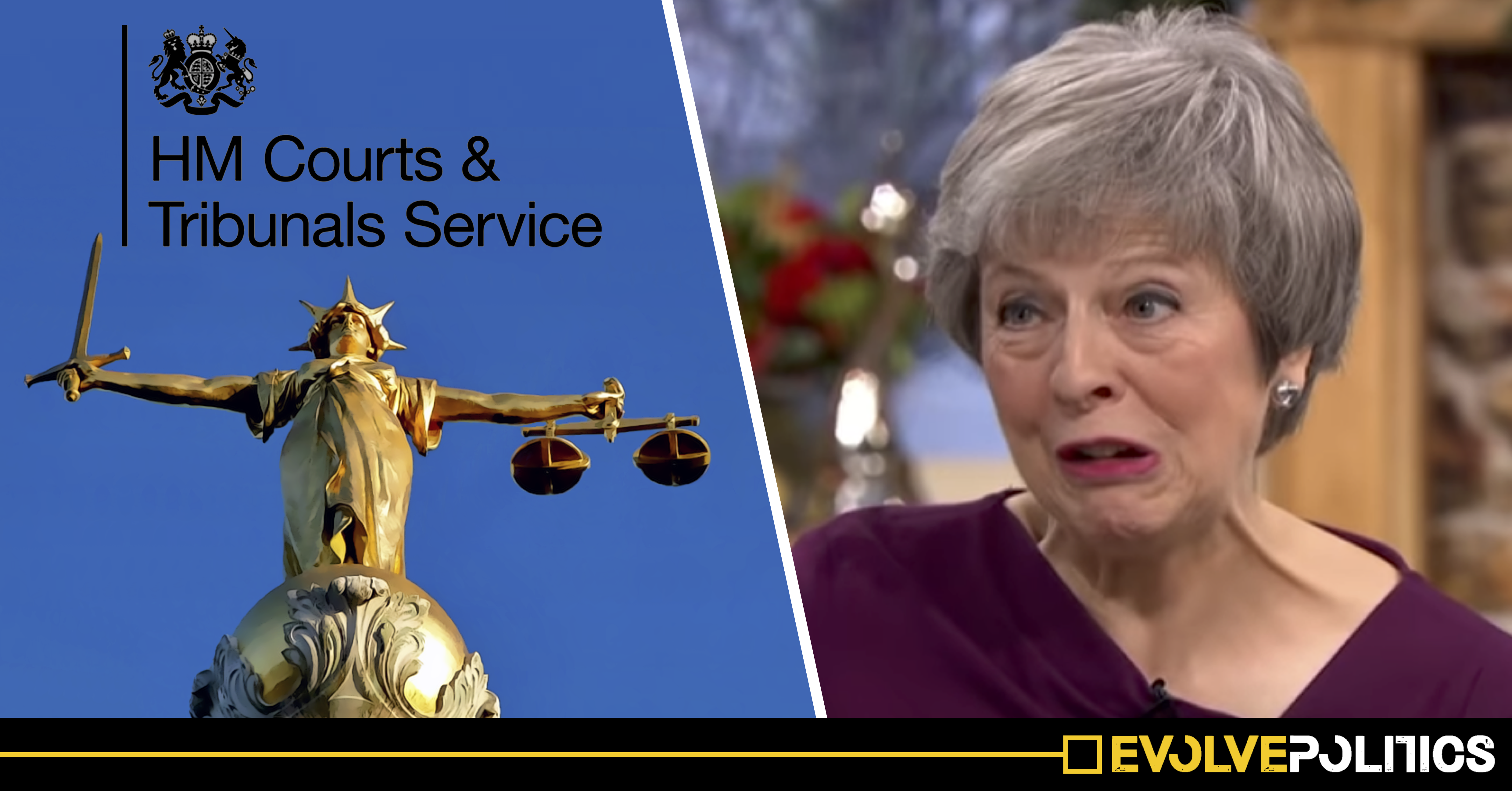 Across the UK, email systems for the UK's Justice System – HM Courts and Tribunals Service (HMCTS) – are down, computers are offline and phones aren't working, meaning vital documents like witness statements cannot be downloaded and lawyers are unable to prepare for trials – all because of Tory austerity.

The latest installment of the unreported scandal at the heart of English and Welsh justice comes amid the Ministry of Justice's efforts to 'modernise' HM Courts and Tribunals Service's digital infrastructure.
The news comes just 6 months after a damning report from the Public Accounts Committee claimed that the Tories had "cut corners" in its rush to push through the reforms, whilst also warning that chaos was likely as a result.
If the fiasco facing the courts' computer systems were taking place within the NHS, it would be front page news. Yet once more, the UK's Justice System is the secret victim of Tory austerity – one which the media seem entirely willing to turn a blind eye to, especially when the noise of Brexit is so raucous and distracting.
Around the country, lawyers are suffering the infuriating failures in the court systems, which threaten to prejudice both complainants and defendants.
Under the guise of "modernisation" – which in reality means a massive spending cut of £256m by 2023 and numerous court closures – the Ministry of Justice's ambitious plan to overhaul, update and expand the courts' IT systems have been troubled from the start.
Indeed, the National Audit Office has warned that the project may not meet its deadline. Now, it is spluttering before its even stood up.
The aim is to reduce the number of criminal cases requiring a physical hearing from the current figure of 1.7m to just 900,000 by 2022. Certainly, such a reduction may delight a thrifty accountant ogling spreadsheets. However, it is less delightful for citizens of this country when the criminal matter they are involved in – perhaps completely unavoidably – is consigned to a homepage and drop down boxes, and they are left without the benefit of standing in a court room and receiving what is rightfully theirs – justice.
Since 2016, already 86 court closures have been announced and more are in the pipeline. Those closures have real effects for real people. They mean that peoples' local courts no longer exist – probably replaced with a Yates or a Wetherspoons – that the localism and communitarianism of our country, which the presence of courts, police stations and local government institutions symbolise, has another stitch deftly plucked from its seam.
All of this is avoidable. The courts need not be heaving under the weight of an unreliable digital infrastructure that belies the importance of their presence.
This is Tory policy. Over the decade to 2020, the Ministry of Justice will have suffered an accumulated budget cut of 40%. The Ministry of Justice's budget will shrink from £6.3bn in 2018/19 to £6bn in 2019/20 alone. The "end of austerity", Philip?
Not only do these central government funding amputations lead to court closures and leaking legal aid. So too does it mean perverse budgetary decisions and massive financial mismanagement.
Supposedly as part of the court modernisation programme, HMCTS has ballooned its spending on agency and contracted staff from £3.7m in 2010/11 to £50.6m in 2016/17. That means court security, for instance, is comprised of people working insecurely for companies like Serco, who can be told at a moment's notice that, were the court in which they are located to shut, they can move to the next one – which may be miles away – or be out of a job.
This is a false economy. It is stupid. It is completely unnecessary.
Yet the threadbare court digital infrastructure, which imperils all of us reliant on the sanctity of English and Welsh justice, which leaves lawyers in the lurch and judges under-informed, has been virtually no coverage whatsoever in the UK mainstream media.
Taking the crumbling sourt system with the scythe strokes dealt out to police forces nationwide, it is easy to see the cradle to grave failure of the so-called party of justice in this country.
For an idea of the extent of the havoc that has been wrought over the past years against the justice system in this country, type #TheLawisBroken into the Twitter searchbar. It is best to let the failures of this government speak for themselves:
The entire digital infrastructure of the courts has been broken for days. Phones aren't working, court computers are offline, email is down.

Imagine the headlines if it were the NHS.

But it's only justice, so no one cares.

No accountability, no lessons learned. https://t.co/mnNdMxGnuh

— The Secret Barrister (@BarristerSecret) January 21, 2019
Another day in paradise, severe problems with the magistrates' court computer systems, some Wifi is down, including at the Central Criminal Court. CJSM still not functioning correctly. Anyone resigned yet?

— CrimeLine (@CrimeLineLaw) January 21, 2019
Call Guildford Magistrates' Court with listing enquiry. Told they can't look it up because their computer system isn't working. Apparently this is a national problem. Scream again.

— Chris McKeon (@cjmckeon) January 21, 2019
https://twitter.com/kate_gy/status/1087346847142866944
Probation & IT Failures#thelawisbroken https://t.co/YEqiWPvq6J

— The CBA (@TheCriminalBar) January 22, 2019
And, as always, lawyers and judges will with their arses off to find a way to keep the CJS rolling despite utter infrastructure failure. #thelawisbroken

— Benjamin Knight (@itsbenknight) January 22, 2019
Welcome to week-two of the digital case system at Swansea Crown Court being out of action. The chaos is continuing. Somebody at HMCTS needs to reboot the Tandy computer which seemingly powers the system.

— Jason Evans (@EvansTheCrime) January 21, 2019
Our court clerk is currently number 112 in the queue to speak to someone at Bury St Edmunds Family Court #thelawisbroken

— Ellen Lucas (@ellenrlucas) January 22, 2019