A Conservative Politician who was suspended by the party in April after being exposed attending rallies for a far-right neo-Nazi organisation has today sparked further outrage after openly admitting his belief that people 'should be able to call Jews "parasites"'.
Darren Harrison, a failed Conservative Council Candidate in Watford, was suspended from the Party in the run up to the local elections in April after he was exposed attending numerous racist events run by the far-right organisation Generation Identity.
However, after being mentioned by a Twitter account documenting ongoing accounts of Tory racism, Harrison has now also revealed that he does not agree with British laws forbidding Hate Speech, going on to openly admit that he believes people 'should be able to call Jews "parasites"'.
Harrison's extraordinary revelation came in a response to Evolve Politics on Twitter after the Tory politician had initially denied he supported the far-right Generation Identity organisation.
Harrison's denials came despite him literally attending two Generation Identity rallies and posting openly supportive tweets backing the organisation and their leader.
Below is a transcript of the debate between the Tory Racism Twitter account, Evolve Politics, and failed Tory Politician Darren Harrison:
Tory Racism: 36/ In 2018, the Conservative Council Candidate for Watford Darren Harrison was suspended for his support for far-right, neo-Nazi organisation Generation Identity: fundamentally a "Muslim hate group". @evolvepolitics
Darren Harrison: "alleged" I'll have you know. This was despite me saying I don't support them and never once said I did.
Evolve Politics: You literally attended their events, you utter muppet: https://www.vice.com/amp/en_uk/article/ne9m9d/vice-exclusive-the-tory-council-candidate-who-supports-far-right-extremists
Darren Harrison: I attended 2 speeches in Speakers Corner. One was a mix of all sorts of groups (left & right) and the other was by a completely different organisation around Sexual assault. GI were there too, so was Laurie Penny. Why isn't she GI by default?
Evolve Politics: So are you saying you don't support Generation Identity?
Darren Harrison:  Yep. I may like the occasional tweet if something comes up and I agree with it. Or if I see something misrepresented, i'll say something. However, I do the same for different groups & parties across the board. Credit where credit is due I say.
Evolve Politics:  As you say you do these things 'across the board', have you ever attended a Corbyn speech, for example?
Darren Harrison:  Yes, when he came to Watford. Being on the opposite side, it's still interesting to listen even if you think most of what's being said is nonsense (that doesn't just apply to JC, that also happens on the right too)
Evolve Politics:  You're right, it's definitely good to listen to all sides. However, a tolerant society should not tolerate the hatred or intolerance of either side. GI's wish to forcibly repatriate an entire religion is the sort of intolerance whose supporters cannot be logically debated.
Darren Harrison: But people have the right to say what they think otherwise it's kept quiet & that's worse in the long run. It's better surely that the "enemies" of the left and right are heard in plain sight, then you know what they're up to.
Evolve Politics:  So you don't agree with laws that prohibit hate speech and incitement to violence?
Darren Harrison: Hate speech? No. If you feel that strongly about a certain group and publicise it, again, you'll be put in your place by whomever hears it.
Evolve Politics:  So you believe that Nazis should have the right to call Jews "parasites", for instance?
Darren Harrison: Disgusting as it is, which it is, no one takes them seriously anyway and they're only preaching to themselves. Normal people would see or hear that and condemn the views. Anyway, it's the weekend now & time to switch off from the dark side of politics.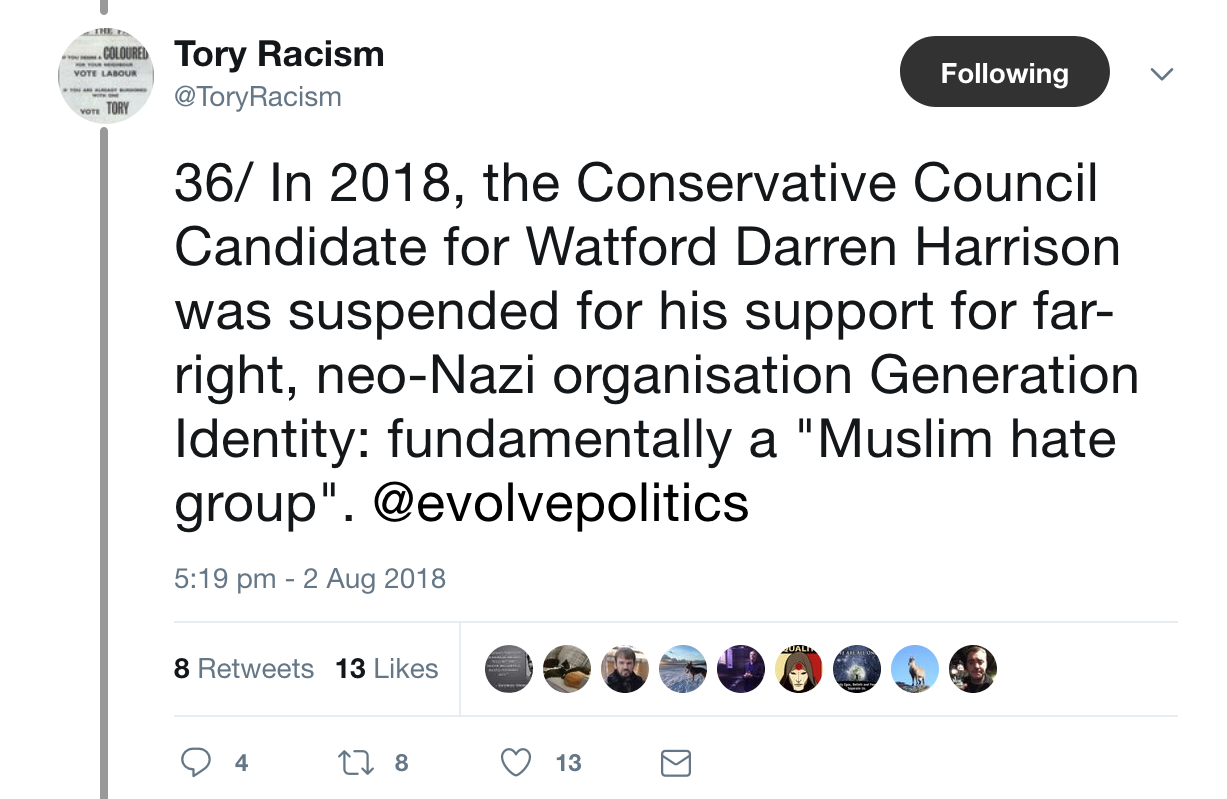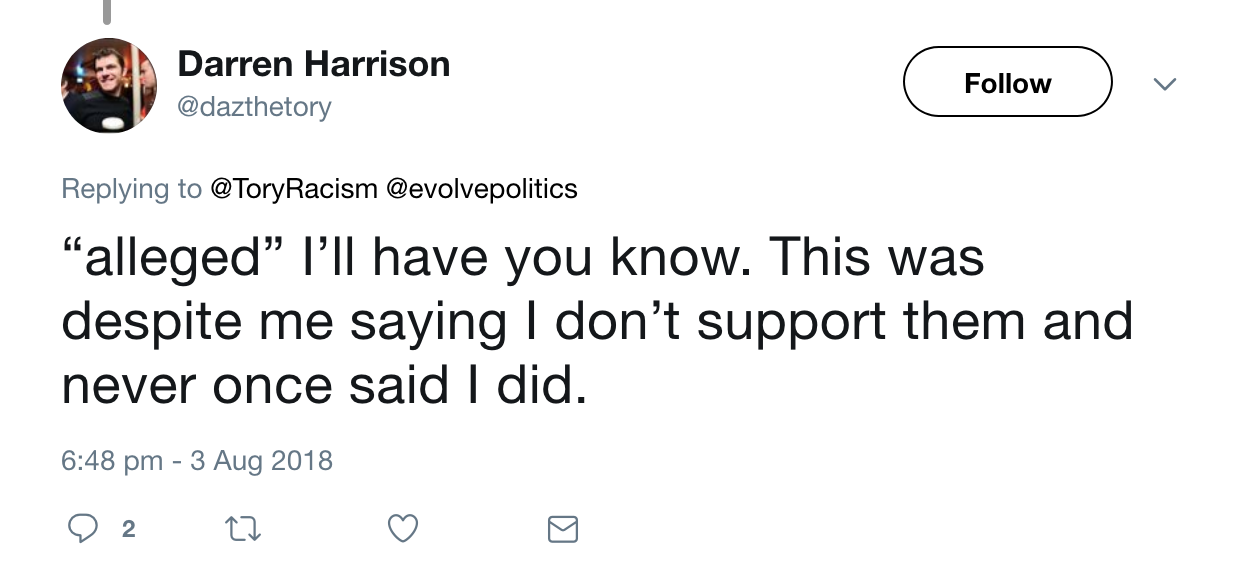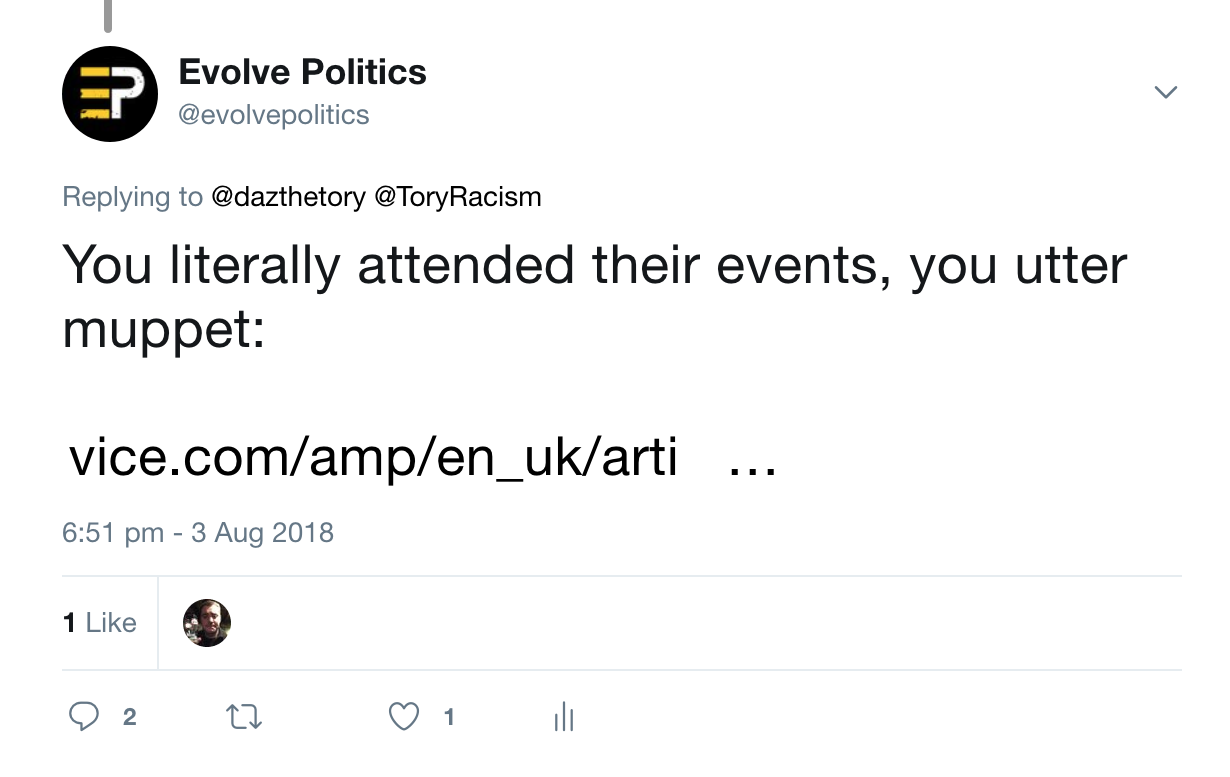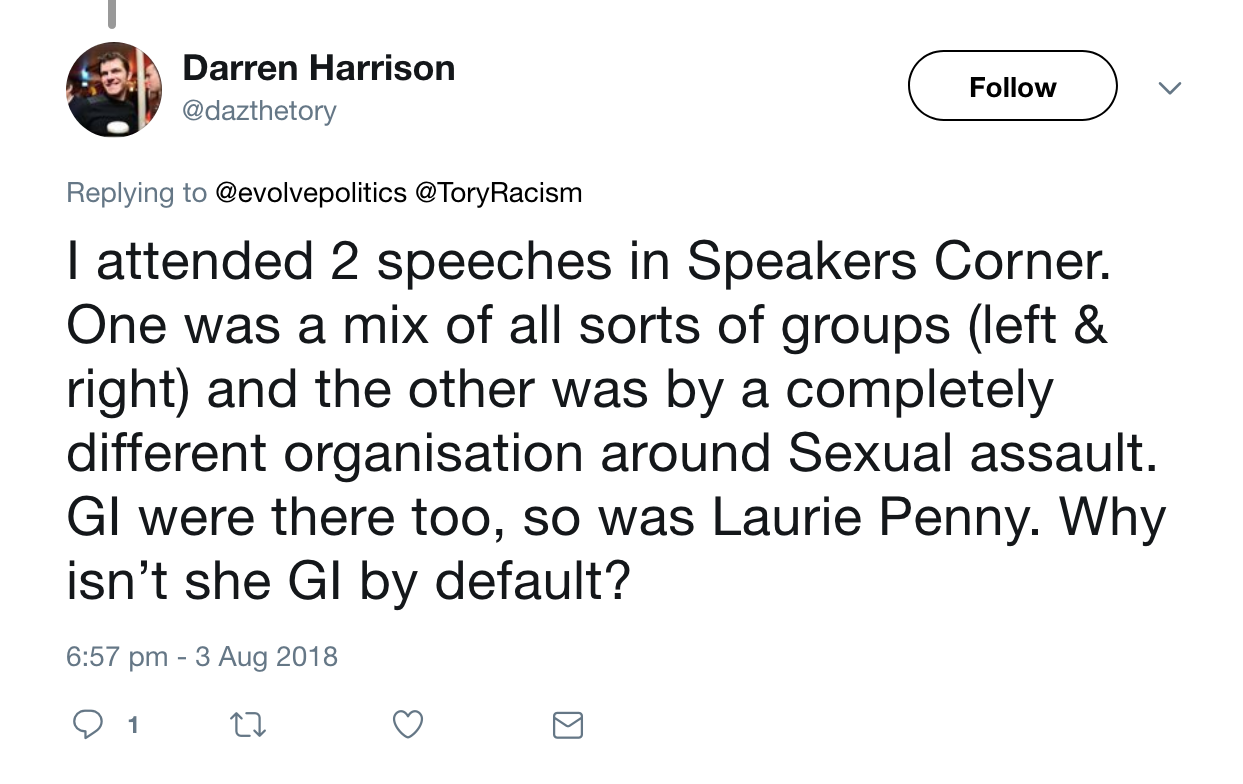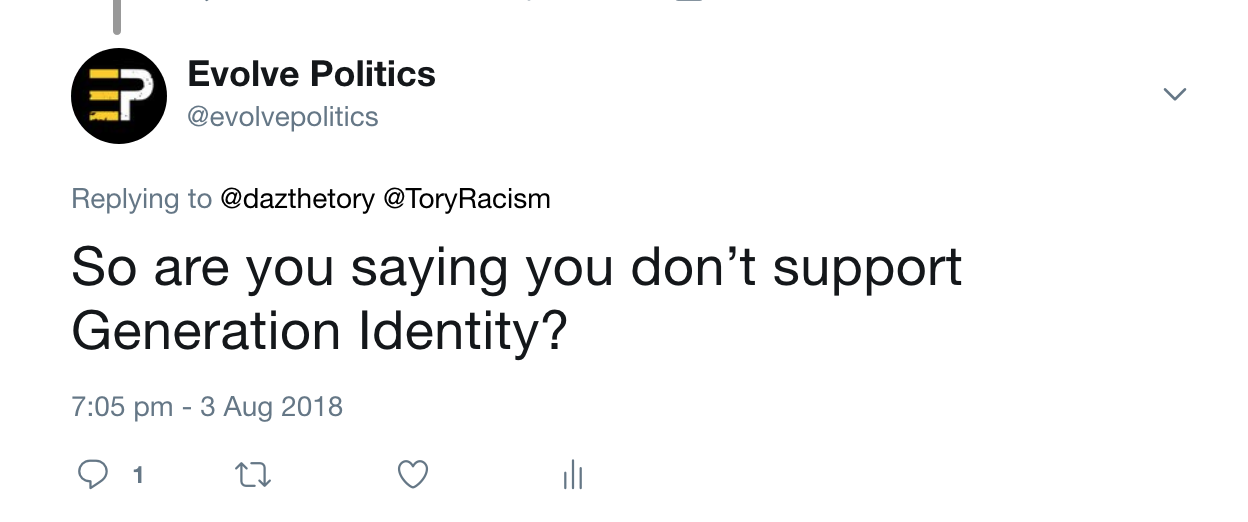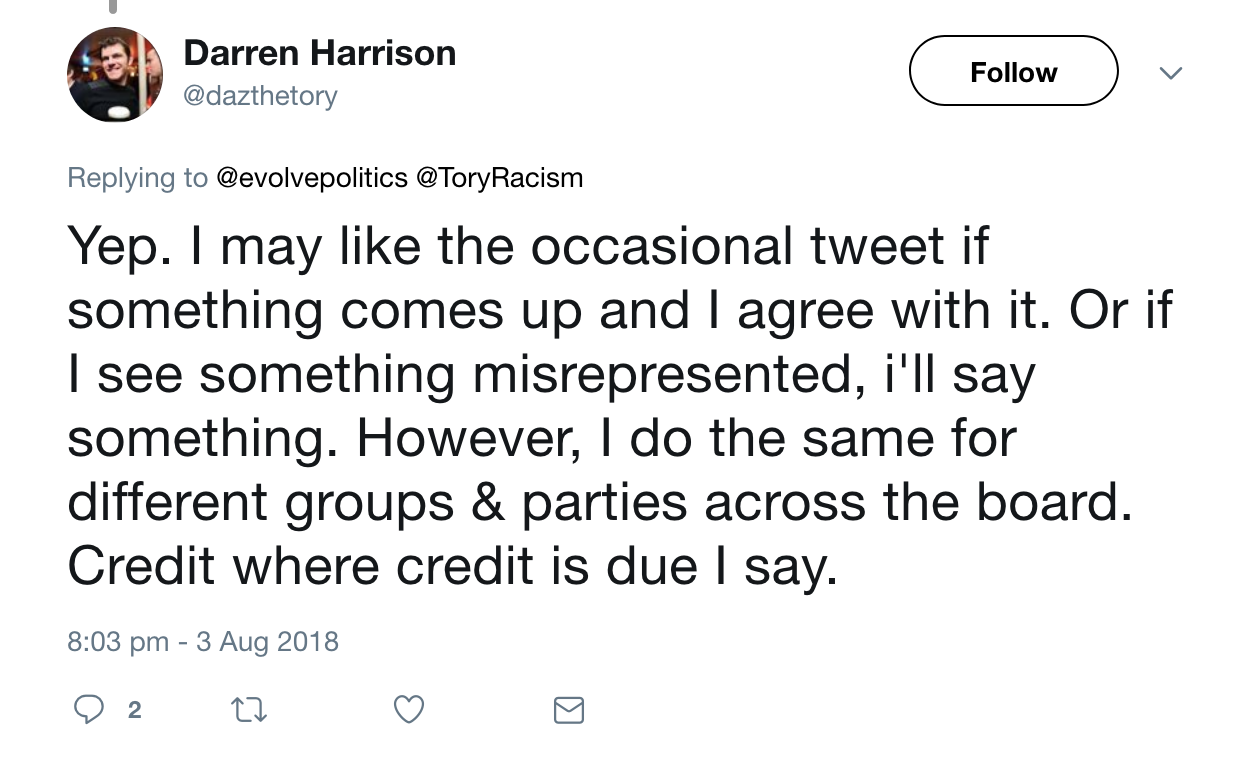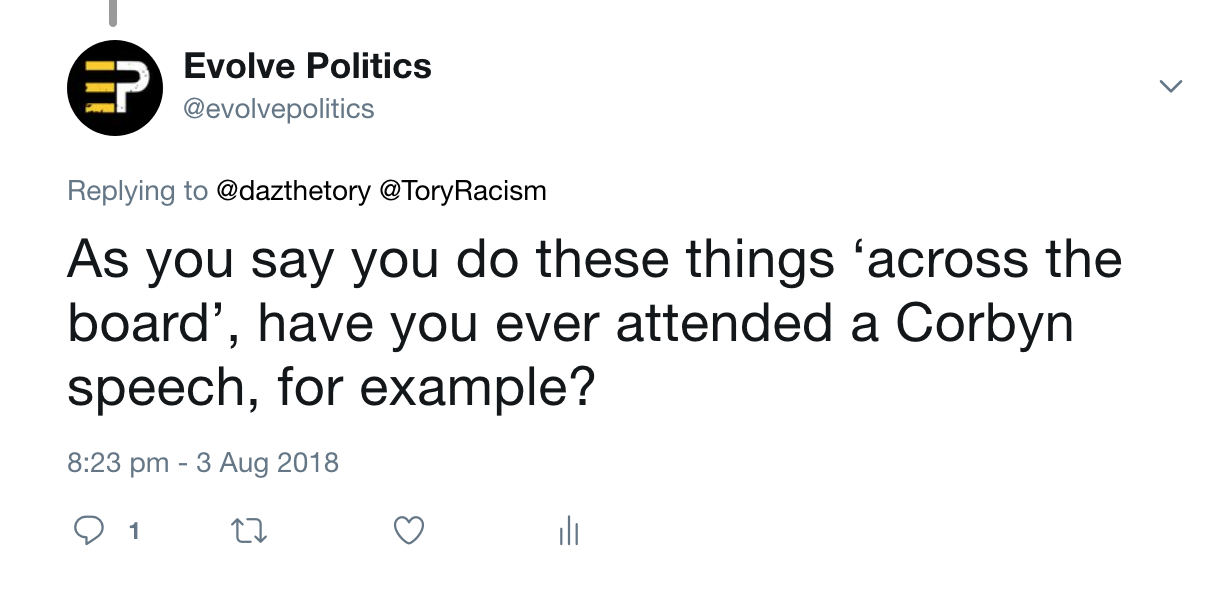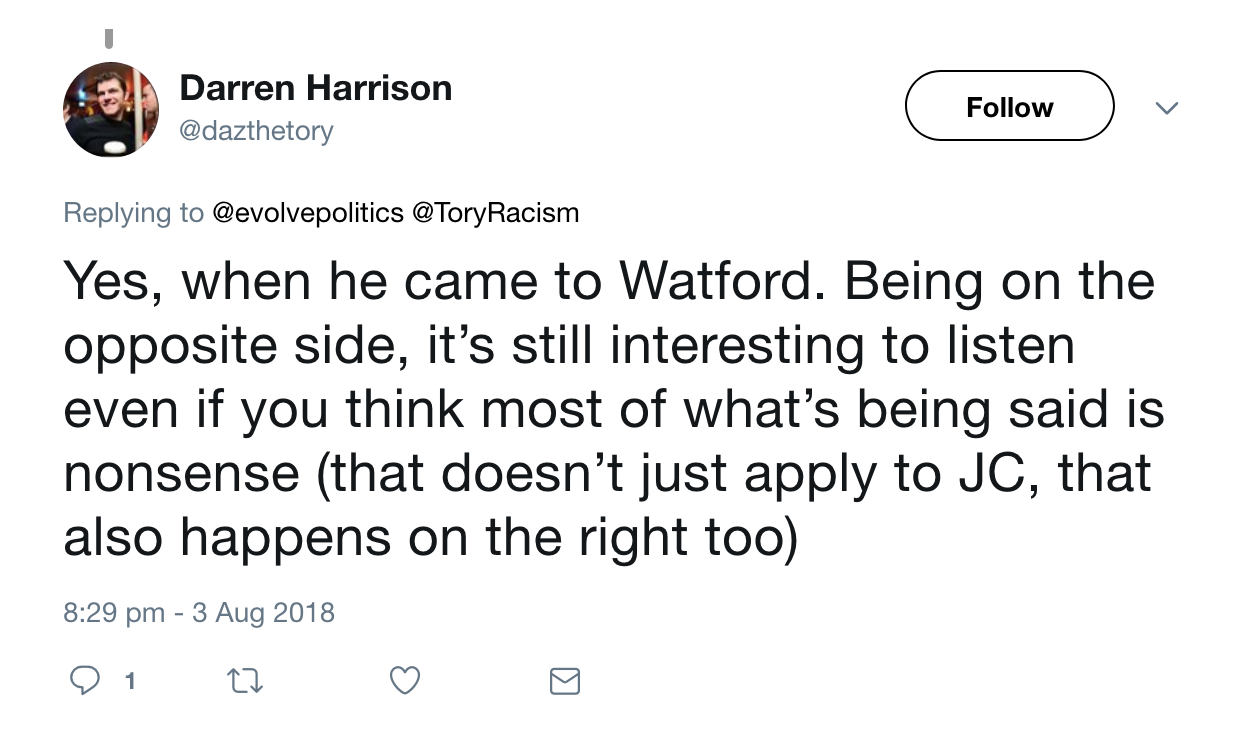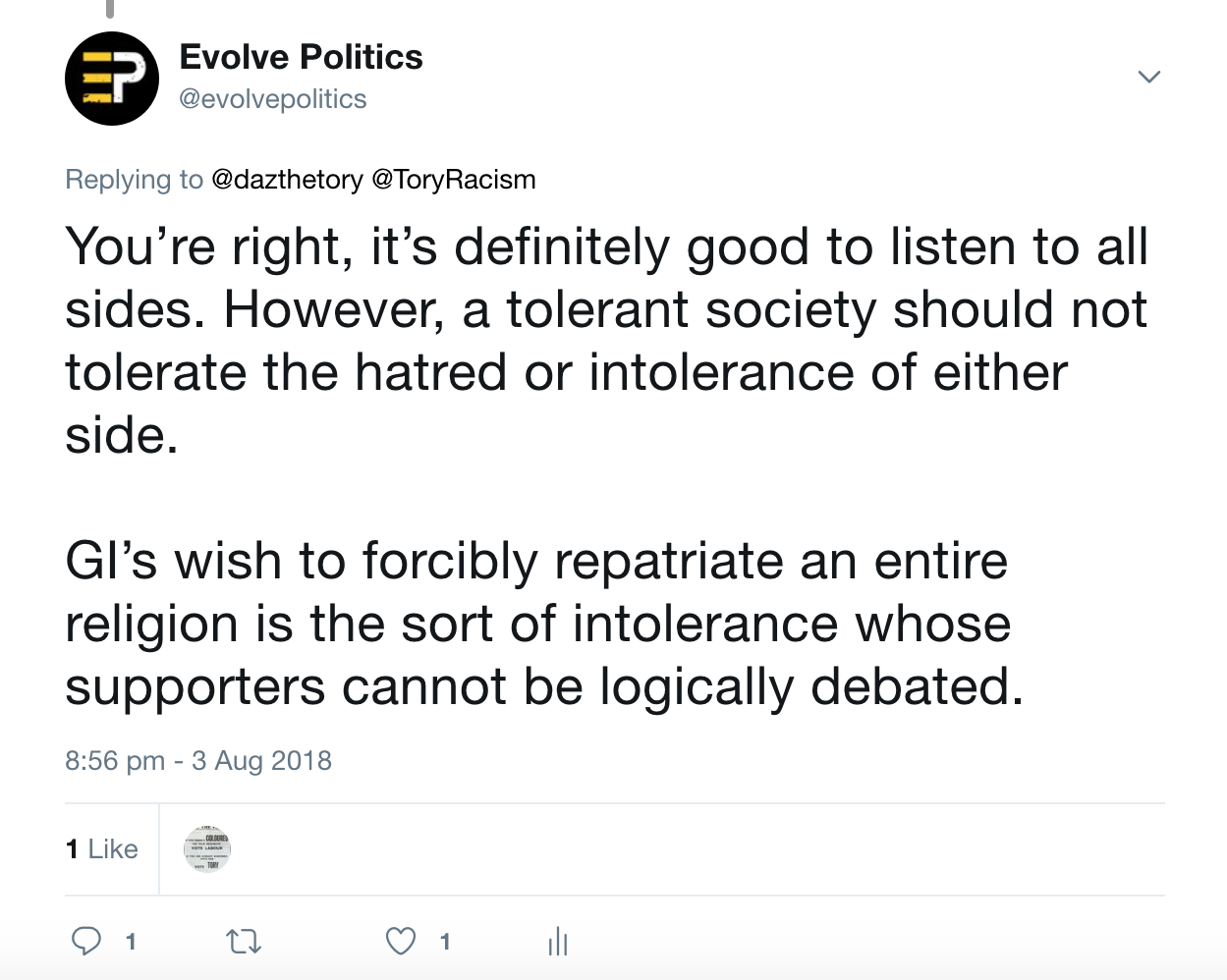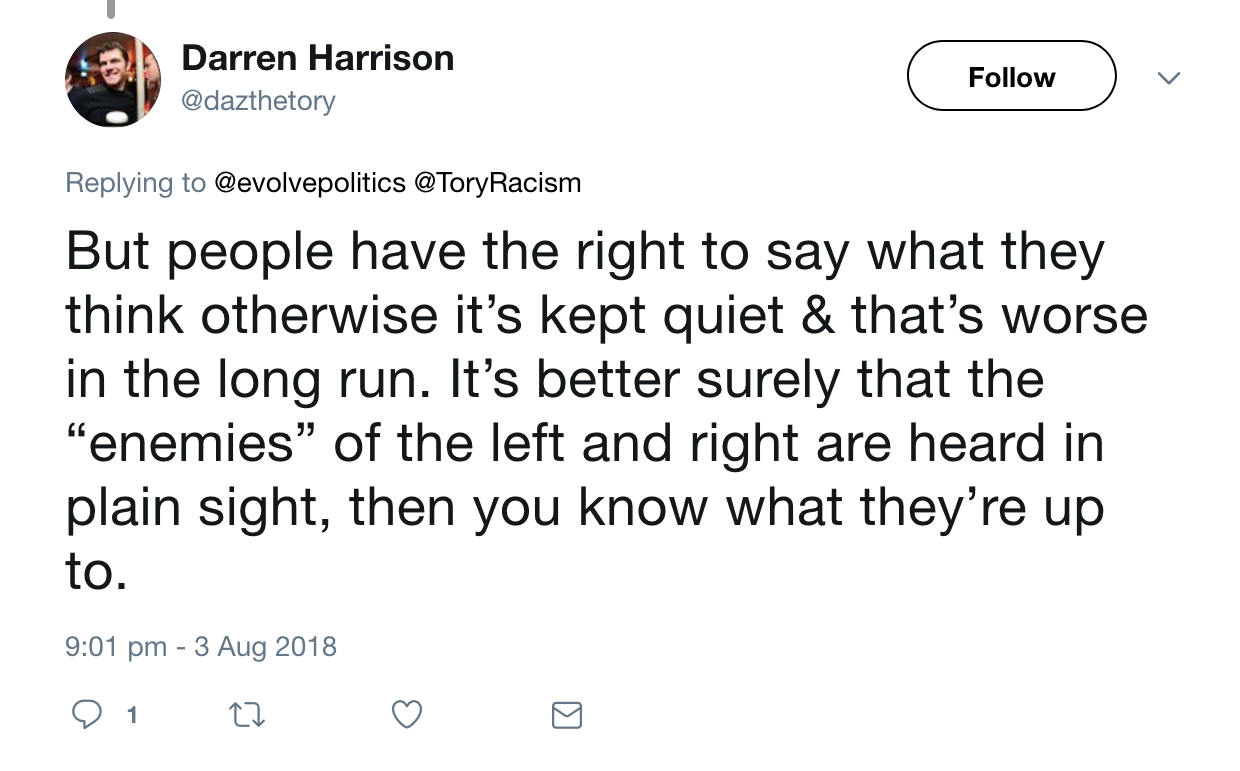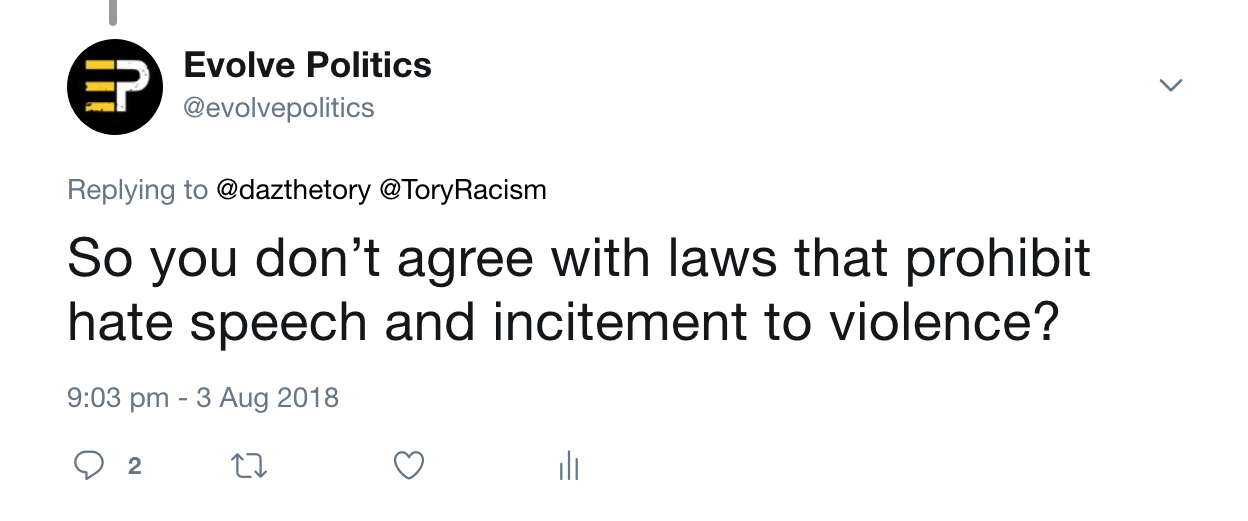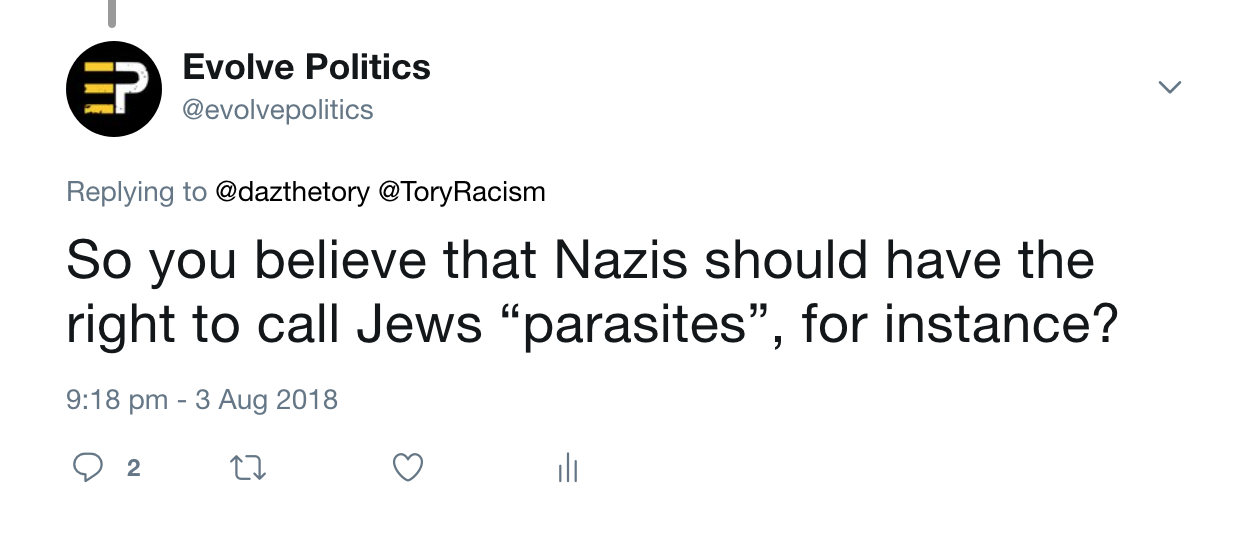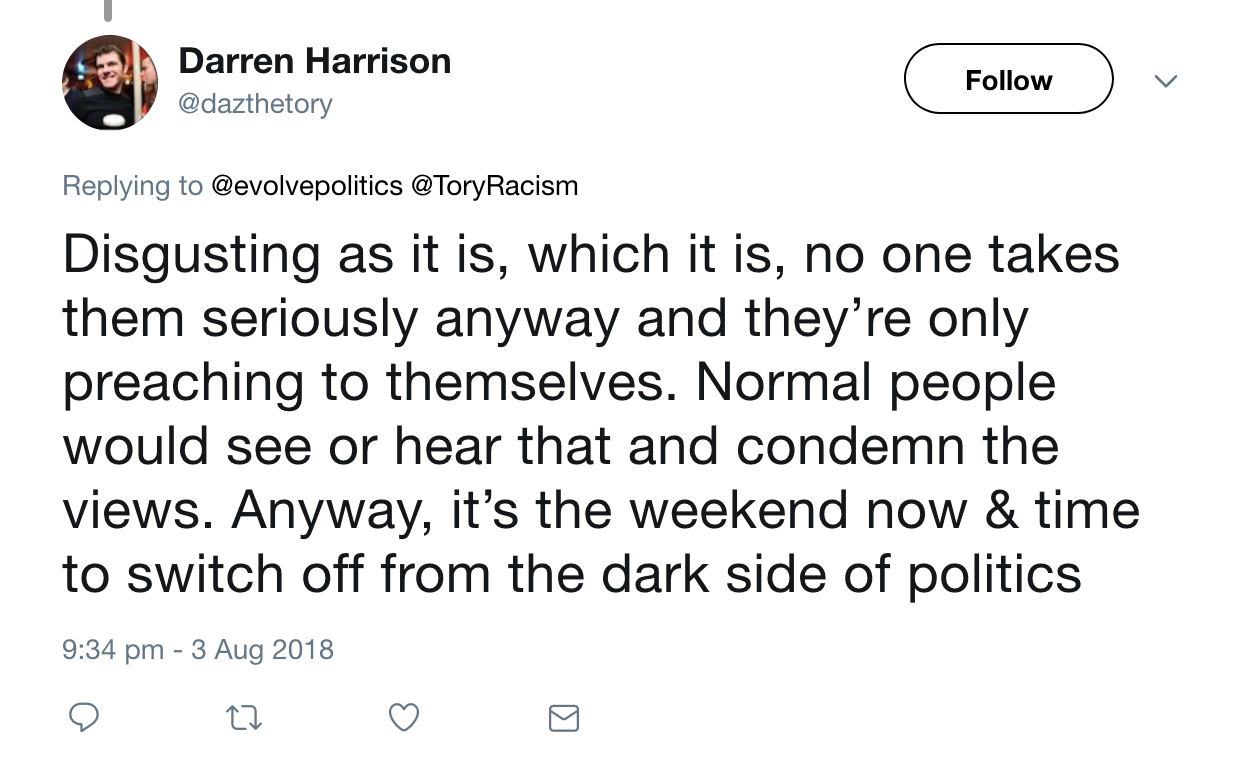 The Tory politician's extraordinary revelation that he opposes laws that prohibit people from directing hate speech against Jews and other minorities comes just days after the Labour leader Jeremy Corbyn was branded an 'existential threat' to Britain's Jewish community by three mainstream Jewish magazines.
However, in a Guardian article published yesterday, the Labour leader and lifelong anti-racism campaigner dismissed the claims as simply 'overheated rhetoric', but accepted that there is an ongoing problem within the party as well as pledging to 'root antisemites out'.
Corbyn's pledge to root antisemites out of the Labour Party came in stark contrast to the Conservative Party who have still not responded to Britain's largest Muslim organisation, The Muslim Council of Britain, demanding an official investigation into rampant anti-Muslim hatred within the Tory party.
In addition to rife Islamophobia, it now appears that some sections of the Tory Party have a problem with protecting all minority groups from discrimination.
Just in case you're someone who has inadvertently fallen for the alt-right tactic of decrying 'free-speech' and demanding ordinary people give extremists a 'fair hearing', do take a look at the following posts that perfectly illustrate why attempting to debate disgusting and illogically discriminatory views does not defeat them, but only serves to popularise them by essentially radicalising angry gullible people:
All the liberals who think it's a good idea to give fascists a platform, and who also like telling people to "read some effing Orwell"….. need to read some effing Popper. Or this summary at least pic.twitter.com/6uOYyB7stX

— Matt Zarb-Cousin (@mattzarb) August 2, 2018