Stay in touch!
Sign up to be updated with Evolve's latest stories, and for opportunities to get involved.
The number one rule of public relations when you run an NHS Trust must surely be: don't give your own staff the chance to make comments about a disastrously unpopular Health Secretary on your Facebook page.
Unfortunately, the North Bristol Hospital Trust had to learn the hard way.
On Wednesday, Chancellor Philip Hammond gave his budget speech where NHS England had asked for an emergency injection of £4bn over the next year. However, all Hammond would give was £1.6bn.
The next day, Health Secretary Jeremy Hunt visited Southmead Hospital in Bristol. He met some managers as well as selected (and presumably reliably on-message) staff, but most staff were not told about his visit until after he'd left.
Perhaps unwisely, the trust which runs the hospital then posted some photos of Hunt at the hospital on Facebook and Twitter: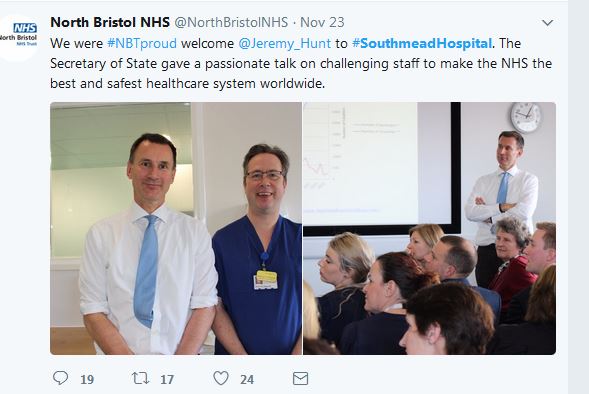 Nobody should have been at all surprised when staff members reacted to the posts incredibly badly. After all, public sector workers have had a 1% pay cap for the past seven years, equivalent to a pay cut of up to £7,500 a year in real terms, and just last month, Philip Hammond said he would only consider a pay rise for nurses if they could improve their 'productivity'. Somehow it seems to have escaped the intellect of North Bristol NHS bosses that these kinds of things are unlikely to make NHS staff feel a warm glow when they see that their Health Secretary has been to visit.

And indeed, Southmead Hospital staff were quick to respond to the facebook post.
One said:
If he wants it to be the best and safest healthcare system worldwide he needs to give us adequate funding and pay. Passionately challenging staff to do these things without the necessary resources won't achieve anything.
Another commented:
Less of this 'we'. I reckon most staff are with me in being more disgusted than proud in having him foisted on us for a photo opportunity.
And a third certainly didn't mince his words:
The best way this idiot can improve [patient] safety is to resign or dramatically increase funding.
Having the Health Secretary called an 'idiot' may have been the final straw. Very soon, the Facebook post was deleted. Look at the Southmead Hospital Facebook page now and there's no sign that Jeremy Hunt was ever there (it wasn't a good day for Jeremy overall: earlier, his car had been 'ambushed by protesters' in Bristol, angry about the state of the NHS. Seems he can't go anywhere without upsetting people).

It's staggering that as hospitals fall apart, more and more nurses leave, thousands of beds are cut, and the British Medical Association describes the NHS as being 'at breaking point', this hospital trust thought it was a good time to bring Jeremy Hunt in and give him a clap on the back. Next time, perhaps they should consider making him talk to staff on the front line of the Tory destruction of the NHS, rather than posing with his sleeves rolled up as if he, personally, is going to fix the problem.
Become An Evolve Politics Subscriber



Your subscriptions go directly into paying our writers a standard fee for every article they produce. So if you want to help us stay truly independent, please think about subscribing. We literally couldn't function without the support of our fantastic readers.
Subscribe
Or a One-Off Donation to Evolve Politics



If you don't want to subscribe, but still want to contribute to our project, you can make a one-off donation via the donate button below. All your donations go directly to our writers for their work in exposing injustice, inequality and unfairness.
Donate