Stay in touch!
Sign up to be updated with Evolve's latest stories, and for opportunities to get involved.
There is some massive bait n' switch, unspoken subterfuge taking place in the British political climate, and there has been since 1946. 
By a vast, communal exercise in cognitive dissonance stoked partly by election campaigns through the years and partly by a shared societal prejudice against so-called socialists, their profligacy and culture of dependance, somehow it has become an inarguable proposition that the Tories are good with the economy and Labour are not. 
Well, repeat after me: It. Is. Not. True. 
In fact, by one metric, Labour are vastly more 'conservative' with public funds than the Conservatives themselves, as well as smarter in how they spend. 
In new research published yesterday, Richard Murphy, an expert in tax and Professor in International Political Economy, compiled data spanning the period 1946 to 2022 (based off spending predictions taken from Hammond's most recent budget). He found that year on year, the Tories consistently spend more in their time in office than Labour, and Labour consistently pay back money they do borrow far faster and far more regularly than the Tories.
Murphy adjusted for inflation, for differences in time spent in office (the Tories are expected to have spent 48 years in office and Labour have spent 28), and even calculated solely using pre-financial crisis data (since the Tories constantly blame their borrowing, not on the greed of a speculative banking elite, but on Labour's spend-happiness). 
The first calculation Murphy did showed that for Labour's £526.2 billion spent in 28 years in office, the Tories spent £1,189.6 billion in 48 years. 

Murphy then averaged the data to account for Labour's lower time spent in office, and still the Tories had spent significantly more. 

Then he adjusted for inflation, since the worth of money has changed since 1946: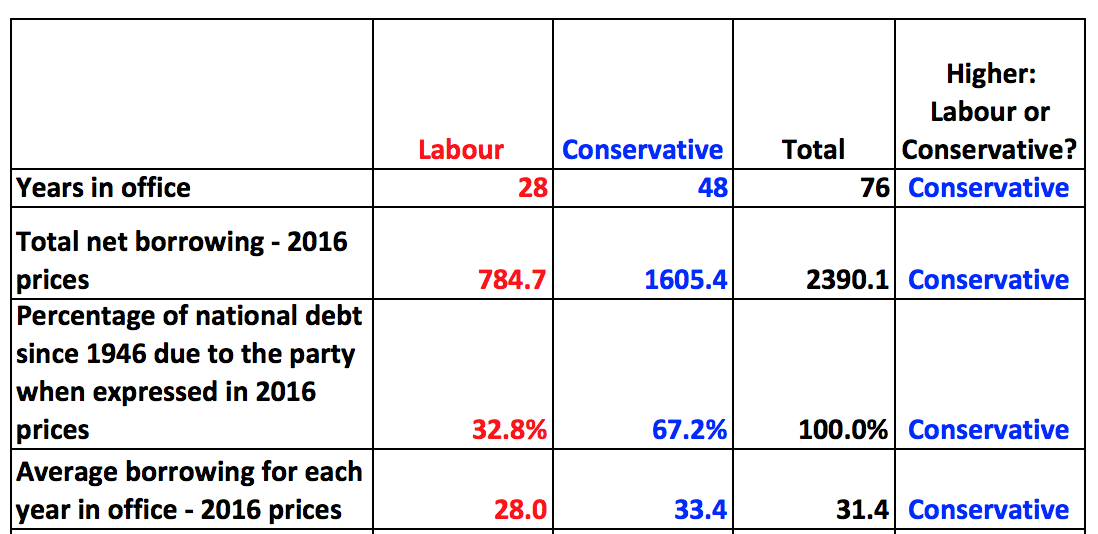 When Murphy came to calculate the pre-2008 spending, he found that Labour spent 12% more year on year. However, that was before he adjusted for inflation again. So, restating the data to reflect current prices, once again the data showed that prior to the financial crisis, the Tories borrowed more than Labour. 
Finally, Murphy found that not only do Labour repay the debt on a more regular basis than the Tories, but they also repay more when they do repay it.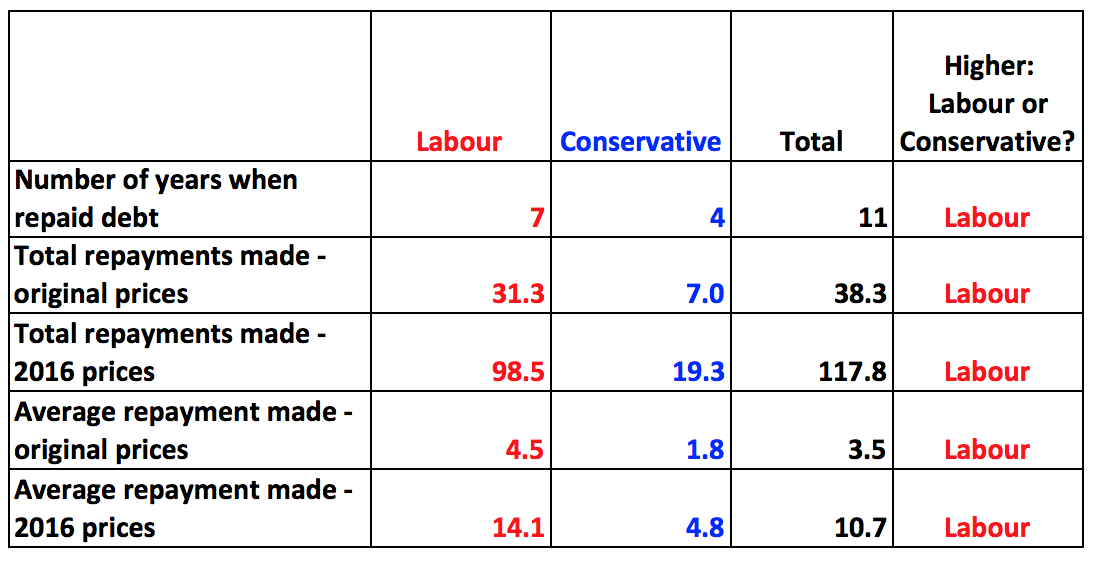 The picture is clear.
And yet, we live in a country in which legal aid has been gutted leaving many without recourse to the courts that are their right, an NHS all-but buckling under the weight of empty pockets and mismanagement, a police force skinned to the bone and overseeing a violent crime boom, vulnerable people dying because they don't receive the benefits they need to live and a mass sell-off of public assets. 
Where is the damn money going?!
The Conservatives waste it. They misspend it, overspend it and literally hand it out in tax breaks to their wealthy friends rather than spend it on those who actually need it.

Under Cameron, after promising no top-down reorganisation of the NHS, the Tories spent £3 billion on a top-down reorganisation of the NHS.
Gove as Education Secretary spent £240 million on free school places where no places were needed. 
The Department for Work and Pensions has gone £200 million over budget paying private firms to run the outsourced PIP assessments.
Universal Credit, a Parliamentary embarrassment of a policy, comes in with a price tag of £16 billion and still people are struggling.
In the last five years, Councils have had to spend £3.5 billion on emergency housing for homeless people.
And in the Autumn Budget last week, Philip Hammond announced the Tories would forgo more than a billion pounds in tax revenue to scrap stamp duty on all new house purchases under £300,000 (£500,000 in London) – a policy that, rather than save first-time buyers money, the OBR said would simply bump up house prices due to the inordinate demand for housing, thus only benefiting already-wealthy property owners in the process. The Tories were told this, yet went ahead with the policy anyway.
This is what happens when you have a Government whose foundational ideology is inconsistent with reality: an ideology that says the free market should provide and Government shouldn't interfere.
Turns out that the free market nurtures tumorous monopolies, which then feed off the poor and exacerbate inequality to such an extent that the Government has to spend more on coping with that fallout than it would have done in terms of investment, regulation, and public provision in the first place to avoid the problem. 
To destroy a system of Government doesn't take pitch forks and barricade-manning in the first instance. It takes a systematic undermining of its intellectual foundations and the provision of a better ideology and better policies. 
The Conservatives spend too much on coping with the fallout of their own failings and on subsidising the privatisation of essential public services. 
Labour seek to invest in smart public investment. They will target money where it is needed to gradually build growth. 
It's no wonder so many in Britain are suffering when the Conservatives are so clearly wasteful, stupid and dangerous with our money. 
Let's build a new consensus.
Become An Evolve Politics Subscriber



Your subscriptions go directly into paying our writers a standard fee for every article they produce. So if you want to help us stay truly independent, please think about subscribing. We literally couldn't function without the support of our fantastic readers.
Subscribe
Or a One-Off Donation to Evolve Politics



If you don't want to subscribe, but still want to contribute to our project, you can make a one-off donation via the donate button below. All your donations go directly to our writers for their work in exposing injustice, inequality and unfairness.
Donate