The latest Labour anti-Semitism row began when Labour MP Luciana Berger tweeted about a comment left by Jeremy Corbyn in 2012 on a Facebook post about the impending removal of a mural painted by artist Mear One in East London.
I asked the Leader's Office for an explanation about this Facebook post first thing this morning. I'm still waiting for a response. pic.twitter.com/DL8ynBtES4

— Luciana Berger (@lucianaberger) March 23, 2018
The story has now led to an absolute barrage of attacks on both the Labour Party and Jeremy Corbyn himself by the media for supposedly not doing enough to tackle anti-Semitic views within the party and the wider movement.
Blairites within the party are once again using the situation to disavow the leader they repeatedly attempted to oust but were reluctantly humbled into following last year.
Guardian think pieces are taking the opportunity to painstakingly analyse exactly what Corbyn's supposed rampant anti-Semitism all means.
And The Sun, The Mail and the Tories are, unsurprisingly, taking the opportunity to focus their fire on the silver-haired upstart. 
A truly terrible day when @BoardofDeputies & @JLC_uk feel the need to write such a letter. No one in @UKLabour should try & minimise or downplay this. I will be showing my solidarity in Parliament Square tomorrow. https://t.co/ynDw8GWhAY

— Liz Kendall (@leicesterliz) March 25, 2018
The typhoon whips around a picture – a mural of six men who, on closer inspection, have clearly been painted with hooked noses of Jewish stereotype. They are playing monopoly on the backs of what, one assumes, the artist intended to be "the people". Behind them is a lava-backed Illuminati-pyramid.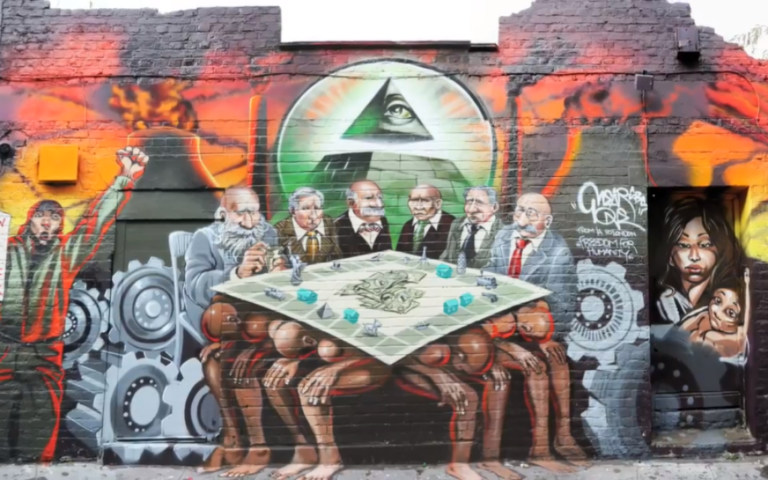 However, to many observers, the apparent 'Jewishness' of the people featured in the picture isn't the first thing you see unless you are deliberately looking for it. The first thing one might notice is perhaps the massive green pyramid in the background, or the fact that it's a "hoo hah", a call-to-arms, a viva-la-revolution style picture of furious conspiratorial fight back.
And as Evolve has previously reported:
"The Labour leader has also since indicated that he did not look at the image properly before offering his support to Mear One. Furthermore, numerous Labour MPs have jumped to support the Labour leader after the comment emerged, with one stating that Corbyn doesn't have an anti-Semitic bone in his body."
Jenny Manson of Jewish Voice for Labour defends Jeremy Corbyn over his mural comment and says accusations of anti-Semitism are "under any analysis not true" #bbcdp pic.twitter.com/Vi5jPM98gQ

— BBC Daily Politics and Sunday Politics (@daily_politics) March 26, 2018
However, despite the constant attacks in the Mainstream Media and throughout the Blairite ranks, on Twitter, many – including a large number of Jewish people – aren't so convinced by the latest Corbyn-smear of choice.

When Labour antisemitism means no-one's talking about the crises in the NHS, social care, schools, the housing market, the police, the huge increase in homelessness & children in poverty, people dying waiting at A&E, food banks, your Russian money, the Brexit catastrofuck etc etc pic.twitter.com/NB5HwpBhwl

— David Schneider (@davidschneider) March 26, 2018
And before anyone starts to accuse me of anti-semitism for supporting Jeremy Corbyn, my great-grandmother and other members of my family were murdered in a Nazi concentration camp – so don't even f*cking think about it.

— Tom Pride (@ThomasPride) March 26, 2018
I am a Jewish Labour member and I can honestly say that Jeremy Corbyn is against ALL forms of hatred. Our party is the best chance this country has to tackle racism and inequality. #ForTheMany #Labour #antisemitism https://t.co/dwRMtiGRK8

— Inclusion Is: (@InclusionIs) March 26, 2018
I'm Jewish, the son of a Holocaust survivor. I support Jeremy Corbyn's Labour Party. The Tories, & their media supporters, have a long history of intolerance, racism & anti-semitism. @jeremycorbyn has opposed racism of any sort his entire life, which is why he opposed apartheid https://t.co/YZf9j76LAH

— Andrew Feinstein (@andrewfeinstein) March 21, 2018
But, most prominently – and completely unreported by the mainstream media – the Jewish Voice (@J_VoiceUK) Twitter account have been extremely outspoken in their support for Corbyn on the matter:
One must admire the incredible skills the media have in manipulating the population. They've managed to convince many that the most passionate Anti-Racist Campaigner of the last 40 years, Jeremy Corbyn, is actually Pro-Racist and Anti-Semitic. #Chomsky #ManufacturingConsent

— Jews4Socialism (@Jews4Socialism) March 26, 2018
People like Guido Fawkes say Jeremy Corbyn doesn't like Jews while claiming Corbyn is a disciple of Jewish thinkers like Marx, Trotsky, Frankfurt School etc…..with Lansman controlling him behind the scenes. You couldn't make this up unless you were Guido in which case you could

— Jews4Socialism (@Jews4Socialism) March 25, 2018
While we fight hard against Anti-Semitism, we also fight to oppose NHS Privatisation, welfare cuts for the poor, tax cuts for the rich & Blairite-backed illegal wars. These socialist values in our community go back generations and we will never stop fighting for them #JC4PM

— Jews4Socialism (@Jews4Socialism) March 25, 2018
This says it all about the difference between Labour & the Tories. Labour members who've made Anti-Semitic remarks get suspended fast whereas Boris Johnson regularly makes extremely offensive remarks about a variety of groups yet always gets away with it as "its only Boris." https://t.co/2Bxz7lXJPB

— Jews4Socialism (@Jews4Socialism) March 25, 2018
While we welcome Jeremy's statement, there is nothing any Labour leader can do about the 1,000s of Anti-Semitic trolls on twitter. Most are Alt-Right but some are Left-Wing so if you want to show solidarity with Jews. we request to assist us in countering the Anti-Semitic trolls https://t.co/WNXUdVzPje

— Jews4Socialism (@Jews4Socialism) March 25, 2018
The way @ChukaUmunna is using the #antisemitism fiasco to aid his leadership ambitions is nothing short of despicable. pic.twitter.com/nWOyqsa0Yc

— Ari Moshe (@AriOfMancunia) March 26, 2018
Jennie Formby's position confirms how Labour have been heading in the right direction since 2015.

Unlike in the past or in other parties where racism, sexism & anti-semitism are ignored, Labour are open about internal problems & are directly changing things.#VoteLabour #JC4PM https://t.co/GdvfuVyvPb

— Jews4Socialism (@Jews4Socialism) March 26, 2018
Do you think the likes of the Daily Mail & the Sun genuinely care about Jews and want to stop Anti-semitism or they are just playing the race card to smear their opponents?

— Jews4Socialism (@Jews4Socialism) March 26, 2018
Because his critics are not concerned with fighting racism or anti-semitism. They are concerned with promoting neo-liberal policies and supporting illegal wars. Corbyn opposes those policies and that is unacceptable for them. https://t.co/i0Ys3fI7Gu

— Jews4Socialism (@Jews4Socialism) March 26, 2018
Remember the media are not interested in facts but only interested in manufacturing consent.

If they were interested in facts they'd report that the "Hard Left" like Corbyn are the only one who ever defended Jews when things got roughpic.twitter.com/mdtk2NPqjg

— Jews4Socialism (@Jews4Socialism) March 26, 2018
At least where Corbyn is concerned, many things appear to be certain. As long as he is leader of the Labour Party; as long as he promises a new, Socialist Britain; as long as he threatens the current media monopoly; as long as he promises a fairer distribution of the wealth which is currently hoarded by the wealthy; and as long as he works for the poor, the downtrodden and the vulnerable, he is going to continue to be beset by smears. Bets on for the next one? 
Become An Evolve Politics Subscriber



Your subscriptions go directly into paying our writers a standard fee for every article they produce. So if you want to help us stay truly independent, please think about subscribing. We literally couldn't function without the support of our fantastic readers.
Subscribe
Or a One-Off Donation to Evolve Politics



If you don't want to subscribe, but still want to contribute to our project, you can make a one-off donation via the donate button below. All your donations go directly to our writers for their work in exposing injustice, inequality and unfairness.
Donate