Following yesterday's bleak Spring statement from the Chancellor Philip Hammond, a leading pro-Tory thinktank has come out with a stark warning – asserting that because the Tories have ruined the economy so badly they will need to raise taxes by £40Billion every single year just to meet their own financial targets and fund vital public services.
Evolve Politics has previously documented the many corporate donors who fund and support research carried out by The Institute for Fiscal Studies (IFS), and, as per their neoliberal agenda, they very rarely advocate raising taxes (especially for the rich).

However, the IFS says that taxes will need to be raised every year to fund even the most basic of services and to meet Tory deficit targets – now pushed into 2025 by Hammond, following nearly a decade of failed Tory predictions.
Paul Johnson, the Chief of the IFS, said that public services such as prisons and the NHS were struggling under the weight of Tory austerity "in a way that they were not two or three years ago"

Not that much to be Tiggerish about here. Growth forecasts dreadful compared with what we thought in March 2016, dreadful by historical standards and dreadful compared with most of the rest of the world. https://t.co/qw1tZ9zy5W

— Paul Johnson (@PJTheEconomist) March 13, 2018
Johnson went on to say that that the government was failing to collect as much tax as it used to after taking large numbers of people out of paying income tax, adding that:
[The chancellor] has been unable to tackle the problems posed by the increasing numbers of self-employed and company owner managers, who pay less tax than similarly remunerated
However, unsurprisingly given the IFS' neoliberal agenda, Johnson didn't comment on corporate tax avoidance, or the £70billion in tax-cut handouts to the wealthiest that the Tories will have completed by 2022 – two of the key drivers behind anemic tax revenues.
Johnson also commented on post-Brexit fears, adding:
If high-paid jobs – and EU citizens, who are well represented among high earners in the UK – relocate elsewhere, the consequences for the Exchequer will be severe
Given all of this, the IFS has concluded that the Tories will need to raise taxes by £30bn every year just to maintain the most basic of public services and balance the budget by 2025 in order to keep the Tories' key election pledge.
Johnson added that a further £11bn would need to be raised in order to cope with the increasing demand on social care, the NHS, and pensions as a result of an aging population.
The IFS also bashed the Tories for their multiplicity of "failed" economic targets and highlighted that wages are set to remain at pre-2008 levels well into the future.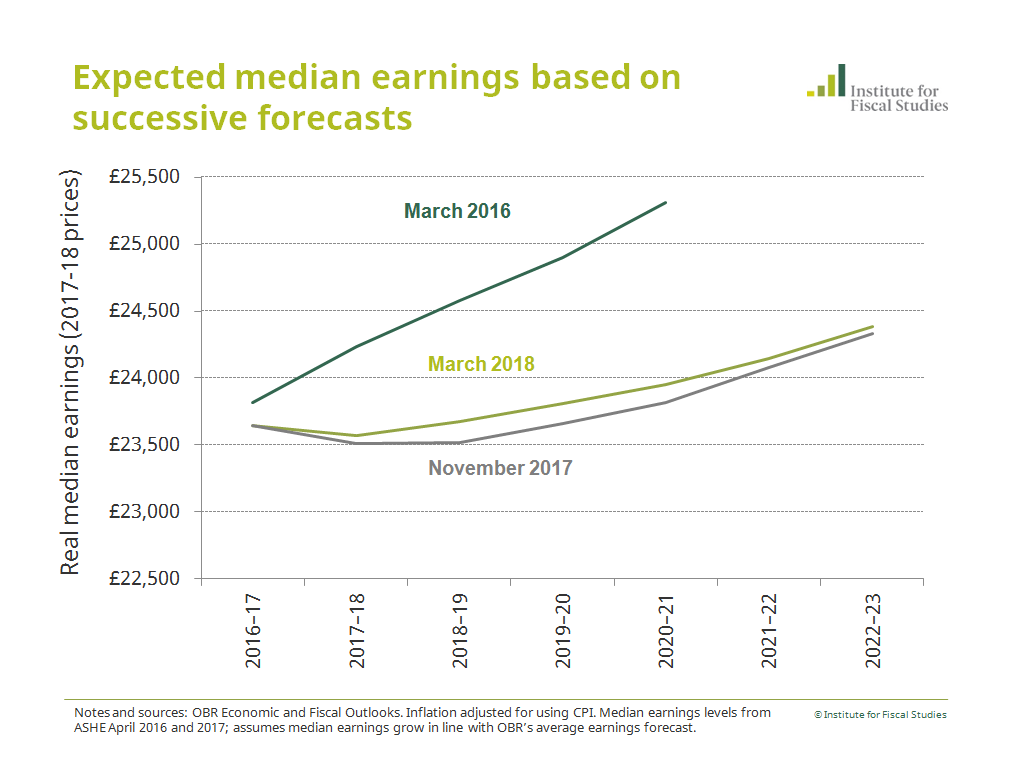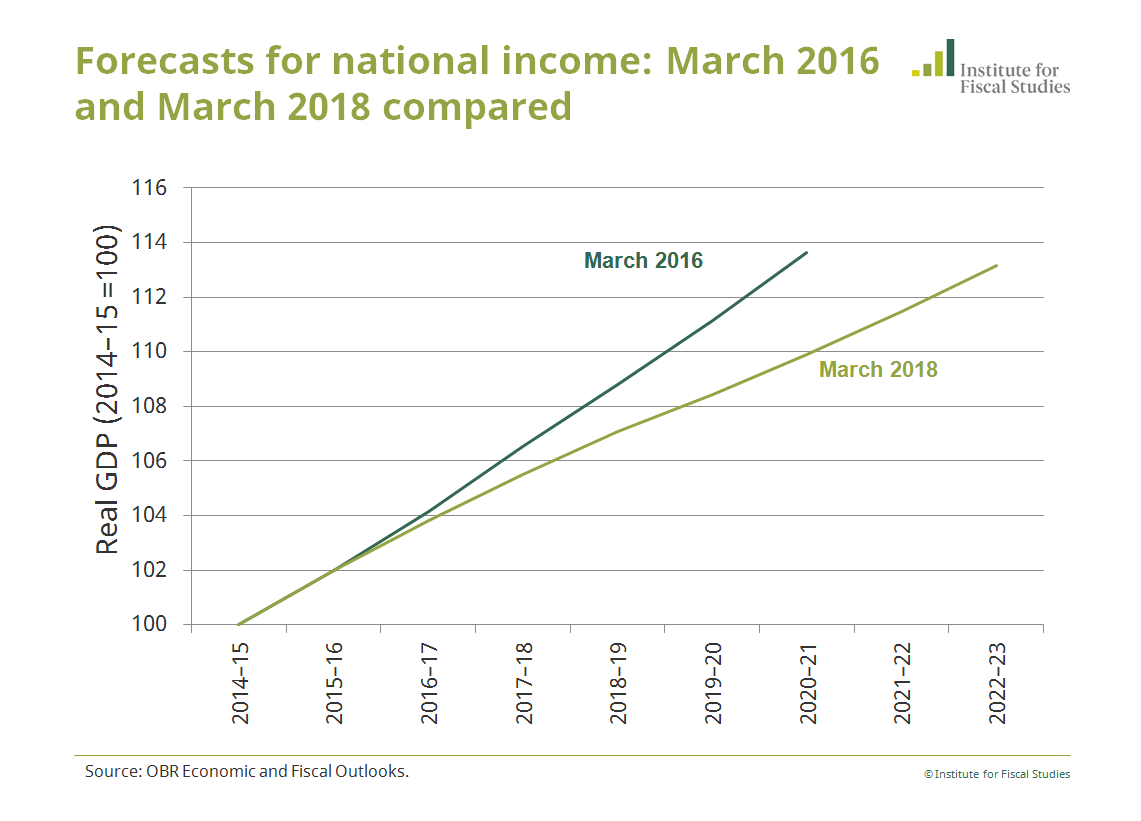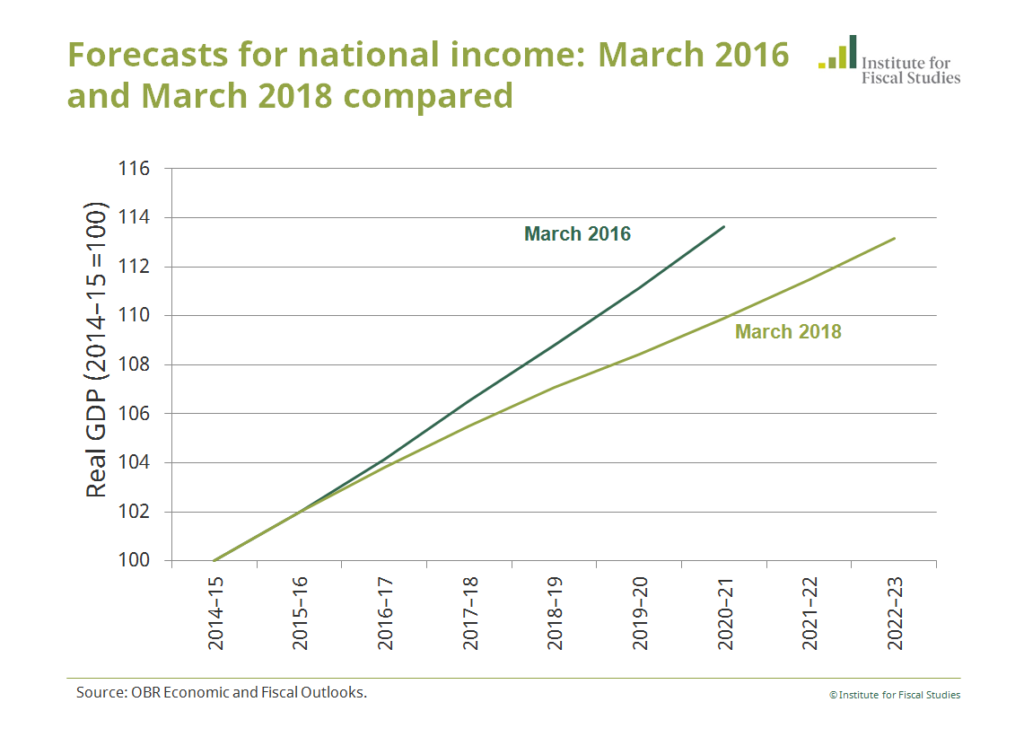 Adding that the economy is 14% smaller than it should be based on pre-2008 trends.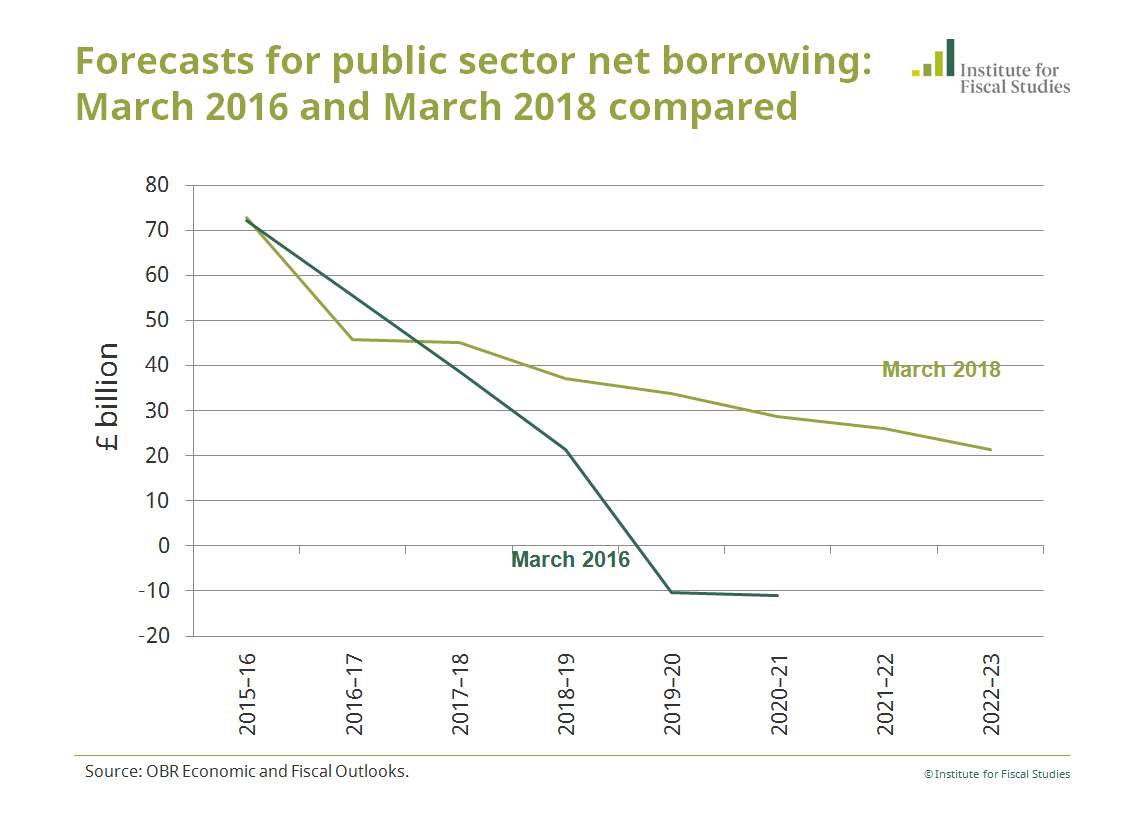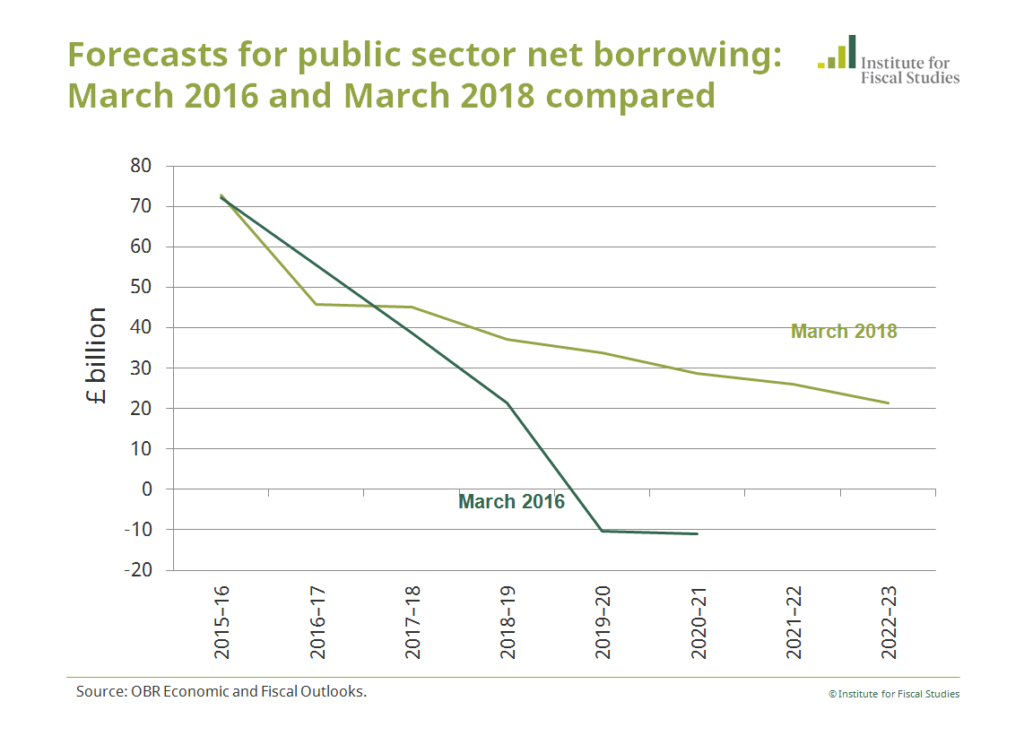 Johnson continued, saying our growth outlook following the 2008 crash was:
the worst in the G20
Commenting on the IFS' rather out of character findings, Shadow Chancellor, John McDonnell, blasted the Tories, saying:
The IFS today confirmed the further bad news working families face after nearly eight years of Tory economic failure. Despite the Chancellor's spin yesterday, the IFS has revealed that there may be £30 billion of new tax rises and spending cuts to come.
And:
Under the Tories, it won't be the richest who are hit by these tax rises and austerity cuts, but the poorest – largely families and children – who will bear the brunt of their heartless economic plans.
This follows a fiery PMQs in which Labour leader Jeremy Corbyn pressed May over the Tory manufactured NHS crisis, saying:

There is overwhelming evidence that NHS funding and the number of doctors and nurses are inadequate, and it is getting worse.
Demanding May agree to fund the NHS properly, to which she responded with her standard rhetoric/lies:
What we need to do to ensure that we can provide the funding for the NHS—we are providing record levels of funding for the NHS—is to take a balanced approach to our economy. That is an approach that deals with our debts, keeps taxes low on working families and puts more money into our public services, such as hospitals and schools. Labour's approach would increase the debt, and that would mean less money for our schools and hospitals and higher taxes for ordinary working people, because what we know about the Labour party is that it is always ordinary people who pay the price of Labour.
It seems that everybody agrees that taxes need to be raised in order for the Tories to hit their own budget targets, but nobody seems willing to admit exactly who will have to be taxed.
The truth is, as McDonnell rightly points out, the Tories will inevitably ensure it will be the poorest who are made to pay yet again for their economic incompetence, yet May accuses Labour of wanting to "taxing ordinary people" when in reality it is the complete opposite.

The Tories' so-called "long-term economic plan" seems to be working out just as they intended (but not as they promised the public) – by 2022 the rich and corporations will have received over £70bn in tax giveaways from the Tories, whilst they slash our vital public services.
Meanwhile, the tax burden has been shifted onto everybody else for those increasingly poor and stretched services.
Become An Evolve Politics Subscriber



Your subscriptions go directly into paying our writers a standard fee for every article they produce. So if you want to help us stay truly independent, please think about subscribing. We literally couldn't function without the support of our fantastic readers.
Subscribe
Or a One-Off Donation to Evolve Politics



If you don't want to subscribe, but still want to contribute to our project, you can make a one-off donation via the donate button below. All your donations go directly to our writers for their work in exposing injustice, inequality and unfairness.
Donate