A report released by Britain's national equality body, the Equality and Human Rights Commission (EHRC), has revealed the devastating fallout of Tory cuts. Particularly, that is, among children, women and ethnic minorities. 
The EHRC measured the effect of reforms to tax and welfare implemented between 2010 and 2018 to assess their impact by 2021-2022, which, it is worth remembering, is but a mere three to four years away. 
The results are astounding. By EHRC projections, 1.5 million more children look to be in poverty by 2021 to 2022. The child poverty rate for single parent-homes will rise from 37% at current levels to over 62%. It is not only lone-parent households. Homes with three or more children will see losses of £5,600. 
The EHRC, an independent statutory body rated 'A' by the UN as a National Human Rights Institution, undertook the research in 2017 jointly with other economic bodies. It measured the effect, specifically, of policies around the following factors:
Income tax;

National Insurance contributions;

Indirect taxes, such as VAT and excise duties;

Means-tested and non-means-tested social security benefits;

Tax credits;

Universal credit; and 

National minimum wage and national living wage. 
Over-archingly, the findings highlight that the reforms implemented by both the current Tory Government, and the Tory-led coalition before it, are regressive. They impact and hurt the most vulnerable, the poorest and the most in need of assistance in our country.
Another indictment of the Tories' failed economic project.

This report predicts 1.5 million more children will be forced into poverty by 2022, and shows that disabled people and single parents are bearing the brunt of the Tories' spending cuts. Shameful.https://t.co/VqsQNxABKf

— Jeremy Corbyn (@jeremycorbyn) March 14, 2018
The poorest 2/10ths in society are set to lose 10% of their income in the next three to four years. At the same time, households with disabled members will be disproportionately affected by the Tory measures of the past eight years. For example, households with at least one disabled adult and a disabled child will lose £6,500 per year, which represents over 13% of their annual income. 
The EHRC noted that predominantly the negative impacts are driven by a freeze in working-age benefit rates, changes to disability benefits, and alterations to Universal Credit. 
The forecasts represent the mallet-head of Tory policy slowly and increasingly being pushed downwards on the heads of the poor, the vulnerable, the disabled and those most in need of relief.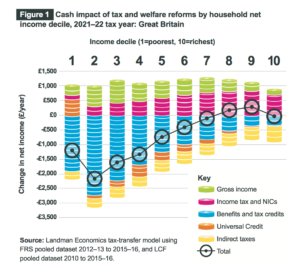 In addition, the Tory-implemented reforms have further exacerbated income disparity between the richest and the poorest in the UK. The richest half of Britons have seen a boost in their gross and disposable income, while the poorest will see a loss.
While middle-earners have seen a boost, two things must be remembered. Firstly, the data is extrapolated from factors that will have a bigger effect on the poorest 3/10ths than they will those in higher income brackets. Secondly, the point is that Government exists to ensure the safety and security of its people. Government has a duty to look after those who are less capable of looking after themselves within the paradigm of consumer capitalism. The Tories are failing in that duty.
Lone parents, for instance, will see a loss of 1/5th of their annual income – that's £5,250 per year. Moreover, the Government that loves to laud its gender-progressivism has heralded policies that will see women lose, on average, £400 per year while men lose just £30. 
While the Tories cite the prospective blight of the national deficit and the national debt on future generations in order to justify their damning austerity, they have condemned those same generations to immediate and damaging poverty. 
The numbers translate to sufferance. Families forced out of their homes, unable to make rent; children going hungry; disabled individuals unable to get help. Surely, we will see an increase in crime, an increase in homelessness, a reduction in productive output as more and more families can't afford to work or can't find work. The findings of this EHRC report show a society slowly falling apart, a country ruled by barbarism and defined by inequality. 
More than anything, though, the findings show the sickness, the intellectual vacuousness of austerity. Economically misguided and societally destructive; the Tories have wrought pain upon the most vulnerable in British society. 
Become An Evolve Politics Subscriber



Your subscriptions go directly into paying our writers a standard fee for every article they produce. So if you want to help us stay truly independent, please think about subscribing. We literally couldn't function without the support of our fantastic readers.
Subscribe
Or a One-Off Donation to Evolve Politics



If you don't want to subscribe, but still want to contribute to our project, you can make a one-off donation via the donate button below. All your donations go directly to our writers for their work in exposing injustice, inequality and unfairness.
Donate