Britain's biggest public sector Trade Union, Unison, has just released a new video that both brutally and hilariously exposes exactly how patronising and out of touch our current Tory government really is regarding the wages of ordinary British workers.
Their satirical video entitled 'Pats on the Back' mocks the Tory government's hugely disrespectful treatment of public sector workers – people such as nurses, firefighters, soldiers and teachers – unquestionable heroes who the Tories give meek praise to whilst simultaneously freezing their pay packets and telling them to simply work harder.
Public sector pay rose a measly 4.4% in the six years between 2010 and 2016, while the cost of living spiked a massive 22%. In fact, whilst many European countries have seen (albeit small) real terms wage increases, the UK have been severely lagging behind, tied last with crisis-stricken Greece, with both countries seeing a net -10.4% drop in real wage growth between 2007 and 2015.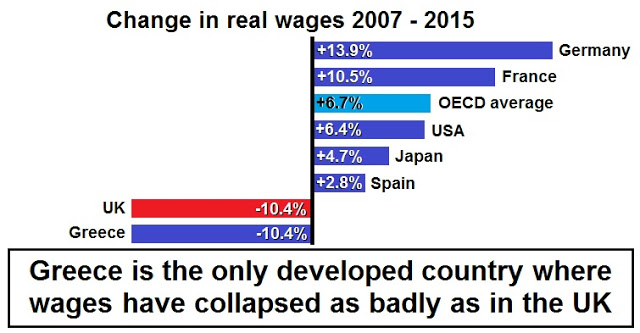 After the absolutely devastating Grenfell Towers fire in June this year, Theresa May applauded the work of the emergency services, saying:
The response of the emergency services, NHS and the community has been heroic.
So, how did the Conservatives reward the 'heroic' public sector staff?
By – just weeks after the tragic fire – blocking a bid by Labour to scrap the freeze on wages.
Some Tory MPs literally even cheered when the amendment was rejected.
Snubbed invitation
Last month, front-line fire fighter David Badillo's Facebook post went viral after turning down an invitation to a private dinner held by the Prime Minister for the emergency service workers involved with the Grenfell Towers fire and London terror attacks.
In his post Badillo says he has to work a second job just to pay rent and buy food.
Speaking to The Mirror about the event, the Fire Brigades Union general secretary, Matt Wrack said:
There is very strong feeling among those working in the fire and rescue service that this government is quick to lavish praise on firefighters to celebrate their heroism, but reluctant to pay them properly for the invaluable work they do or to provide the funds to stop the endless cutbacks we face.
And it's just so true.
Last week, Jeremy Hunt quite hilariously admitted to fellow MPs that doctors were right to strike last year over safety concerns:
I think people in the health service work extremely hard – in fact, I think they are working harder than they have ever worked, because hospitals and GPs surgeries are very busy places.
It doesn't really make sense, does it? Firefighters are 'heroic' and NHS staff 'work extremely hard' and yet – as Theresa May once said on the election trail – there is, apparently, no magic money tree for a pay rise.
It's like the Conservatives are so out of touch that they think words put food on the table.
That's why Unison's new video is so accurate – the Tories are absolutely oblivious to the problems facing real people today.
You can watch the video below:
Get Involved
Support Unison's 'Pay Up Now!' campaign which is urging the government to end the pay cap once and for all.
You can sign the official petition here.

Become An Evolve Politics Subscriber



Your subscriptions go directly into paying our writers a standard fee for every article they produce. So if you want to help us stay truly independent, please think about subscribing. We literally couldn't function without the support of our fantastic readers.
Subscribe
Or a One-Off Donation to Evolve Politics



If you don't want to subscribe, but still want to contribute to our project, you can make a one-off donation via the donate button below. All your donations go directly to our writers for their work in exposing injustice, inequality and unfairness.
Donate