Stay in touch!
Sign up to be updated with Evolve's latest stories, and for opportunities to get involved.
The news that Moody's Investor Services has downgraded the UK's credit rating from AA1 to AA2 comes just hours after Theresa May's lacklustre Florence speech.
The UK's new credit rating is now the worst it has ever been.
Moody's, one of the big three credit rating agencies alongside Standard & Poor's, and Fitch Ratings, have cited Brexit and political compromises as the reasons for the downgrade – the first by any of the agencies since immediately after the 2016 EU referendum.
Moody's said in an official statement: 
Moody's is no longer confident that the U.K. government will be able to secure a replacement free trade agreement with the EU which substantially mitigates the negative economic impact of Brexit
The move represents a major setback for Theresa May, whose speech in Florence was supposed to clarify and unify the Tories' position on Brexit.
Instead, as an exact figure for out 'Brexit divorce bill'  remained elusive, by the time Theresa May had finished her speech (with no-one from the EU commission in attendance), the value of the pound plummeted against the dollar and euro to $1.351 and €1.128 respectively.
Theresa May confirmed that she wants Britain to remain as part of the core EU institutions for a period of around two years after the 2019 negotiating deadline.
Free movement, a key issue during and after the referendum campaign, will continue in this two-year transitional period with modifications put in place.
The decision by Moody's to downgrade the UK's credit rating is the first such move since Theresa May's shambolic general election campaign, in which her overall majority in parliament was wiped out. Her £1bn 'confidence and supply' deal with the DUP, without any of the confidence or the supply, was also cited as a reason for the downgrade.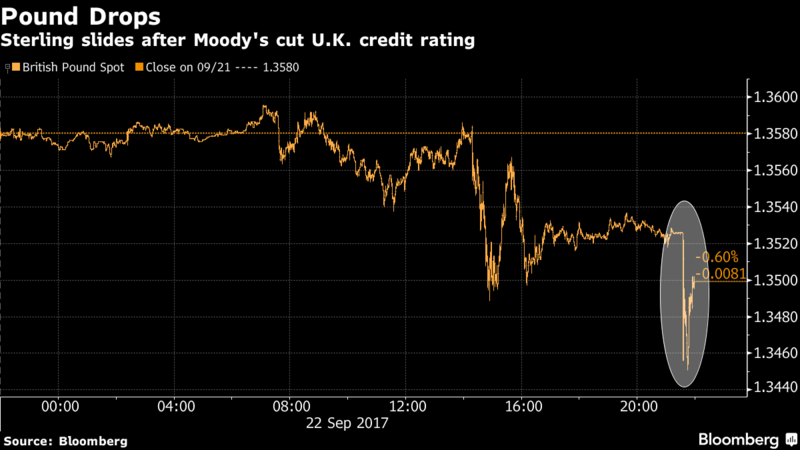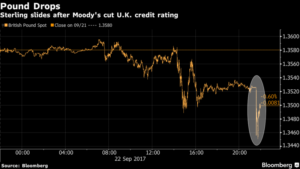 Moody's had, despite the downgrade, changed their outlook on the UK from 'negative' to 'stable', thankfully snatching away May's ability to justify the incessant use of the 'strong and stable' soundbite.
The Conservatives have been in complete and total disarray over Brexit since negotiations began, with prolonged uncertainty and setbacks over the last 15 months. Her proposal to keep the UK in the core EU institutions in a transitional period post-2019 is a position that was lifted from Jeremy Corbyn and Keir Starmer's official Labour Brexit stance, in which they proposed to retain full access to the single market and customs union in a transitional period for up to four years.
After @Theresa_May's #FlorenceSpeech, and 15 months since the EU referendum, the Tories are still no clearer about their plan for Brexit. pic.twitter.com/7ilFafOtzZ

— Jeremy Corbyn (@jeremycorbyn) September 22, 2017
Theresa May's empty platitudes have to come to an end. Perhaps, in light of the day's events, no speech would have been better than a bad speech.
Become An Evolve Politics Subscriber



Your subscriptions go directly into paying our writers a standard fee for every article they produce. So if you want to help us stay truly independent, please think about subscribing. We literally couldn't function without the support of our fantastic readers.
Subscribe
Or a One-Off Donation to Evolve Politics



If you don't want to subscribe, but still want to contribute to our project, you can make a one-off donation via the donate button below. All your donations go directly to our writers for their work in exposing injustice, inequality and unfairness.
Donate