One of the world's largest arms fairs is to be held in London from 12-15 September, hosting guests from some of the most brutal and repressive regimes from across the world.
The event takes place in secret, behind heavily protected security fences and accompanied by a large police presence. Keeping the public out means that arms dealers can sell without any public scrutiny or transparency.
To make matters even worse, the whole thing is subsidised by UK taxpayers. Yes, we are paying for this.
The arms fair, called the DSEI (Defence & Security Equipment International) takes place every two years at the London Docklands ExCel Center, and is partly funded and hosted by the government's Defence & Security Organisation (DSO), meaning that we as taxpayers are forking out £millions so the government can flog weapons to brutal dictators and human rights violators across the globe.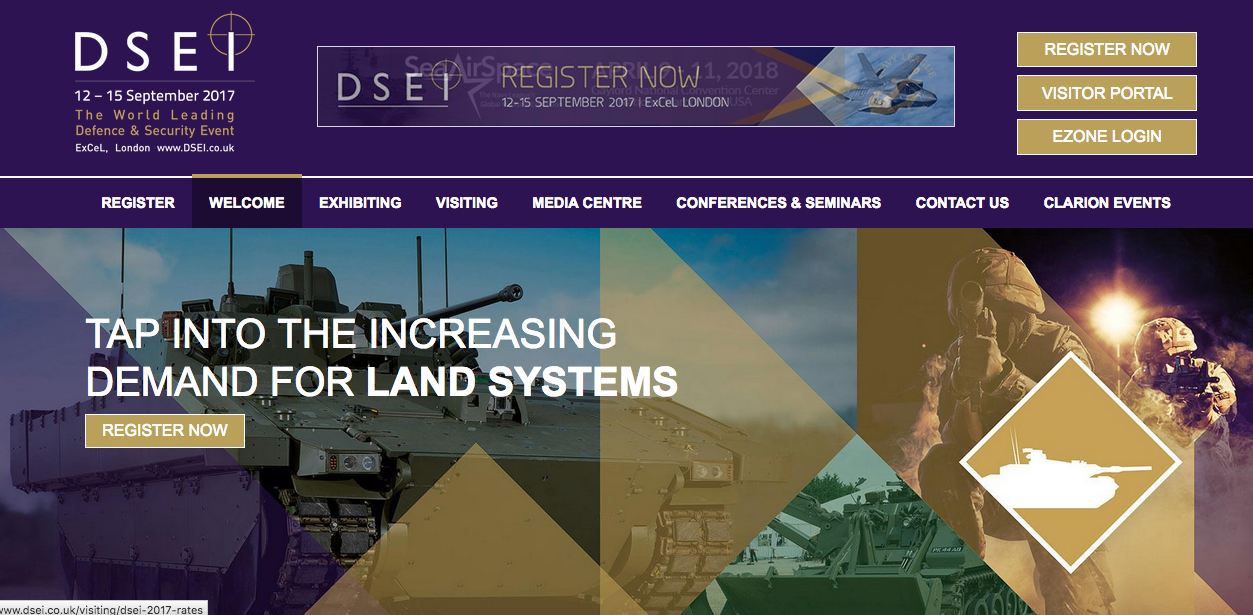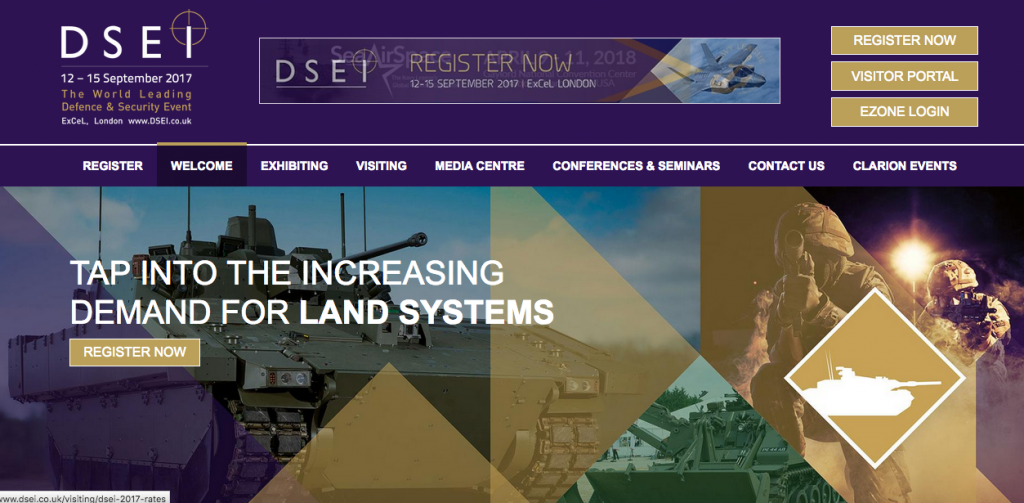 The DSO will be working in conjunction with Clarion Events — with their website boasting that:
Clarion wins the Association of Event Organisers "Most Respected Company of the Year 2017" award!
The company's current turnover is now over £80m – a four fold increase since 2004.
Some of the biggest arms manufacturers in the world will be in attendance trying to flog their killing machines.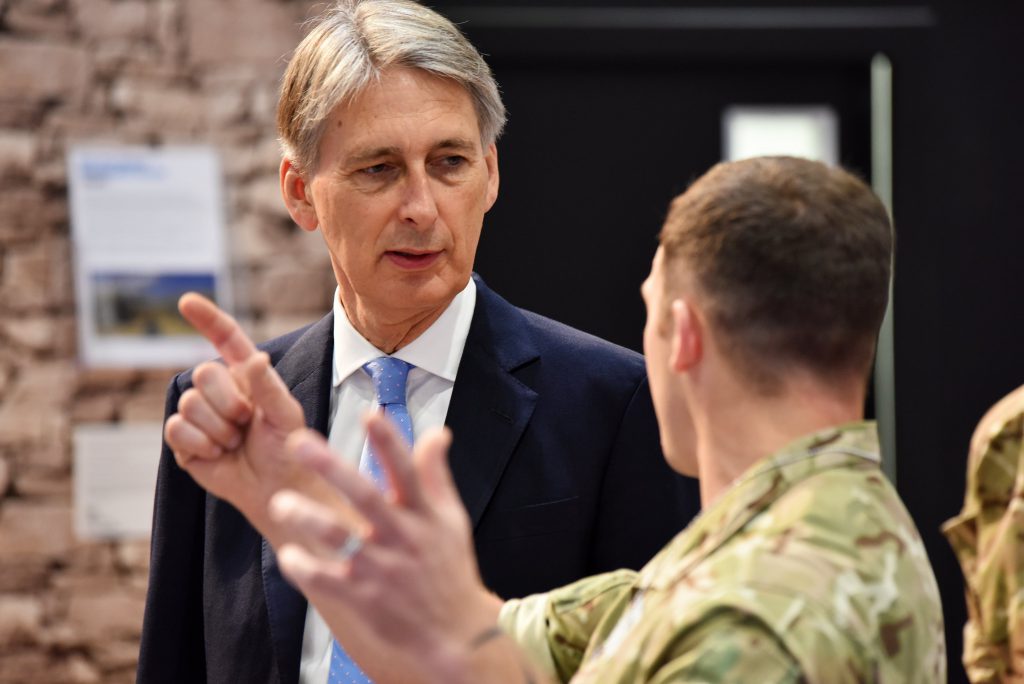 Companies boasting billions of pounds of profit, such as BAE Systems – who reported sales of over £19 billion in 2016, and US arms giant Raytheon who reported sales of $24.1 billion in 2016 – will be in attendance.

These huge corporations will be joined by trade visitors and military delegations, including those from human rights abusing regimes and countries currently involved in conflict.
The Campaign Against Arms Trade (CAAT) says that the last fair in September 2015 featured over 1,500 exhibitors from around the world, displaying arms ranging from sniper rifles to combat aircraft and warships.
Once again, CAAT will be protesting the event, attempting to disrupt the fair just as they did during the last one.
Some pictures from today's actions with @CAATuk @StopTheArmsFair #armsforrenewables #stopthearmsfair #StopDSEi pic.twitter.com/W5c9HA8Fv7

— Rainbow Collective (@TRCdocumentary) September 6, 2017
CAAT recently took the British government to court over the selling of weapons to the Saudi regime – a regime who are currently indiscriminately bombing civilians with British-made bombs in Yemen.

On the Yemen crisis, Oxfam reports that:
Escalating violence is making an already dire humanitarian situation much worse. Basic health services like health, water supply and education are collapsing. The economy has been shattered. Only 45% of health facilities are still functioning.
Adding this plea:
This conflict must stop.

 

It is critical that all governments push for an immediate and permanent ceasefire so that vital humanitarian assistance can be delivered to people in Yemen. We must do all we can to prevent any further suffering to those who already desperately need help.
The British government approved £7.7bn in arms sales in 2016 – with over £3bn of which was to brutal regimes such as the Saudis to support their current campaign of terror and slaughter.
Saudi's brutal actions have also lead to a mass outbreak of cholera, Time magazine says that:

Yemen is currently experiencing the worst cholera outbreak in history, and health experts warn that the disease is not under control.
CAAT shockingly lost their case against the British government, with the Judge ruling:
We have concluded that the material decisions of the secretary of state were lawful. We therefore dismiss the claim.
CAAT says they disagree with the verdict in the strongest possible terms and will be pursuing an appeal.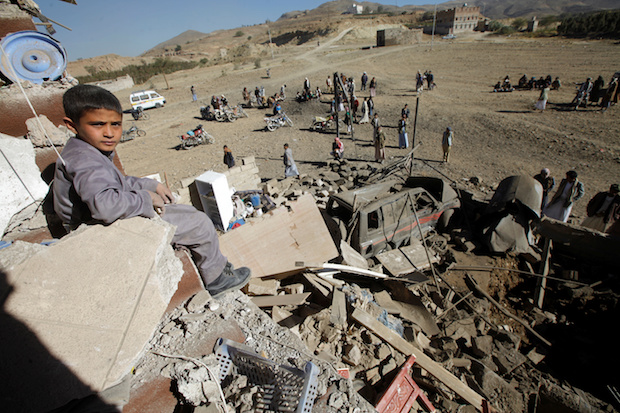 According to the historian, author, and expert on the British government's role in supplying brutal Middle East dictators, Mark Curtis, the government isn't just selling arms to this regime — they are also training the Saudis.
Curtis says:
The terrible bombing of Yemen by Saudi aircraft supplied by Britain, armed by Britain and conducted by British-trained pilots is but the latest episode in extreme UK support for Saudi foreign policy. The blood covers the hands of the entire British establishment.
London Mayor Sadiq Khan has condemned this year's London arms fair, in what could be a first step towards stopping the event.
In July Khan Said:
I am opposed to London being used as a market place for the trade of weapons to those countries that contribute to human rights abuses
However, Khan claims that he cannot stop the fair going ahead as he lacks to powers do so.
Although tepid, Khan's words are at least a step in the right direction.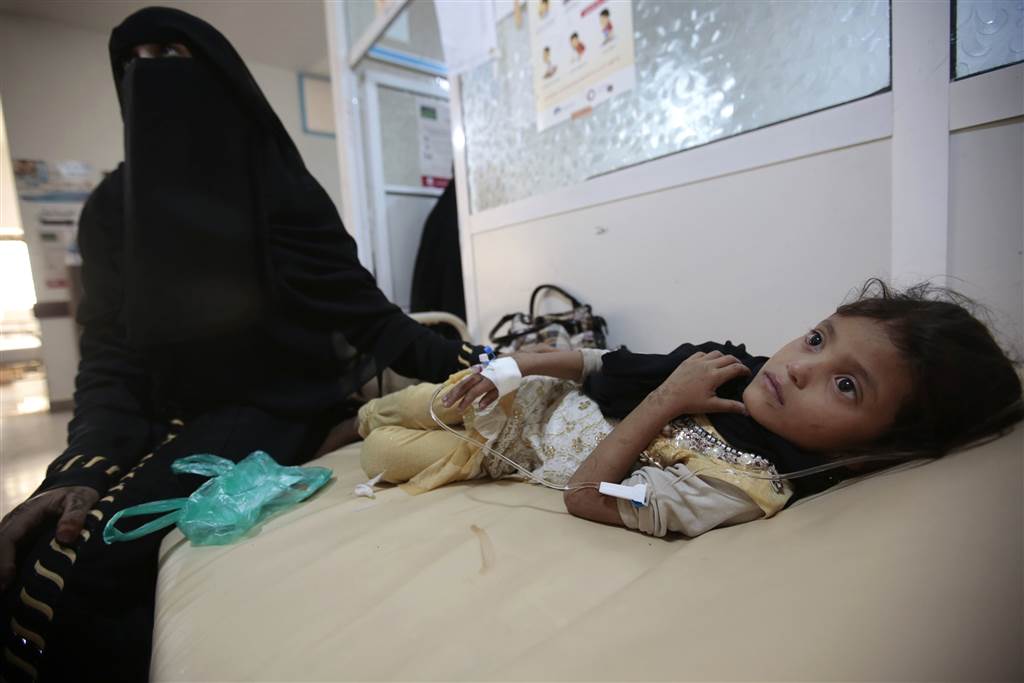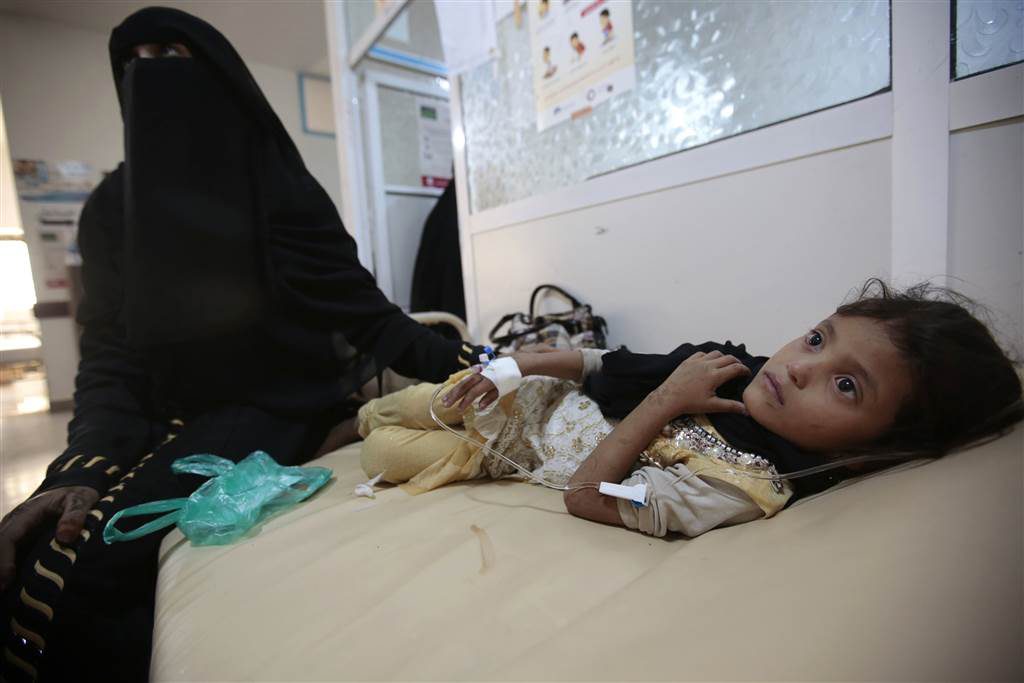 According to CAAT's analysis of UK arms industry data around 55,000 jobs in the UK are created by the arms-export trade, making up just 0.2% of the total workforce.
Of course, the factories and jobs dependent on the arms industry could quite easily be put to use doing something slightly more productive for humanity.

Get Involved

Find out how to support CAAT and protest the London arms fair here.
Become An Evolve Politics Subscriber
Your subscriptions go directly into paying our writers a standard fee for every article they produce. So if you want to help us stay truly independent, please think about subscribing. We literally couldn't function without the support of our fantastic readers.
Subscribe
Or a One-Off Donation to Evolve Politics
If you don't want to subscribe, but still want to contribute to our project, you can make a one-off donation via the donate button below. All your donations go directly to our writers for their work in exposing injustice, inequality and unfairness.
Donate