Britain's most senior Doctor has described the government as 'utterly shameful' after it was revealed that the Tories had wasted almost £3m of taxpayer's money on advisors whilst trying, and failing, to privatise the NHS staffing agency – NHS Professionals.
Conservative Ministers are said to have tried desperately to flog the agency to private companies, but were forced to complete yet another u-turn after widespread anger from both medical professionals and health unions.
Conservative Health Minister, Phillip Dunne, played down the government's failure, telling Parliament that:
The Department (DoH) spent approximately £2.8million on external advisers' costs during the sale process for NHS Professionals until the decision was announced on 7 September that NHS Professionals will remain wholly in public ownership.

The Government concluded that none of the offers received for NHS Professionals reflected the company's growing potential and improved performance.
At the end of his statement, Tory Minister Dunne also felt the need to allay growing public unease about the Tories' despicable desire to privatise just about every NHS department possible, stating that:
The Government is fully committed to providing world-class NHS services that are free at the point of the use, now and in the future.
(Of course you are, Mr Dunne.)
Chaand Nagpaul, the chair of the British Medical Association, was less than impressed by the government's shocking actions.
Nagpaul told the Daily Mirror that:
It is utterly shameful to see that politicians and health leaders have wasted yet more millions at a time when patient care is being compromised by frontline services being pushed to breaking point by a lack of resource and rocketing demand.

The Government must focus on supporting and resourcing health services which need immediate attention rather than squandering money on misguided short-term commercial policies, and take decisive action to support doctors who are stretched to the limit across the country.
And echoing Mr Nagpaul's anger, Dr Eric Watts, a consultant haematologist and spokesman for campaign group Doctors for the NHS, also told the Mirror that:
This shows the complete folly of trying to impose the ideals of a marketplace where absolutely no market belongs: the NHS.

It does not need privatising and it certainly does not need public money throwing away to fail to prove it might. It needs funding properly. Not giving away.
To further rub salt into the NHS' deep wounds, the Tories also announced that the money they wasted on privatisation advisors would be coming directly out of NHS Professionals budget.
However, Tory Minister Dunne insisted that the shocking move "will not impact on delivering frontline NHS services".
But Labour's Shadow Health Minister, Justin Madders, responded furiously to the government's handling of the situation, stating that:
The Tories have starved our NHS of funds, while wasting millions of pounds on trying to force through the privatisation of services in the face of common sense.

The Government ought to be making sure that every penny goes towards delivering the best possible service for patients instead of wasting it on expensive consultants for pet projects.

This money needs to get to the front line.
After seven years of bruising Tory austerity, the government's latest shambolic privatisation crusade shows a complete disregard for both the NHS and the taxpayer.
And just a cursory glance at the NHS' devastating financial statistics shows that the very survival of the NHS is in jeopardy under the current Tory government: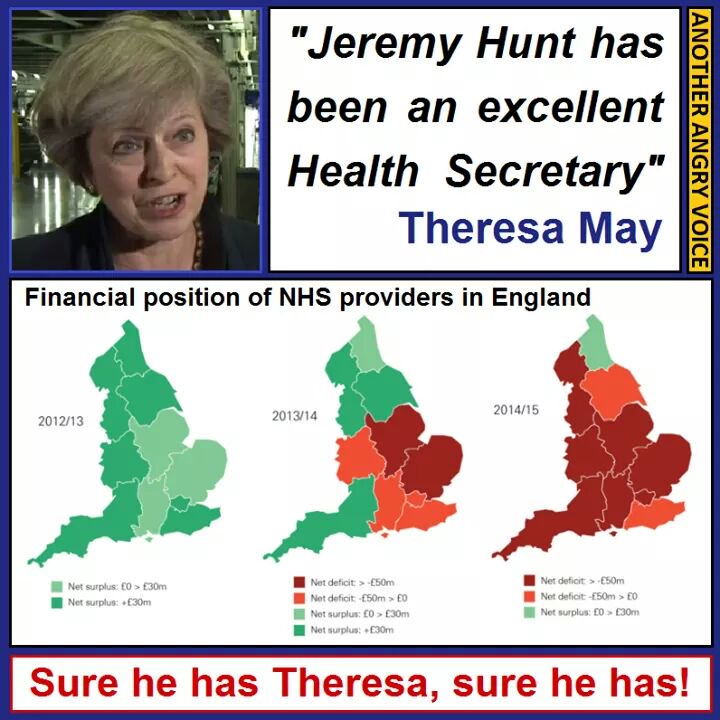 But gone are the days where you are forced to choose between the Tories or a Tory-lite Labour party that are equally terrible with our public services.

Now Britain has an opposition who really are willing to give the NHS the money it desperately needs, as well as re-nationalise every last bit – ensuring that our vital health service survives, and making sure Richard Branson et al can't siphon off our tax money to hoard it offshore.
It is becoming glaringly obvious that Britain cannot have both a fully functioning public NHS whilst we have any kind of Tory government in charge.
We desperately needs to make a choice before it's too late.
It really shouldn't be this difficult, Britain.
Become An Evolve Politics Subscriber



Your subscriptions go directly into paying our writers a standard fee for every article they produce. So if you want to help us stay truly independent, please think about subscribing. We literally couldn't function without the support of our fantastic readers.
Subscribe
Or a One-Off Donation to Evolve Politics



If you don't want to subscribe, but still want to contribute to our project, you can make a one-off donation via the donate button below. All your donations go directly to our writers for their work in exposing injustice, inequality and unfairness.
Donate