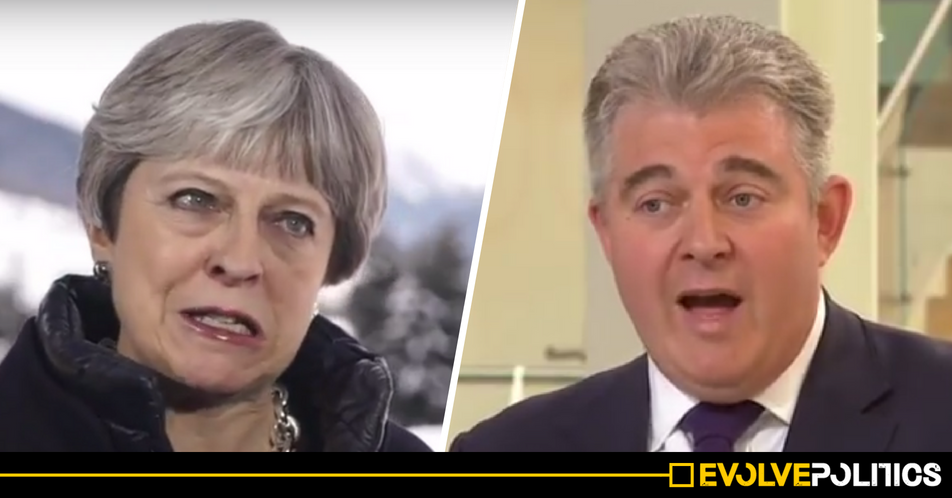 Reports from within the Conservative Party indicate that Theresa May's position could become imminently untenable as a Senior Conservative May-loyalist has now reportedly openly turned on the party's matron.
According to ITV Political Editor Robert Peston, an "erstwhile May loyalist" has reportedly turned on the Tory leader, pushing the number of signatures needed to secure a vote of no confidence in the Prime Minister to the tipping point.
The signatures of just 48 Tory MPs on a letter handed to party Chairman Brandon Lewis (pictured) would be needed to bring a Vote of No Confidence in the Prime Minister before Parliament, and today's revelations could easily now mean that the figure can be reached.
If the Prime Minister were to lose the Vote of No Confidence in Parliament, it would automatically trigger a Conservative leadership contest, and would in turn almost certainly lead to another General Election.
The former pro-May loyalist reportedly said:
"We can't go on with TM for much longer. Her inability to show leadership or make a decision is creating a vacuum the remainers use to run riot in. Once the votes are over next week, she has to go!"

It has started. This from erstwhile May loyalist: "We can't go on with TM for much longer. Her inability to show leadership or make a decision is creating a vacuum the remainers use to run riot in. Once the votes are over next week, she has to go!"

— Robert Peston (@Peston) June 4, 2018
Sign up to be notified of new Evolve Politics articles
Since the June 2017 General Election, called as an ill-fated braggadocios artillery barrage on Corbyn's Labour, which the Tories wrongly assumed would buckle under the weight, May has been like a hapless jockey white-knuckle gripping the reins of her beast between knot-tight fingers, her legs flying out behind her, loosed from the stirrups, as the horse pelts across the green all flared nostrils and taught muscles: too fast, too large and uninterested in the vain crack of her crop.
Since the Tory leader undermined her own position in the Commons just as Jeremy Corbyn's popularity and position was cemented, and whilst also undermining her own resolve, legitimacy and honesty by entering into a concordat with the DUP, it really hasn't been a happy reign for the Prime Minister.
An indecisive, inconclusive, incoherent, inchoate yet enduring, incomprehensible, infuriatingly infantile, Brexit-means-Brexit approach to Britain's exit from the EU has been a thorn that May simply cannot remove. Her inability to take the lead, take charge of her rabble of a party and pick a side has left her bereft of authority. Indeed, she's being held to ransom by her party.
Now, it looks as though we are edging ever-closer to the last days of May the ineffectual middle manager, who succeeded Cameron the-slightly-more-charismatic middle manager. One wonders what faux po-faced, rose-laced pair of cheeks and thin lips we'll have next to wander wondering into Number 10.
Indeed, after May's EU Withdrawal Bill had vivisection performed upon it by the House of Lords, she is seeking to push it through Parliament in one gruelling 12-hour session, highlighting once again her and her Government's utter disdain for Parliament and Parliamentary process.
It's no wonder, given her lack of leadership, her unwillingness and incapability to face up to the British people – both literally as in the fallout of Grenfell and figuratively by her rejection of proper Parliamentary accountability – that even those closest to her are now calling for her to leave.
We Need Your Help!
Evolve Politics can only continue publishing our truly independent journalism because of the financial support of our readers. If you value our work, please consider subscribing or donating any amount you can afford. Every penny you contribute goes directly to our writers for their work.