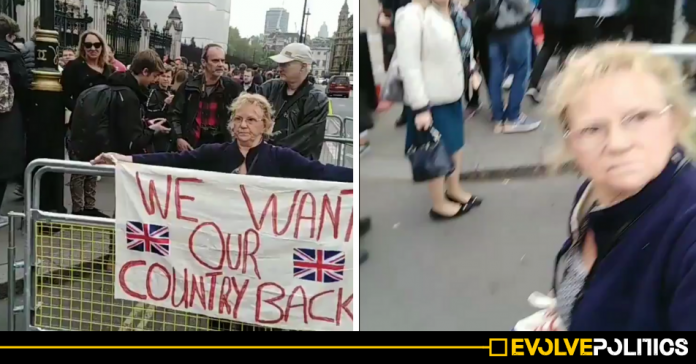 A furious pro-Brexit protester sporting a banner saying "we want our country back" has been caught on film attacking an anti-Brexit activist outside Parliament.
You can watch the short clip from the anti-Brexit activist Duncan below:
This @LeaveMnsLeave supporter was very confused about our country being the United Kingdom of Great Britain and Northern Ireland. pic.twitter.com/kcT5sJHGWK

— Duncan – British European #SODEM (@dunc_saboteur) May 1, 2019
The activist also reportedly sustained a minor injury from the attack:
And the aftermath. #noanswertonorthernirelandquestion #StopBrexit #Sodem pic.twitter.com/67ARXD3PaD

— Duncan – British European #SODEM (@dunc_saboteur) May 1, 2019
Several respondents to the video advised that the incident should be reported to the police as an assault.
It is as yet unclear whether or not the police have been involved.
We Need Your Help!
Evolve Politics can only continue publishing our truly independent journalism because of the financial support of our readers. If you value our work, please consider subscribing or donating any amount you can afford. Every penny you contribute goes directly to our writers for their work.