It's not been Ben Bradley's year in 2018 so far, has it? It's fair to say that most of us were willing January to end, but even as the sun breaks through the clouds and Spring is upon us, the year is getting worse, not better, for the Mansfield MP.
Not only was he lambasted for old blog posts that express some distasteful views about benefit claimants, police brutality and public sector pay, but he's also been subject to legal demands from Labour leader Jeremy Corbyn after posting a wholly false tweet suggesting that Corbyn had sold British secrets to the Soviet Union.
After receiving instructions from Corbyn's solicitors, Bradley posted a public apology on Twitter which has now been shared more than any other Tory tweet. But hey, at least the Tories are getting better at social media.
We're sure you'll be surprised to hear that this isn't the first time that Ben Bradley has taken liberties and published fake news on social media. Prior to becoming the Member of Parliament for Mansfield, Bradley was a Tory councillor in the Labour controlled Ashfield District Council.
As The Chad reported at the time, he actually admitted that while he was a councillor, he made up claims about the local authority using Indian call centres on Facebook. At the time, despite being wholly false, the claims caused outrage on a local Facebook group.
Bradley's original post stated:
"I have just discovered that our wonderful Ashfield District Council has spent £17,000 this month on paying an Indian company to call 1,000 residents in Ashfield from a call centre in Mumbai to ask what you think of council services."

"Not only is that £17 PER RESPONSE (would it not be cheaper to skip Mumbai and just go out and speak to people?) and obviously a massive pain in the backside for residents who have been receiving calls at 9 at night, but it comes at the same time as we're all being asked to stump up more Council tax! Is that where our extra tax is going I wonder?"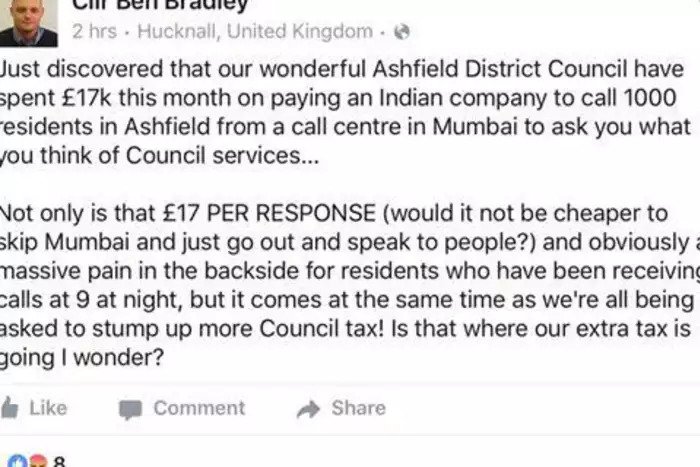 However, when local media outlet The Chad contacted Ben Bradley at the time, he admitted that the post was entirely untrue. Talk about fake news!
"I admit the post about using an Indian call centre was untrue and I took it down. I was just emphasising the point that the council was wasting money. With our Council tax set to be going up it's disappointing to hear that we are spending money in this way. If we want to understand more about the views of residents, we should be talking directly to them, not outsourcing the job and just analysing the statistics."
A spokesman for the Labour controlled Ashfield District Council then clarified the situation, admitting that they had paid £17,000 for a telephone survey about local services – but that it was carried out "by a UK based independent company, who were commissioned through a rigorous procurement process."
Bradley's lies about Corbyn on social media have been subject to plenty of media attention over the last few weeks, but Labour councillor Lauren Mitchell thought it wise to remind us that he had a track record during his time on Ashfield District Council.
https://twitter.com/laurenamber_m/status/967727029343981568
Old habits die hard, eh Ben?
Become An Evolve Politics Subscriber



Your subscriptions go directly into paying our writers a standard fee for every article they produce. So if you want to help us stay truly independent, please think about subscribing. We literally couldn't function without the support of our fantastic readers.
Subscribe
Or a One-Off Donation to Evolve Politics



If you don't want to subscribe, but still want to contribute to our project, you can make a one-off donation via the donate button below. All your donations go directly to our writers for their work in exposing injustice, inequality and unfairness.
Donate