If you've somehow missed the incredibly spurious reports spouted by every single right-wing publication in the country this week, Labour leader Jeremy Corbyn has been accused of 'selling British secrets' to Czech intelligence services. However, as well as ignoring the fact that their 'source' for this story is a provable crackpot, the right-wing press also seem to have mysteriously forgotten that a Tory MP has literally been proven to have done exactly what they're accusing the Labour leader of.
Yes, the right-wing press are pretty notorious for missing out key information – especially when they're trying to smear Corbyn – a politician who is finally proposing measures to force their tax-haven loving super-rich billionaire owners to finally pay the tax they owe.
Firstly the right-wing rags conveniently missed the fact that the source for their latest Corbyn smear, a former low-level Czech Intelligence Officer Jan Sarkocy, literally claimed personal credit for organising Live Aid – a pretty far-fetched claim to say the least.
Then they missed out the fact that Mr Sarkocy also claimed that Jeremy Corbyn had told him what Thatcher had for 'breakfast, lunch and dinner' – a claim which even the most ardent of right-wingers would have to admit is just a tad insane given that Mr Corbyn was a backbench MP at the time with absolutely no interest in Mrs Thatcher's eating habits or future wardrobe choices..
But, the right-wing press, for all their ridiculous attempts to smear Corbyn as some kind of Britain-hating traitor, have conveniently missed out one other fact from their latest anti-Corbyn smear story.

That's right. A Tory MP literally sold British secrets to Czech spies in the 1960s.
I will repeat for posterity. That thing that the right-wing rags are trying to pin on Corbyn – with absolutely no evidence other than the muttered ramblings of a provable crackpot – has literally been done by a member of the Conservative Party already.
Yes, in the 1960s the Conservative MP Raymond Mawby provided information to Communist Czech spies in return for money.
Mawby was reportedly paid directly by Czech intelligence to provide sensitive political information to the Communists at £100 a pop.
The documents proving it are still held by the Czech Security Service, and in contrast to the minuscule amount of documents they hold on Jeremy Corbyn, the file for Mawby is over 100 pages long and contains damning evidence that firmly prove the Tory MP's decades of collusion with the Czechs.
According to reports at the time the documents were unearthed, Czech secret services exploited Mawby's obsession with money, with one document stating "His leisure time he spends in bars… and also loves gambling", whilst another noted "While playing roulette and other games he is willing to accept a monetary 'loan' which was exploited twice."
Also according to the documents, Mawby sold lists of parliamentary committees and confidential information regarding a parliamentary investigation into a Conservative peer to the Czech Communists.
However, most extraordinarily, a Czech officer notes on one document that Mawby had "promised to carry out tasks such as asking questions in Parliament according to our needs".
At this time Mawby was simply a lowly backbencher, but in 1963 he was promoted into a Junior Ministerial position where he would almost certainly have been privy to substantially more confidential information than as a backbencher.
Mawby – whose codename was 'Laval' – continued selling secrets to the Czechs even after he was promoted into the high-ranking government position, with one Czech official documenting how they had asked the Tory MP for information about the Prime Minister's office in the House of Commons and the layout of the room, stating:
I recommend giving Laval at the following meeting before Christmas 100 pounds on the understanding that he will provide us with the requested plan
Floorplans which Conservative MP Mawby was provably more than happy to sell to the Communists: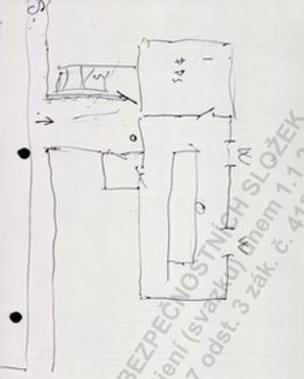 As well as providing highly confidential floorplans, Mawby also sold details of who provided security at the office to the Czechs – information which could have proved deadly in the wrong hands.
According to MI5, Mawby's collusion with the Czechs was not known to the British security services at the time.
Eventually in 1971, after 100 Soviet diplomats had been expelled from London, the Czechs decided to sever ties with Mawby, noting that:
Considering the worsening operational conditions in Great Britain and after evaluating dangerous signals… we are forbidding all contacts with him.
The right-wing press know full well, as proved by the case of Tory MP Mawby, that if Corbyn truly had colluded with the Czechs as them and their crackpot source are attempting to make out, there would be hundreds of similar documents similar to the case of Mawby.
However, as the Director of the Czech Security Service, Svetlana Ptacnikova, confirmed yesterday that the Czechs hold no such files, stating:
Mr Corbyn was not a secret collaborator working for the Czechoslovak intelligence service
Before going on to clarify that:
The files we have on him are kept in a folder that starts with the identification number one

Secret collaborators were allocated folders that start with the number four. If he had been successfully recruited as an informer, then his person of interest file would have been closed, and a new one would have been opened, and that would have started with the number four.

He stayed in that basic category – and in fact he's still described as that, as a person of interest, in the final report issued by the StB agent shortly before he [the agent] was expelled from the UK.
So there you have it. Not only was a Tory MP literally caught selling British secrets to the Communists, the substantial Czech archives conclusively prove that the right-wing press are intentionally pushing completely unsubstantiated lies about Jeremy Corbyn.
Become An Evolve Politics Subscriber



Your subscriptions go directly into paying our writers a standard fee for every article they produce. So if you want to help us stay truly independent, please think about subscribing. We literally couldn't function without the support of our fantastic readers.
Subscribe
Or a One-Off Donation to Evolve Politics



If you don't want to subscribe, but still want to contribute to our project, you can make a one-off donation via the donate button below. All your donations go directly to our writers for their work in exposing injustice, inequality and unfairness.
Donate