Stay in touch!
Sign up to be updated with Evolve's latest stories, and for opportunities to get involved.
Official Conservative campaign leaflets for the upcoming local elections have falsely accused the pro-Jeremy Corbyn organisation Momentum of running "anti-Semitic campaigns' and of staging 'violent and intimidating demonstrations' – accusations which have been branded "libellous" by one Momentum member.
The Conservative candidate for Wakefield West, Nathan Garbutt, distributed a multitude of the potentially "libellous" official Conservative leaflets door to door in the area last week to promote his campaign to become a Tory Councillor in May's upcoming local elections.
A section in Garbutt's official Tory campaign leaflet reads:
"Momentum thugs in charge of Labour
Labour is now controlled by a group called 'Momentum'. They are responsible for internet bullying, violent and intimidating demonstrations across the UK and anti-semitic campaigns. Wakefield needs positive optimistic politics and Wakefield voters should reject the hate of this new Labour party.
Conservatives say that their nasty, aggressive behaviour has no place in British politics."
Writing on a public Momentum Facebook page, accompanied by pictures of the "libellous" leaflets, Momentum member Paul Lythgoe wrote:
"I believe that the accusations about Momentum are libellous to us as a group & as individuals. It is directly accusing us of violence, of bullying, of intimidation, & of anti-semitism. I believe that Momentum nationally should take this head on & through solicitors ask the candidate, his agent & the local Wakefield Conservatives to retract this statement publicly & in any further election correspondence & to pay compensation in the form of a sizable charitable donation to the Wakefield and area food banks."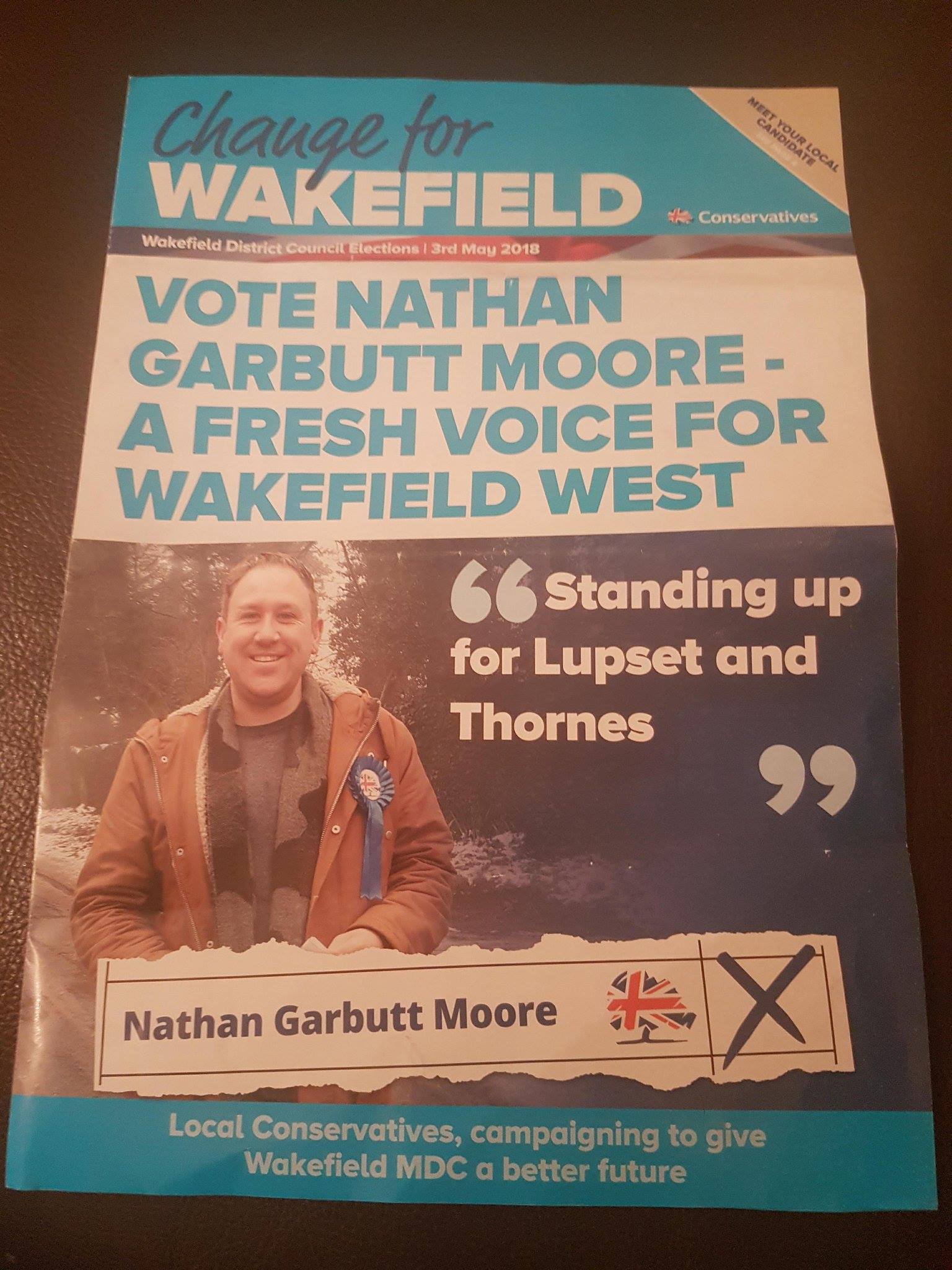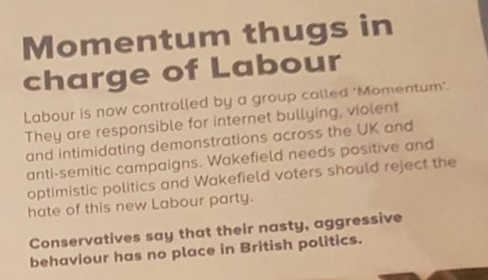 Conservative candidate Garbutt's accusations that Momentum run 'anti-Semitic campaigns' and stage 'violent demonstrations' will no doubt grab the interest of Momentum's lawyers who, just a few weeks ago threatened Sajid Javid with legal actions after the Conservative Minister falsely branded the pro-Jeremy Corbyn organisation as neo-fascists'.
At the time, and knowing he was safely protected from legal action through his Parliamentary privilege, Javid said during a speech in the House of Commons:
"Just yesterday there were reports of a meeting by the hard left neo-fascist Momentum group in Wandsworth trying to remove Wandsworth Councillors"
Momentum swiftly responded, saying:
".@sajidjavid, do you really believe we're a 'neo-fascist' organization? Say it outside parliament and you'll hear from our lawyers."
The news also comes after lying Tory MP Ben Bradley was forced to issue a grovelling apology and make a significant 'five figure' donation to a food bank in his own constituency after libellously accusing the Labour leader of selling "British secrets to communist spies".
And now, with official Conservative campaign literature containing potentially "libellous" statements about the pro-Jeremy Corbyn organisation Momentum, a food bank in Wakefield could soon be receiving a large contribution courtesy of Mr Garbutt.
Garbutt is of course no stranger to questionable behaviour. In 2015, when Garbutt was a member of UKIP and running to become MP in Yvette Cooper's constituency of Normanton, he dragged the party into another racism row after posting a tweet mocking Gemma Collins and comparing the black rapper Tynchy Strider to a chocolate bar.

Evolve Politics have contacted both Mr Garbutt and Momentum for comment on the potentially libellous official Tory campaign leaflets. As yet, neither have responded – but we will bring you more when they do.