As the local elections on 3 May 2018 come into view, the stark reality of exactly how damaging Tory cuts have been for your local area will be crystallising. 
It has been widely reported that councils are at "breaking point" as a result of massive diminishment in their funding due to Tory central Government cuts.
As Evolve Politics recently reported, Northamptonshire County Council essentially went bankrupt as a result of strict adherence to Tory neoliberal policies and cuts in Government grants, which led to a huge blackhole in its finances.
More recently, Worcestershire County Council – which is in Tory Minister Sajid Javid's own constituency – was reported as facing a looming gap of £60m in its finances as a result of Government cuts. 
In London, surgical incisions to the central Government grant provided to City Hall has led to a stark rise in knife and violent crime. Mayor, Sadiq Khan has valiantly attempted to stave off the worst effects of the bombardment to City Hall's funding, but it is a drop in the ocean when local funding is being strangulated at the top.
Across the country, councils are having to reduce the extent to which they fund social care; they are having to cut into the provision of public health and get rid of social necessities like libraries and youth groups. As a result of years of Tory austerity, local councils have had to expose their citizens to severe detriment, including raising council tax to the legal limit in order to make ends meet.
With that in mind, it will come as a nice surprise that the Labour Party has released a handy little tool to let you measure exactly how much the Tories have cut central Government funding to your area. 
Council cuts calculator – nifty online tool launched by Labour today.

Enter your postcode (& email) to see cuts in central grant to your local authority. By 2020, Tory councils will on average have £128 less to spend per household, Labour £524 less.https://t.co/luTK3b9wB1

— Lucy Fisher (@LOS_Fisher) April 20, 2018
All you need to do is type in your name, email address and your postcode, and the tool will return the information as to exactly how much less your local council will have to spend on your household by 2020 since 2010. 
We ran the numbers on a few random postcodes to see just how damaging Tory cuts have been to local councils around the country:
Suffolk:

Manchester: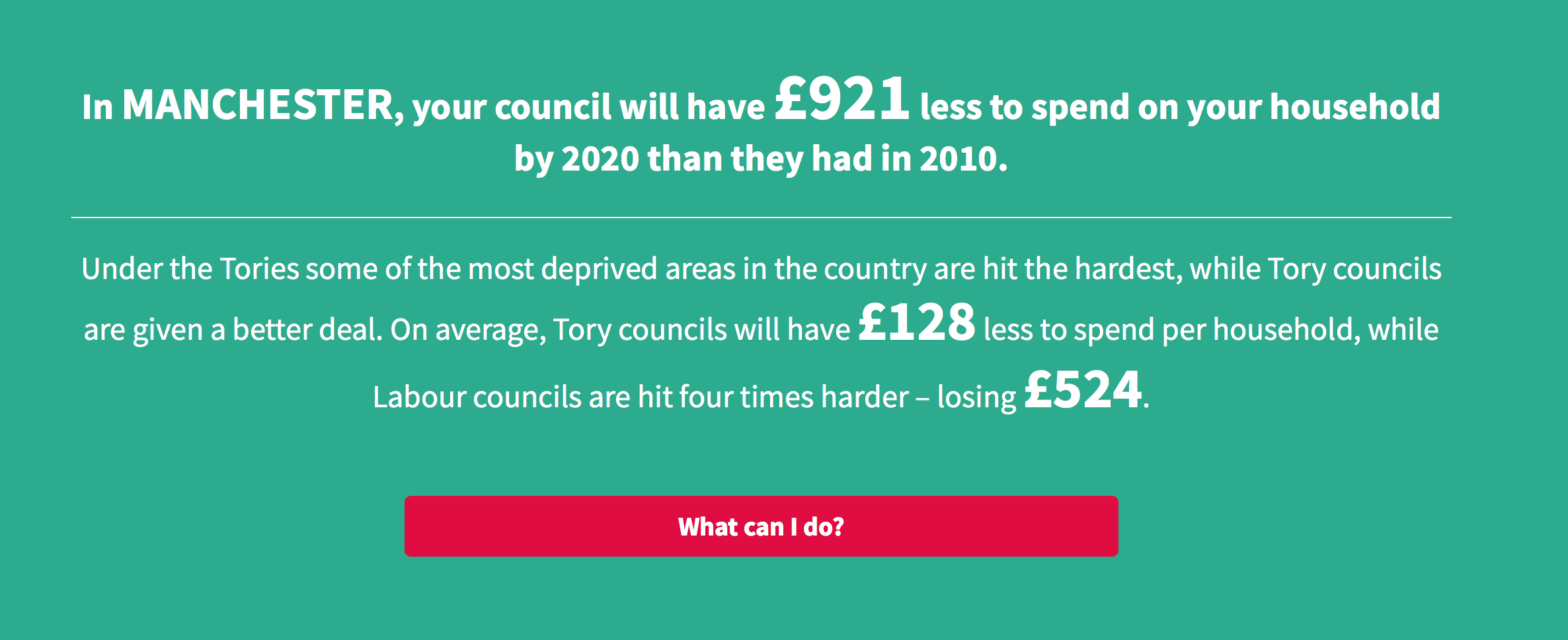 Kingston, London:

Wandsworth, London: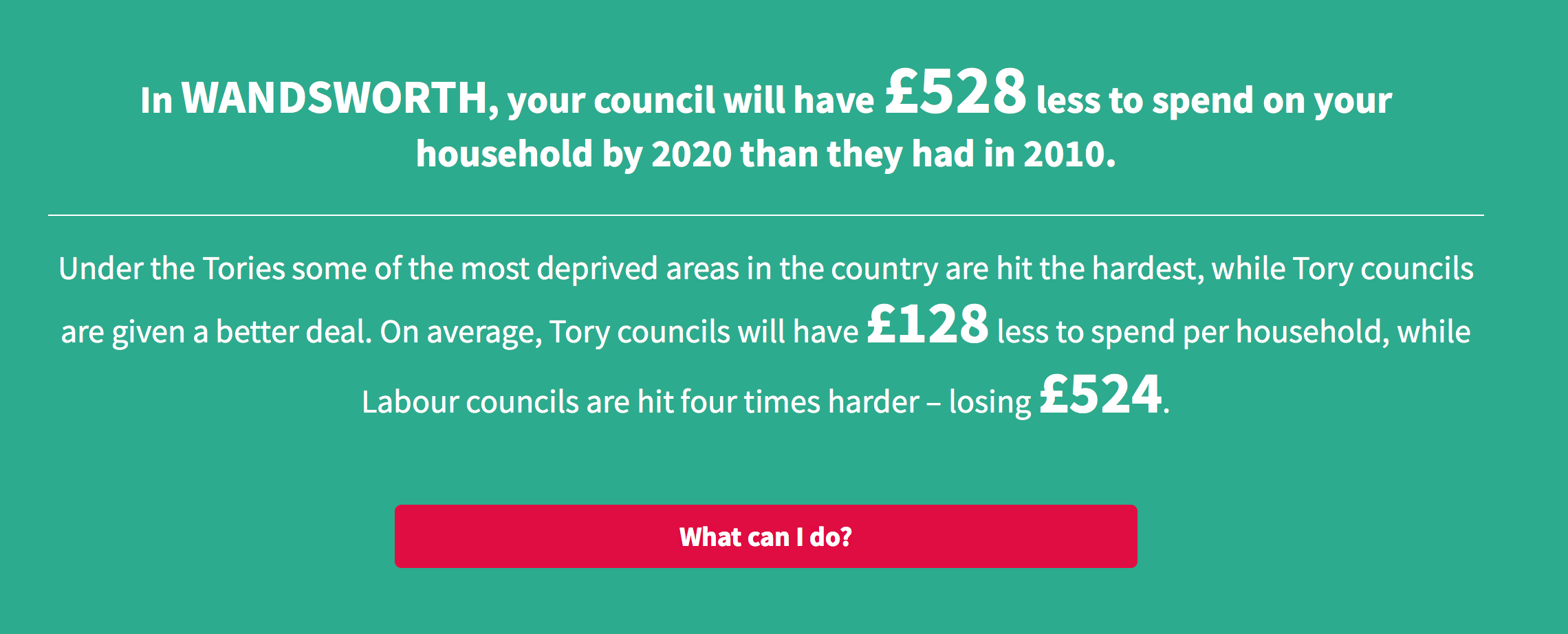 Southwark, London: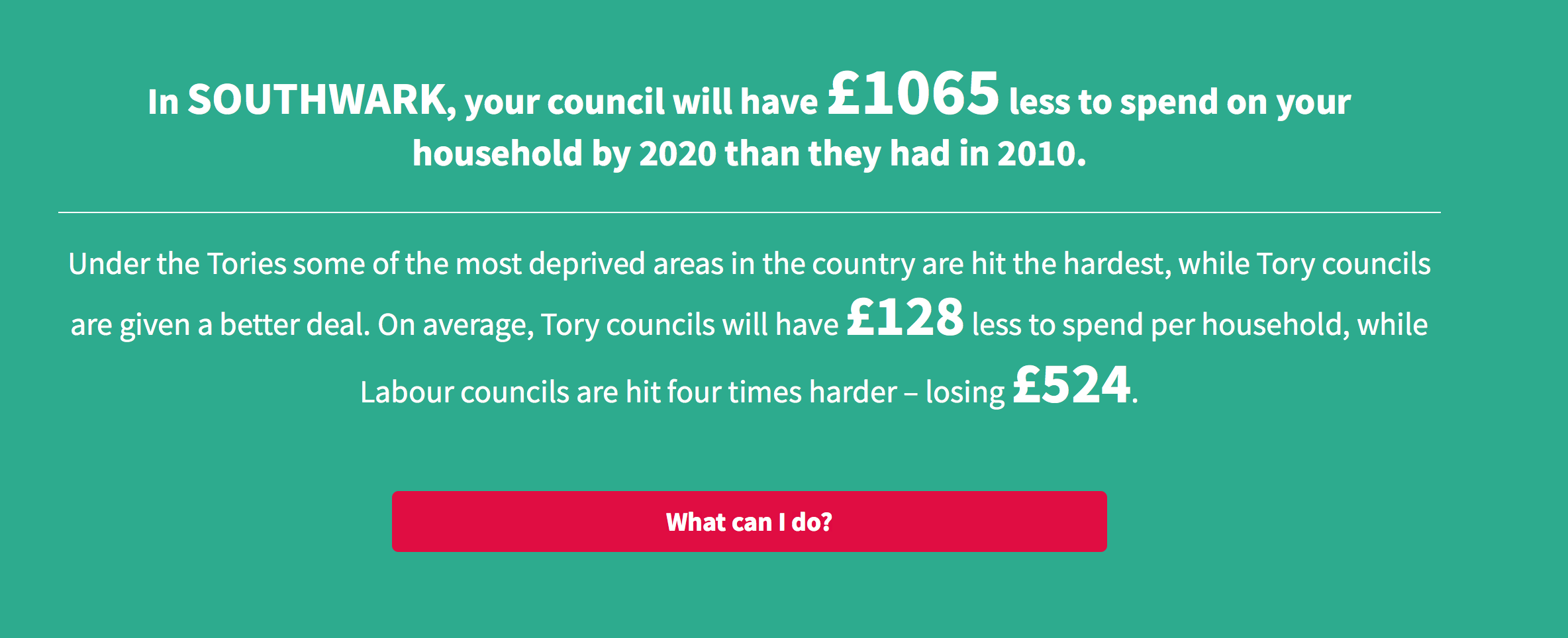 Bolton:

If you want to find out exactly how much your household and local finances will have been devastated by the Tory central Government cuts by 2020, then head on over to the handy tool now and type in your postcode!